How to Use a Strap Wrench? Beginner Guide
You probably know the pipe wrench, the adjustable wrench, the socket wrench, the Allen wrench, and even the combination wrench. But you probably don't know about the strap wrench.
Don't worry, though. We're going to teach you what it is, the different types available, its benefits, and how to use a strap wrench correctly.
You will learn enough to get started right away with one of these. On top of that, it will help you to be prepared for any of the different jobs these straps are fantastic for.
Want to know what we're talking about? Then read further and find out!
What is a Strap Wrench?
This is one of the most unconventional tools you'll find. Yet it is still one of the most useful and affordable. Whenever one of the other wrenches doesn't work, you can always try with a strap wrench. And it will probably do the job without issues.
It is one of those multi-purpose tools that can get almost anything done with ease. The adjustability, the strength, the ease of use, the softness of its grip, and the overall practicality they offer – there's simply no competitor for them.
There are various types to consider, though. So you will need to learn not only how it works, but what the different available models offer.
Types of Strap Wrenches
If you want to get the most out of a strap wrench, you'll have to know which model you have. For that, consider these options:
1) Rubber Strap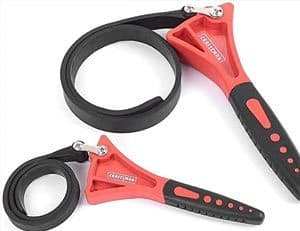 As its name says, it uses a rubber strap. This is a pretty sturdy and reliable construction that ensures maximum grip as well.
Rubber works wonders for wet objects. It has an excellent grip that prevents sliding and makes the job easy in the long run.
At first, rubber straps seem flimsy – but they're super robust. Yet, they wear out and stretch over time.
2) Woven Nylon
In case you want something much more water-resistant and capable of holding up the wear over time, then use woven nylon.
The straps on these types of wrenches are also thicker, which makes them stronger. And sure enough, they provide exceptional grip so you can use the wrench securely every time.
On top of all that, most woven nylon straps are super torque-oriented, so they provide superb strength when loosening or tightening stuff. And finally, you often get a buckle instead of a handle – so they can be slightly more challenging to use – but way more practical than others.
3) Metal Band
For those who want to go the extra mile and get the sturdiest type of strap wrench, then the metal band version will come like a gem.
It works similarly to a ratchet, using a locking system that keeps it tight when working. In some cases, you will get this locking feature with a swivel capacity – making it even easier to crank & torque the wrench.
These are super sturdy and long-lasting. However, they don't provide the same versatility or grip as other versions – but the torque strength they offer is unbeatable.
When to Use a Strap Wrench?
After learning about the different types available, don't rush to get one. First, determine when they're ideal and when they're not.
Here, we can say that it is tricky to know when strap wrenches are helpful, though. You will have so many tools available to use, that maybe it goes unnoticed. Luckily, you already know what it is for – and here we'll tell you when to get it to work.
Next, you'll learn about a few usages for the strap wrench that may even make you replace other types of wrenches altogether:
General plumbing duties: loosening and tightening pipes, fixtures, connections, etc.
Doors: knobs, internal locks, and cylindrical items
Kitchen jobs: opening jars, bottles, etc.
Working with objects that are too fragile to use metal on
And there's a lot more you may find a strap wrench is ideal for. You just need to come up with the problem and find the way to use the strap wrench on it.
Benefits of Using a Strap Wrench
So, if the uses for a strap wrench are so similar to other types of wrenches – why is it such a great tool?
Well, here we'll tell you how a strap wrench becomes an excellent tool to have in your gearbox – and how you can get the most out of it. These are some of its advantages:
1) Superb Strength
Loosening and tightening things up by hand seems like too much of a hassle sometimes. In fact, you may even find it impossible in some cases.
Luckily, a strap wrench can always help you out. Despite not being totally made of metal, you can wrap one of these on a nut, pipe, lid, or whatever, and then enjoy maximum torque without damaging the surface.
The torque and pressure you can achieve with one of these are difficult to imagine – unless you try it out.
2) Extra Safe
Most strap wrenches are designed with a locking mechanism that keeps them in place when using. It's pretty difficult for the strap to loosen up once you have the object tightened with the strap.
By only surrounding the piece you want to tighten or loosen and then locking it up – you can expect nothing to ever loosen it up. And that's something that not many other wrenches can offer.
3) Easy to Use
Despite the exceptional torque you can achieve and their safety level – strap wrenches are a walk in the park.
You won't have to be an expert or a knowledgeable user to get one of these working. By directly attaching the strap on the object you want to work with and then securing it – you're ready to loosen or tighten as needed.
A strap wrench is also problem-free. Even after a long time, they keep working as efficiently, which makes these even more reliable than other wrenches – yet super straightforward to use as well.
4) Super Versatile
No need to look for extra tools when the strap wrench can do it almost all. You can fix bathroom problems such as fixtures and showers. If a kitchen faucet is not working well, you can loosen it and tighten it with a strap wrench as well. And there's still a lot more you can do with one.
With the strength they offer along with the safety and overall ease of use – you can use a strap wrench for almost anything. They are probably the most versatile type of wrench you can get.
How to Use a Strap Wrench : Step-By-Step Guide
It's now time to get into the good stuff. Let's now learn how to get a strap wrench working like an expert – and get the most out of it in the process.
Even though you may have figured out already how they work – here are a few steps you can follow:
1. Cover the Item
First and foremost, cover the item you want to tighten or loosen up. Use the straps for covering it – no matter the type of strap you're using.
Remember to follow the indicators on the tool. They will let you know how to set the strap the right way as needed.
Then, you can find the ideal angle accordingly. This will provide the perfect grip so you can achieve maximum torque and/or pressure in the process.
2. Tighten the Strap
Once you have the strap covering the item at the right angle and direction, then you're ready to tighten it up.
The strap should fit firmly into the item. You should follow the instructions on the tool to make this happen. Strap wrenches usually come with directions so you can make this possible quicker.
Typically, tightening the strap is just about pulling hard, and that's it. But some models can differ. Use the ridges on the straps (if any) to your advantage.
3. Start Twisting
After tightening the strap on the item, then you're ready to start twisting and loosening or tightening it up.
If the model you have comes with a handle, then use it. Grab the handle firmly and turn it to the desired side – whether you want to tighten or loosen the piece.
This should start getting the piece moving. But remember that despite being a strong tool, it is still not enough if you don't use your own strength. So be fierce about until it loosens or tightens as needed.
4. Finish to Tighten/Loosen Up
In case you can't achieve your purpose when using a strap wrench, then you can make it possible by using some grease or lubricant. Only do this is the piece you're working with does not corrode and/or gets damaged with it.
This should get the job done at last. If it doesn't, you may need to use something stronger or call someone else to do the job for you.
But if it works, then you've successfully learned how to use strap wrenches like an expert.
Start Using a Strap Wrench Now!
As you can see, these tools are totally a piece of cake to work with. And they make most of these jobs look easier when compared to using other means.
So, did you learn how to use a strap wrench now? Don't hesitate and get one if you need it. We're totally assured that it will surpass your expectations.
" Thank you for stay with us 🙂 "