As an Amazon Associate we earn from qualifying purchases.
Having a four-wheeler brings in the responsibility to learn about changing tires all on your own. Of course, if you intend to change a tire, you need the right tools in the boot of your car. But what's more important is to know how to use those tools.
In addition to that, you need to possess one of the most important tools of all, which is a torque wrench. But what if you don't have a torque wrench? Let's find out the answer to it!
Can You Change A Tire Without A Torque Wrench?
It is possible for you to change the tire without a torque wrench but with the use of ideal alternative tools. One such alternative method is the use of a lug wrench. So, the next time your car gets a flat tire, don't worry at all!  
Now, you got your answer to the question, "can you change a tire without a torque wrench." But, by going through this article, you will get a complete elaboration on alternate tools that you can use. Hence, follow it till the end and get to know their usage.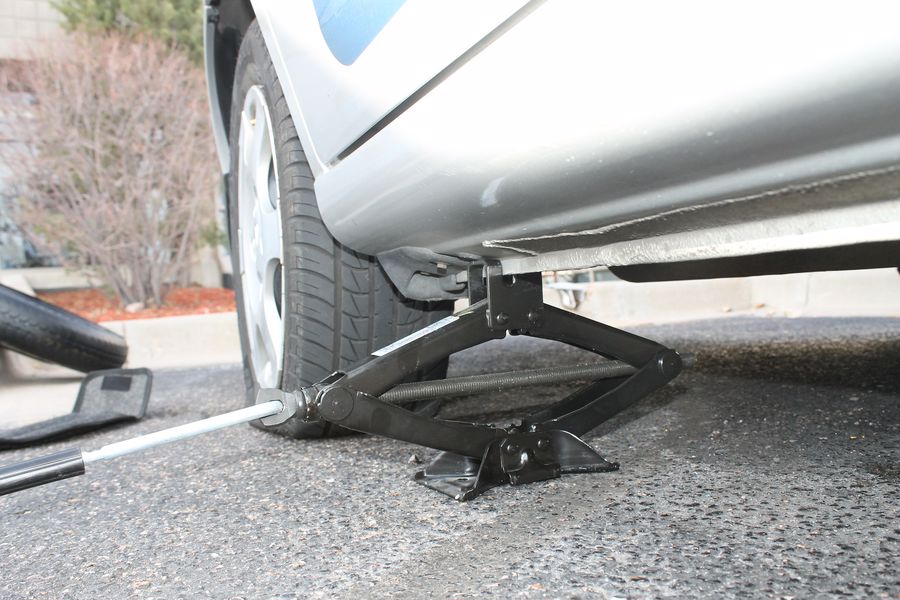 Things To Know About Torque Wrench
Here are the things that will define a torque wrench most proficiently:
A torque wrench is more of a tightening tool that works quite well to fasten the bolts precisely.
Torque wrenches are important to ensure that the bolts over your tires don't encounter over-tightening problems. 
There are calibration and torque settings to meet the tire specifications for the torque of different vehicle types. 
They are of various types: electronic torque wrenches, beam torque wrenches, hydraulic torque wrenches, click wrenches, micrometer torque wrenches, and dial torque wrenches. Torque wrenches can also be used to replace CV axles. To know more about these types of torque wrenches, you can go through this write-up. 
Alternate Methods Of Changing Tire Without Torque Wrench
Using a lug wrench is the best and most professional way of changing a tire without a torque wrench. A lug wrench has also been named a tire iron, which is more of a socket wrench. In fact, it is one of the most straightforward tools that you can keep within your toolkit as a cheap alternative for torque wrenches. 
It is primarily available in X or L shape that intends to perform a similar function as a torque wrench. So, yes, you can say that the torque settings are not available with the lug wrenches, but they do the job! Also, you can just assume the right amount of torque that your vehicle demands and fasten the bolts accordingly. 
If you are in an emergency and need to change the tires right away, you can make use of a lug wrench. But you should ensure that once you are accessible to a torque wrench, re-fasten the lug nuts as per torque measurements for sure. While you are changing wheels, you need to guess the tightness that your wheels demand.
Excessive force may strip off the bolt threads, and less pressure might leave the wheel loose over its frame. Most of the vehicles come with a lug wrench within the tool kit of their trucks or cars. So, you just got to check your boot at the time when you are stuck with a flat tire.  
The steps to use a lug wrench for changing tires are:
Firstly, you need to park the car, somewhere safe.
Take out the spare tire from the boot, back door, or from underneath your vehicle.
Take out the lug wrench and jack from the tool kit. 
Now connect the jack underneath your vehicle and lift it by rotating the handle. 
Then use the lug wrench to unfasten the bolts of the flat wheel. 
Now place the spare wheel onto the frame and tighten the bolts with a reasonable force. 
Lower the jack by rotating the handle in the opposite direction. And put the flat tire in place of the spare one, and put back the tools. 
When you see any puncture repair shop with air compressor to repair tires, get the flat tire repaired! 
Here is a quick video guiding you on how to tighten your wheel nuts using a lug wrench. Follow this YouTube video now! 
Related Questions
Is It Mandatory To Use A Torque Wrench After Using A Lug Wrench For Tightening The Bolts?
If you have tightened enough, and the wheels do not wobble while you move it freely on the jack, then you supposedly don't need to go for a torque wrench. But, lug wrenches are just for emergencies, while the service centers use torque wrenches for the purpose.
So, if you want perfect tightness of the bolts over your wheel, to take no chances on safety, then it is better to get it tightened once with a torque wrench when possible! 
Can I Make Use Of A Torque Wrench For Loosening The Bolts?
No, the torque wrench is specifically a tightening tool and won't assist you in loosening the bolts. Instead, you need to use the lug wrench for loosening the bolts of your tire anyway! And you can use it as an alternative to tighten as well. But for accuracy in terms of torque measurement, a torque wrench is the best fit! 
Conclusion
Now that you know, you can use lug wrenches instead of torque wrenches; you can use them without any worries. If you, have it, then it is better to use it all the time. Do follow the steps mentioned in this guide before commencing with the job. It will help you in changing the tire without any hassles.