As an Amazon Associate we earn from qualifying purchases.
Whether you're using your trailer for work or play, finding the right paint can make all the difference in its appearance and durability. From protecting against the elements to withstanding wear and tear, the best paint for your trailer depends on a variety of factors. In this article, we'll explore the top options for painting your trailer and provide tips for achieving a professional-looking finish that will stand the test of time.
Brand
POR-15 45004 Gloss black Rust Preventive Paint
Rust-Oleum, Black, 207006 Marine Topside Paint
Rust-Oleum 7798502 Stops Rust Brush on Paint
Product
Special Features
Ideal for use on fiberglass, wood or metal surfaces above the waterline
Weather and corrosion resistant coating
Brand
POR-15 45004 Gloss black Rust Preventive Paint
Product
Brand
Rust-Oleum, Black, 207006 Marine Topside Paint
Product
Special Features
Ideal for use on fiberglass, wood or metal surfaces above the waterline
Brand
Rust-Oleum 7798502 Stops Rust Brush on Paint
Product
Special Features
Weather and corrosion resistant coating
Our Best Trailer Paint Recommendations
Over time, your trailer will need a new coat of paint. Its expensive to take into a shop, and relatively easy to do on your own. Lets review the top seven trailer paint options that we have tried out:
POR-15 45004 Rust Preventive Paint
Let us start off with one of the most reliable names in the industry when it comes to protective paints, Por-15. The POR-15 45004 Gloss Black Preventive Paint is a user-friendly trailer paint that comes in five different glossy finish options. If you want a quick and simple one that you can rely on, you can go with this one without any worry.
The best part about this trailer paint is its easy three-step application method. All you have to do is wipe the surface with a bit of degreaser, apply a bit of primer and then put on a thorough coat of paint on the trailer. Even if your trailer is rusty, the natural rust-protection property of the unit means you do not have to remove the rust before applying the paint.
It is a completely non-porous paint that will protect the surface of the trailer from moisture or chemicals that can accelerate corrosion. In addition, applying this paint makes your trailer impervious to other deteriorating elements such as mineral oil, alkalis, or fuel spills.
The paint also has a self-leveling feature making it easy for first timers to get full area coverage while applying it. It is completely lead-free, which means you do not have to worry about any harmful chemicals. The paint can survive 2,000 hours of salt spray tests without showing any signs of wearing.
Highlighted Features
Repels oils, alkalis, and fuel
The non-porous property protects against moisture
Self-leveling nature
It does not contain any lead
POR-15 Rust Preventive Paint, Stop Rust and...
✅ WHY CHOOSE POR-15 RUST PREVENTIVE COATING – POR-15 is the gold standard in high performance...
✅ CURED BY MOISTURE – The secret strength lies in the curing process. Unlike most paints that...
✅ APPLICATION - Remove grease, oil, and other foreign substances using POR-15 water-based Cleaner...
Rust-Oleum 207006 Marine Trailer Paint
Coming up next, we have a unit by another powerhouse brand in the world of trailer paints and a protective coating. The Black, 207006 Marine Topside Paint is widely considered as one of the best boat trailer paint because of the high level of rust protection it provides against saltwater.
With this purchase, you have the choice between many different colors and finish styles, including gloss, semi-gloss, navy-blue. It is extremely versatile and offers a lot of different options to the user. If you plan on using it for your boat trailer, you can expect excellent results.
Most utility trailer paints on the market caution you against applying them on any other surface except metal like patio furniture. However, you can use this particular paint with not only the metal sections but also fiberglass and wood. Because of its oil-based formula, it spreads easily and covers wide paint surfaces without any issues.
It also features self-leveling properties, which makes it easy to ensure you have an even application across the entire surface. The paint adheres with a quick-drying formula that minimizes a lot of the waiting period that usually comes after a paint job. It is also highly UV-resistant and prevents rust and corrosion build-up.
Highlighted Features
It features an oil-based formula and great rust protection
Self-leveling properties
Perfect for marine applications
Quick-drying formula
Rust-Oleum, Black, 207006 Marine Topside Paint,...
Ideal for use on fiberglass, wood or metal surfaces above the waterline
Oil-based formula is flexible and applies easily with excellent leveling
Dries to the touch in as little as 1 to 2 hours and covers up to 100 sq ft
7798502 Stops Rust Brush on Paint
Coming up next is another great pick by the brand Rust-Oleum. And now that you have already seen a unit by them, you should have a pretty decent idea about the quality of products you can expect from them. The 7798502 Stops Rust Brush on Paint is another fine choice that can give you excellent results.
Similar to the last unit, this one features an oil-based formula making the application of the paint almost effortless. It not only bonds well with the metal parts but also can be applied to surfaces like masonry, concrete, wood, etc., to prevent any chance of rust and corrosion build-up.
What makes this paint great is the superior shine it offers once you let it dry up. With a curating period of only two to four hours, this paint is perfect for people who do not want to wait around a whole day before using their trailer. If you feel the paint is a bit thick for your liking, you can apply some paint thinner for a better result.
This paint comes in a can of 32-ounces which should be enough to breathe a new life into your trailer. After application, the paint can hide away any chips or dents from the trailer, making it look fresh as new. It also enhances the durability of your trailer tenfold, preventing any further rusting.
Highlighted Features
It comes in a large 32-ounce can
Works on a wide range of surfaces
Quick-drying design
It comes in a wide range of color and smooth finish options
Rust-Oleum 7798502 Stops Rust Brush On Paint,...
Weather and corrosion resistant coating protects exterior/interior surfaces like wood, metal,...
Oil-based formula provides a durable protective coating with excellent rust prevention
Dries to the touch in 2-4 hours and covers up to 100 sq. ft.
POR-15 45904 Top Coat Chassis Black Paint
If you want the least bit of hassle while painting your trailer, the POR-15 45904 Top Coat Chassis Black Paint might be exactly what you are looking for. Its direct-to-metal formula allows you to apply the paint directly to the surface without having to use any primer, making the paint job quick and easy.
With this option, you can apply the paint on the surface after wiping it clean of any dust and debris directly. Since you do not need to apply an undercoat, the overall process becomes a lot faster. You can also apply the paint on previously painted surfaces like patio furniture without any issues.
The manufacturers recommend the application of two thin coats of this paint for optimal performance and protection. Although the paint dries in around half an hour to an hour, for best results, you should wait for at least a day before applying the second coat. It would ensure the perfect bonding strength between the paint and the substrate.
This paint, once applied, drastically enhances the rust-prevention capabilities of your trailer. It resists moisture to an excellent degree and can keep your trailer in top-notch condition for a long time. Overall, it is an excellent choice for people who care about the durability and performance of their trailer and previously painted surfaces.
Highlighted Features
It can be applied directly to metal surfaces
Superior gloss and durability
Excellent moisture resisting properties
Safe and toxin-free
POR-15 Top Coat Paint, Direct to Metal Paint,...
✅ WHY CHOOSE POR-15 CHASSIS BLACK TOP COAT PAINT? – POR-15 is an industry standard for high...
✅ LONG LASTING PROTECTION - POR-15 Top coat has exceptional long-term sheen and color retention,...
✅ APPLICATION - All surfaces must be clean and free of all dirt, loose rust, oil, grease, wax,...
Magnet Paint UCP99-01 Chassis Saver Rust Preventative Paint
Magnet Paint might not be a brand that has a wide range of followers, but those who use their products vouch for their creditability. The Magnet Paint UCP99-01 Chassis Saver Rust Preventative Paint is one of the most popular choices out there when it comes to the best paint for steel trailers, and after trying it out ourselves, we can see why.
The level of protection that this paint offers on the underbody of a trailer frame is hard to find elsewhere. It actively prevents any sort of rust buildup, drastically enhancing the lifespan of your trailer. In addition, it does not bother about any grease or fuel.
For most beginners, who have no experience in applying paint, this sort of project can be a bit challenging. However, the easy-to-use nature of this paint ensures a good experience even for those who have absolutely no idea about projects like this. In fact, you do not even have to remove any previous rusting to apply this paint.
The right paint formula also provides excellent resistance against elements such as snow, mud, or rain. It offers a non-porous finish that prevents moisture and presents you with a lasting shine on your trailer. If you want to restore a rickety old trailer to its former glory, this unit is an excellent choice.
Highlighted Features
Easy to use for beginners
Excellent levels of protection
Non-porous nature
Protects against weather elements
Magnet Paint UCP99-01 Chassis Saver Rust...
CHASSIS SAVER has proven itself over 10 years under the harshest conditions. More than 350...
UCP99 Gloss Black As a primer or finish coat, Chassis Saver has become the industry standard for...
Extensively used on snow and ice removal equipment saving thousands of dollars in costly repairs.
Krylon 1962 Farm Equipment & Implement
For people who put their trailer through heavy-duty work, getting heavy-duty paint seems like the only solution. The Krylon 1962 Farm Equipment & Implement Brush is one of the better choices in the market if you are planning on putting your trailer through rough use.
It features a direct-to-metal design, meaning you do not need to worry about any preparatory steps before applying the paint. That, combined with the wide area coverage of the paint, makes it a suitable choice for beginners who do not have any prior painting experience.
The paint has a drying period of around 3 hours which might not be the best but is still pretty decent. For the best results, you should apply around five coats of paint. The total curating period for this paint is only 56 hours, which means you will be able to start using your trailer pretty soon.
One of the best sides of this paint is its superior bonding strength. It provides excellent levels of protection against rust, scratch marks, and chipping, making it a great option for those who use their trailer frequently. The quality of finish it offers is truly stunning.
Highlighted Features
Excellent levels of protection to remove rust, scratch marks, and chipping
Total 56 hours of curating time
Superior bonding strength
Requires five coats for best results
Rust-Oleum 7466402 Gallon International Paint
If you are a fan of bright red colors, then you should definitely try out the 7466402 Gallon International Red Bright Enamel Paint. For our last product on this list, there are no other products that can come close to the performance it offers for the price. It is truly one of the best paints for trailer frames.
The paint offers a smooth and elegant finish on your trailer that presents a lasting shine. However, looks are not the only place where this paint makes an impact. Once you apply it to your trailer, you can be sure that it is fully protected against rust and corrosion for an indefinite period.
It is one of those paints that are suitable for extreme work conditions and to remove rust. Regardless of how you abuse it, you won't have faded paint any time soon. It is the perfect choice to brighten up the looks and feel of your old trailer. The color quality of this unit is truly one to admire.
Besides, applying it is also quite easy and effortless, even for a beginner. The paint can cover a large area, and you can even use it for boat trailer painting. For the best performance, manufacturers recommend applying a thick layer of sturdy coating. That way, you will get a long-lasting color that will not fade away anytime soon.
Highlighted Features
Excellent color quality
Easy to use for beginners
Excellent bonding strength
Suitable for both land and marine trailers
Things to Consider Before Buying The Best Trailer Paint
Before we head further, let us take a moment and look at some of the critical factors that you want to consider before buying trailer paint. Understanding these aspects is imperative as they dictate your long-term satisfaction with your purchase. The last thing you want is to end up with buyer's remorse.
| Product Name | Type | Color | Size | Suitable Surface |
| --- | --- | --- | --- | --- |
| POR-15 Rust Preventive | Protective | Gloss Black | Pint | Metal, Fiberglass, Concrete |
| Rust-Oleum 207006 Marine | Marine | Black | Quart | Metal, Aluminum |
| 7798502 Stops Rust | Rust Converter | Multiple | Quart | Metal, Wood, Concrete |
| POR-15 45904 Top Coat | Protective | Black | Quart | Metal, Fiberglass, Masonry |
| Magnet Paint UCP99-01 Rust Preventative | Rust Converter | Silver | Quart | Metal, Aluminum, Concrete |
| Krylon 1962 Implement | Architectural | Multiple | Gallon | Metal, Wood, Concrete, Masonry |
| Rust-Oleum 7466402 | Spray Paint | Red | Gallon | Metal, Masonry, Wood |
So, without further ado, here are a couple of things you want to think about before buying the best utility trailer paint.
Matching Colors
Statistics show that most people think of painting as an aesthetic aspect rather than a protective element. If that is the case, then investing some time into finding the right color for your trailer does not seem too much to ask, from light gray to bright red. You want to choose a color that matches the primary vehicle that will be pulling the utility trailer.
It might not seem like the most important thing in the world, especially if your goal is to protect your trailer from the elements solely. However, watching others appreciate your trailer's looks is a good feeling you do not want to miss. With matching colors, your trailer will not only be protected but also look good.
Curating Period
If you are on a timer, then you might want to consider buying antifouling paint with a low curing time. Typically, with trailer cart paints, you are looking at at least a day's worth of time for the paint to fully dry. However, some options in the market can dry up entirely in just a few hours.
Ultimately it comes down to how much time you can afford to allow the paint to settle correctly. For people who are looking for a quick paint job, getting a fast-acting color might be the only solution. However, if you have time to spare, this factor might not be the most crucial thing to think about.
Type of Finish
These days, there are many types of finish you can get from your paint. There are no good or bad choices here, and it all comes down to the preference of the owner. But you still want a good idea of the different available options before settling on a specific type of finish.
The three most popular options are matte, semi-gloss, or high gloss, and you can usually find examples of these designs if you search on the internet. If you go with a glossy finish, you also need to think about whether you want a high-gloss or low-gloss finish. Whichever you choose, make sure you check out all the options beforehand.
Bonding Strength
What affects the durability of the paint that you use on your trailer? It is, in fact, the bonding strength of the paint with the surface of the trailer. In addition to simply enhancing durability, it also protects the metal parts from corrosion and help you remove rust. That is why you need to pick out a paint that comes with a superior bonding strength.
Remember, paint is not simply a coating, and it needs to properly attach to the surface of the trailer to make a lasting bond. You do not want the paint to start chipping off after a couple of months. It is best to ask someone who has an idea about a certain product that you are planning to buy to know of its bonding strength.
Paint Quantity
Do you want enough paint for a single trailer, or do you want a bit extra? Think about this carefully before you commit to a small can of paint. If you have leftover paint and can store it properly, you can use it to repaint your trailer when it starts to show signs of wearing.
Besides, if you rent out trailers professionally, it is a good idea to buy a large volume of paint. That way, you will be able to repaint multiple trailers and give all of them a fresh new look. For casual people who require a single trailer paint job, on the other hand, it might not be a good idea to buy a large quantity of paint.
Preventing Rust and UV Protection
Regardless of the quality of paint you are using; it is natural for it to start wearing out after a certain period. However, if you want a decent lifespan for the paint, you need to ensure it has excellent resistance, and UV protection against rust and ultraviolet light. Since your trailer will be outside most of the time, you need all the UV protection you can get.
Some paints you find on the market come with a non-porous design that helps protect them against moisture and sunlight, as well as preventing rust. Going with these types of paints will ensure the color of your trailer remains strong even after long exposure to rain or sunlight.
VOC Compliance and Environmental Sustainability
There used to be a time when paints for trailers came with toxic chemicals that can be harmful to your health and the environment. Thankfully those days are behind us, and we have access to eco-friendly paints that do not emit any toxic fumes or cause any harm to your body.
However, toxic paints are still available, and unless boat trailer owners are careful, boat trailer owners can end up with one. Make sure to check the specification of the paint that you buy and see if it is VOC compliant. The term VOC stands for Volatile Organic Compounds, and boat trailer owners do not want any of it to be present in the paint.
Benefits of Painting a Trailer
Painting an old trailer is not only a cosmetic upgrade but also does a lot for its overall performance and functionality. If you are wondering whether you should bite the bullet and repaint the old trailer, then the following section is for you. We will discuss some of the major benefits many boat trailer owners get from painting their utility trailer.
Protective Layer
As time goes by, you will notice a lot of rust starting to build up on the metal parts of your trailer. By repainting the unit, you will be able to get rid of the rust and also place a protective layer to prevent any further corrosion. It essentially breathes a new life into your transport.
In addition, the paint will also protect the trailer from natural elements such as snow or rainfall. Some paints also come with UV-resistant properties that ensure faded paint over time, even if you keep it under bright sunlight. If you care about your trailer, painting it is a good way to ensure it stays in top condition.
Better Look
Even if you overlook the protective benefits of repainting your trailer, you have to admit that a freshly painted trailer looks good. It is the easiest way to restore a rickety old trailer to its former glory. You can also get creative and make different designs on the transport to make it look even better.
After all, hauling an old, run-down trailer down the road can be a bit embarrassing. With a fresh coat of paint, your trailer will look shiny and stunning, and you will be proud to drive it along the road. Make sure you match the color of the trailer with that of your vehicle for the best results.
Better Resell Value
If you are planning to sell your trailer, a good idea to get a better deal is to give it a fresh coat of paint. A clean and polished trailer will snag a much higher price than a rusty old one. In fact, after painting the trailer, you might even get second thoughts about selling the trailer at all.
Think of it this way, if you buy a second-hand trailer, would you spend big bucks on a worn-out trailer? Definitely not. That is why, you will find that most resellers opt to paint their trailer and give it a fresh new look before they put it up for sale. It is a smart and cheap way to get a better price.
Hides Inconsistencies
Naturally, when you buy a new trailer, it will be polished and have a nice shine to it. However, as time goes by, it will start to wear out and lose most if not all of its shininess. A fresh coat of paint is all you need to restore the factory appearance of your trailer.
In addition to restoring the freshness, you will also be able to hide away most of the scratches or damages done to your trailer over the course of your use. It also gives you an opportunity to address some of the repair necessities, such as changing a few boards or tires on the trailer while painting.
Looks Professional
Owning a trailer opens up many business opportunities. You can rent out your trailer or even get into the moving business. If you are planning to use it for your business purposes, the last thing you want is to haul a worn-out trailer in front of your clients.
It obviously does not look very professional. As a professional, you should make it your priority to maintain the looks and performance of your trailer. By painting it from time to time, you can maintain the shininess of your trailer and also protect it against the abuse it will no doubt face during the course of your work.
Tips To Apply Paint On Your Trailer
I've painted several trailers over the years, and each one presents its own unique set of challenges. From choosing the right paint to preparing the surface and ensuring a smooth finish, there are a lot of factors to consider. In this article, I'll take you through my step-by-step process for painting a trailer, and share some tips and tricks I've learned along the way.
Choose the Right Paint
Choosing the right paint is crucial for a successful trailer paint job. Here are a few factors to consider:
Type of paint: You'll want a paint that's specifically designed for metal surfaces, as trailers are usually made from metal. Enamel or epoxy-based paints are good options.
Color: Lighter colors will reflect heat and help keep the trailer cooler, while darker colors may fade more quickly.
Gloss level: Glossy paints are more durable and easier to clean, but they can also show imperfections more readily. Matte or satin finishes are good options if you want to hide minor flaws.
Quantity: Make sure you have enough paint to cover the entire trailer. You don't want to run out halfway through the job.
Prepare the Surface
Preparing the surface is critical for a successful paint job. Here's how I do it:
Clean the surface: Use a power washer or high-pressure hose to clean off any dirt, grime, or debris. Allow the surface to dry completely before moving on.
Sand the surface: Use a sanding disc or sandpaper to rough up the surface of the metal. This will help the paint adhere better. Pay special attention to any rust spots or areas where the old paint is peeling.
Apply primer: Apply a coat of primer to the surface. This will help the paint adhere and create a smoother finish. Allow the primer to dry completely before moving on.
Apply the Paint
Now it's time to apply the paint. Here are some tips for a successful application:
Use a spray gun: I've found that using a spray gun is the easiest and most efficient way to apply paint to a large surface like a trailer. It allows you to apply an even coat of paint quickly and easily. However, my dad has had a lot of luck brushing, so you can go that route if you don't want to tape ahead of time.
Apply multiple coats: It's important to apply multiple coats of paint, especially if you're using a lighter color. I usually apply two to three coats of paint, allowing each coat to dry completely before applying the next.
Watch the weather: Avoid painting on a windy or rainy day, as this can cause debris or moisture to get into the paint. Choose a day with low humidity and mild temperatures.
Take your time: Painting a trailer can be a time-consuming process, but it's important to take your time to ensure a smooth finish. Rushing through the job can result in an uneven or blotchy finish.
Finish the Job
Once the paint has dried, you'll want to finish the job by addressing any minor imperfections or adding some final touches. Here are some things to consider:
Sand any rough spots: If you notice any rough spots or imperfections in the paint, use sandpaper to smooth them out.
Apply a clear coat: Applying a clear coat can help protect the paint and add some extra shine. Be sure to use a clear coat that's designed for metal surfaces.
Reattach any hardware: If you removed any hardware from the trailer before painting, be sure to reattach it once the paint has dried.
Clean up: Once you've finished painting, clean up any tools or materials and dispose of any leftover paint or chemicals properly.
Painting a trailer can be a challenging but rewarding process. With the right tools, materials, and techniques, you can achieve a professional-looking finish that will protect your trailer for years to come. Remember to take your time
Best Trailer Paint Brands on the Market
Since you have already gone through our list of reviews, you should have a pretty decent idea of the brands that are worth your consideration. In any case, here is a quick rundown of three of the top trailer brands as a refresher.
Rust-Oleum
Considering we picked out three of our seven reviewed products from this brand, it should be a no-brainer that it is a true powerhouse. The best part about this brand is how it takes a problem and offers elegant and innovative solutions. Because of their unflinching dedication to quality, they have amassed a wide range of followers.
Their product catalog contains paints and accessories for all sorts of projects. It tends to take innovative steps towards offering painting solutions and protecting against rust and corrosion. It is undoubtedly one of the trusted names in the industry for all the right reasons.
Por-15
Por-15 is another top brand that has taken firm ground against rust prevention. The trademark feature of this brand is its three-step application system that has revolutionized the way we apply paint. Their commitment to innovation and quality control sets them apart from the competition.
The president of the company, Jason Anagnostis, has a Ph.D. in Chemistry. That, combined with his 17 years of industry experience, makes him a well-armed man to lead the company to legendary status. Por-15 also holds an excellent reputation at listening to their customer's needs and complaints.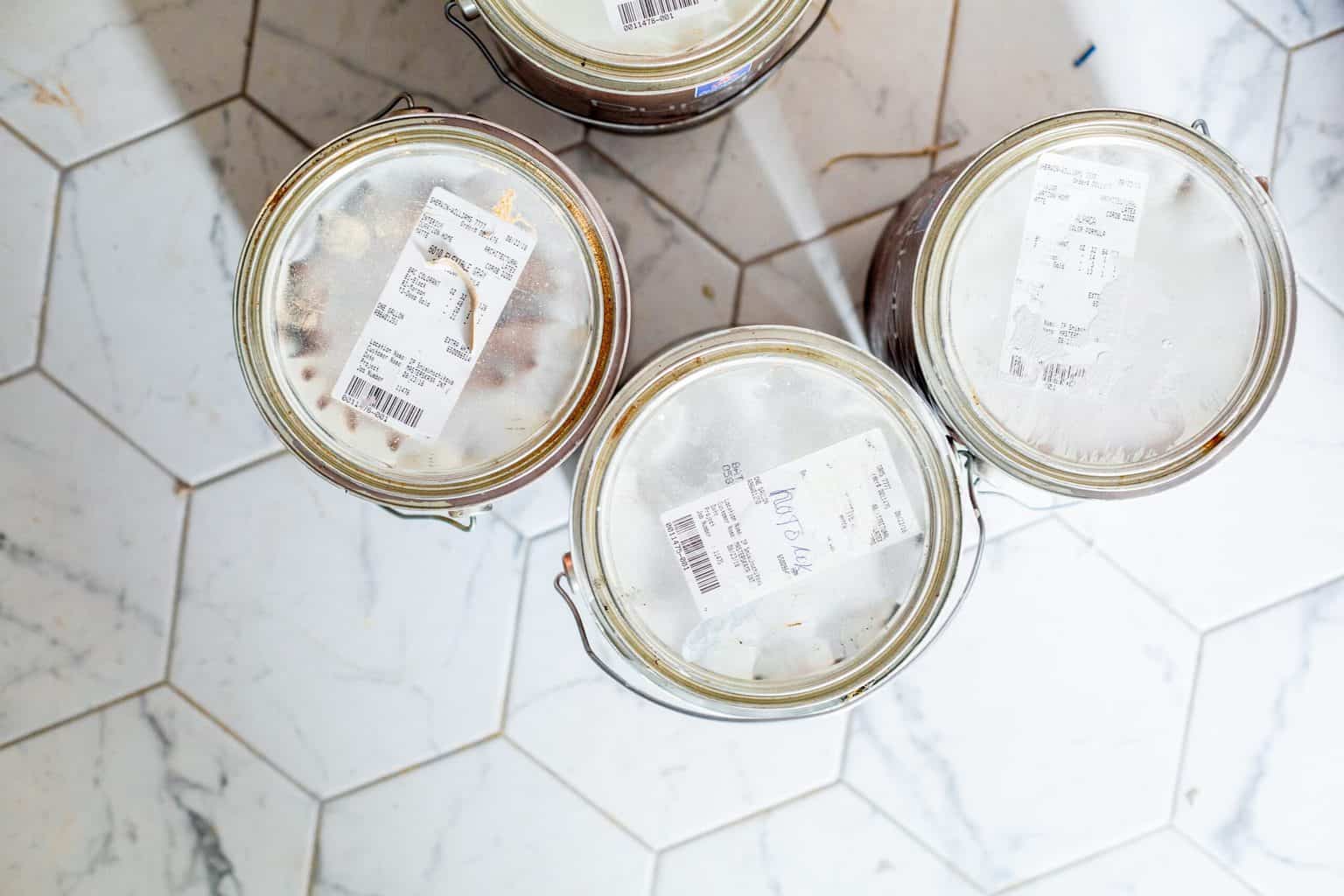 Krylon
The brand Krylon is not solely dedicated to the coating, and that is what makes this brand different. It is more suited towards DIY-ers and enthusiasts.
However, that does not mean they take the quality of their products lightly. In fact, Krylon is one of the most trusted names when it comes to painting products.
Their large catalog of products includes enamel paints, acrylic paints, and many other variants that come in both aerosol and container designs. Innovation is the primary goal of this brand, and its products are a true reflection of that.
Whether you want to paint your home or want to use it for professional use, you can safely rely on them to have your back.
Frequently Asked Questions
Is It Better to Powder Coat My Trailer Instead of Painting It?
Powder coating is a dry finishing process that offers several advantages over traditional painting. It's more durable, environmentally friendly, has a faster curing time, and requires low maintenance. However, it's more expensive, offers limited color options, and has limited repair options. Ultimately, the decision to powder coat or paint a trailer comes down to personal preference and budget.
Is There Any Difference Between Boat Trailer Paint and Land Trailer Paint?
Boat trailer paint and land trailer paint are designed to withstand different environmental conditions. Boat trailer paint is specifically formulated to resist corrosion and damage from exposure to saltwater, while land trailer paint is designed for protection against road salt, rocks, and other debris.
What Is Paint Cure Time?
Paint cure time refers to the amount of time it takes for paint to fully dry and cure, forming a hard, durable finish. The cure time can vary depending on the type of paint, environmental conditions, and other factors, and it's important to allow the paint to fully cure before subjecting it to any wear and tear.
Final Thoughts
Because your trailer carries a lot of weight, giving it a fresh coat of paint every once in a while, is not too much of a bother.
Considering the significant boost, it offers, you should definitely go for it. We hope our article on the best paint for trailer gave you a lot of great options to consider.