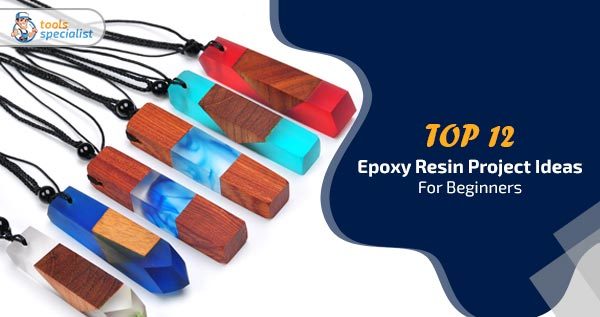 Top 12 Epoxy Resin Project Ideas For Beginners
Many people look at epoxy resin as a dangerous product that no one should use. But in reality, epoxy resin is one of the safest and most beautiful materials you can use for art and home projects.
Want to know why? Then learn more about it with our epoxy resin project ideas.
Here, we're going to explain why using epoxy resin is such an excellent idea for DIYers and those who love making things at home.
You will see how this material can become almost anything you can think of. And at the same time, you'll learn excellent ways to give the epoxy a perfect use.
Care to learn more? Then keep scrolling!
What Is Epoxy Resin?
Some people know epoxy resin for its adhesive capacity. Others use it to create smooth and polished surfaces. And a few people may use it just to create things.
Epoxy resin, in short words, is one of the most versatile materials you can think of. It is super resistant to heat and chemicals. And it can handle a lot of pressure as well as different weather conditions (including rainwater depending on the type).
On top of all that, it works amazingly well with materials like fabrics, metals, china clay, wood, and more.
Whatever you use it for or with – epoxy resin will perform better than you expect.
So, what is it? Simple, one of the most versatile and practical types of adhesive you can use.
Why Use Epoxy Resin for Projects?
You should have a nice-enough idea of what epoxy resin offers and why it can be such a great material to use for home projects. But don't worry – we'll still give you a brief explanation of what it offers.
Here are some of the advantages of using epoxy resin for projects:
Doesn't shrink like other adhesives
Has amazing moisture resistance
Resists chemicals like no other
Works well for electrical applications
Withstands a lot of pressure
Absorbs impacts
Does not contain volatile compounds
Lasts a long time
Can be primed and painted
There are just so many things to consider about epoxy resin that it would be a considerable pity not to use it for your home projects.
That's why we're going to give 12 amazing ideas to get the most out of it.
Top 12 Epoxy Resin Project Ideas
Want to enjoy all the advantages of epoxy resin with a few home projects? Then don't hesitate and read the following ideas – you won't believe how versatile this material is:
1. Resin Pendants
Can you imagine a multi-colored and mysterious pendant that looks amazing but is actually your own creation? Well, that's precisely one of the best things you can make with epoxy resin.
It is super easy to make, which is even better. You will only need a silicone or plastic mold to pour the epoxy resin, a few pieces of jewelry hardware for the chain, and colorants or dyes.
Look for a mold that looks like a pendant you would love to wear. Then prepare the epoxy with the colorants (two different colors for better results), and then pour the epoxy on the mold.
Leave it to dry for a few hours, then come back and attach the jewelry hardware to it.
You will have a beautiful and DIY pendant to wear yourself or give away to friends or family.
2. Resin Piercings
Have a belly-button piercing to boast? Then don't dismiss this fantastic resin piercing idea.
This is not exactly the easiest thing to make, because you will need to be highly creative – but it can be pretty enjoyable to do so.
Just look for a few piercing hooks, the epoxy resin, three or four different colorants or dyes, and start creating your resin piercing.
Prepare the first resin using one of the colors, then prepare the second, and then the third. Try to give a creative shape that's not more than a few inches long and open a hole on top so you can hang the hook.
Leave it to dry, and it will be ready to wear. You'll be happy to boast a homemade piercing made with resin that looks amazing – and exactly how you like.
3. Resin Rings
Let's say Mother's Day is approaching, and you want to celebrate it by giving away rings to all the mothers in your life. What better for that than an epoxy ring you made yourself?
The advantage of using the epoxy ring for this kind of jewelry is the durability it offers. It will look similar to real ring gems but without the price tag.
Another benefit is that you can sand, paint, or polish the epoxy however you prefer. And with the chance to make it of any color you like – there will be enough opportunities to create a unique gift.
Let's not forget you can also shape epoxy before it dries up. So, you can create all kinds of shapes with the epoxy for the rings – which is even more enticing.
There's simply no limit when it comes to making epoxy resin rings – so you'll love doing it!
4. Resin Sculpture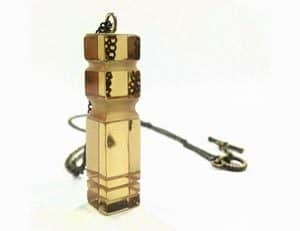 Imagine making a sculpture with wood carving. It takes a lot of time, effort, and tools. With epoxy resin, you won't have to spend any of that.
Just prepare the resin and pour it on a mold. Then start giving shape to it before it dries, and you will have a resin sculpture ready to make your home more stylish.
You may also use resin to repair sculptures if needed, and even replace bronze, marble, porcelain, and even stone decorations. There's just no limit to what epoxy can do as a sculpture or home ornament.
5. Resin Gemstones
Epoxy resin is such a versatile material that it can become gemstones. Yes, you can create an amethyst, a crystal, rose quartz, and sometimes even raw amber.
You can transform pure transparent epoxy into one of the most exotic decorations at home or office. It will attract all the glances without even being a real gemstone.
To do one of these, you need a cellophane paper of different colors and a mold. Prepare the epoxy resin, cut the cellophane papers into small strips, then place them around in the mold. Finish by pouring the epoxy resin, sticking a few extra pieces of cellophane on top, and letting it dry.
After a few hours, you will get a beautiful gemstone that looks amazing. And if you feel like it, you may even open a small hole on top, attach a chain, and use it as a necklace.
6. Resin on Wood
Whether you use it on a wood table, wood furniture, or just any type of wood surface – it will add a shiny and beautiful finish.
You can even add a few dyes or colors to the epoxy and still use it on wood to get extra beauty. That will make it an even more exciting piece to enjoy.
The process is pretty easy still. You just need to prepare the epoxy and pour it over the wooden surface you want to cover. Then, use a hot air gun to remove bubbles and let it dry once it starts to thicken up.
If you added a colorant or dye to the epoxy resin, then you will enjoy an enticing surface now. Otherwise, it will just look neat and shiny, highlighting the details and overall beauty of the wood.
7. Epoxy Floor
Want to remodel your house's floor? Then forget about tiles, stones, or masonry – use epoxy resin instead.
The main advantage of epoxy resin is that you won't have to worry too much about dirt and dust. Thanks to the smooth surface, it is easy to clean, which you can keep neat for long.
Epoxy resin is also low-odor, which prevents any kind of substance from producing unwanted smells in the room. This makes it perfect for bathrooms and kitchens.
Apart from that, you can add a wide array of colors to the epoxy mix. That will help you make unique colors for the floor, which you could mix with the rest of the decorations for a neat appearance.
And sure enough, epoxy resin works just as well indoors as it does outdoors (some types only, though), so you won't have any problem getting the most out of it as a floor option.
8. Epoxy Table
Another super smart idea you can start is an epoxy table. While creating a large table can be super expensive due to the amount of resin you will need – you can always cover wooden or metal ones.
It doesn't matter what you decide to do, the main advantage is the enormous creativity that epoxy resin allows. You won't have limits in innovation to produce even the most enticing designs out there.
Just start preparing some epoxy resin, add some dyes or colorants, keep mixing, and finish by pouring over a table.
If you don't have a table, you can create a mold or simply pour over a large tray. Then, the epoxy resin will dry up and leave a fantastic tabletop ready to be used.
In case you want to make the surface smoother and more durable, you can use some clear epoxy as a protective coating. And that will make the whole table even shinier – you won't regret it.
9. Epoxy Doorknob
One of the most unusual yet still possible things you can make with epoxy resin is a doorknob.
While more difficult than other ideas on the list, it is still a possible option if you want to add uniqueness to your home's doors.
You can start by making rounded knobs by using cupcake's molds. Just pour the epoxy resin on the mold and let it rest for a few hours. Then, you can come back to it and attach the mechanism so it can work with the door.
This will be pretty difficult and may take several trays to make it happen – but it is totally worth it. Especially if you can make uniquely colorful and smooth knobs, then you'll enjoy them to the max.
10. Epoxy Guitar Picks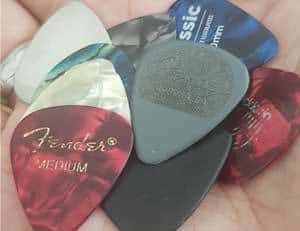 Are you a musician or know someone who is? Well, don't hesitate to make guitar picks with epoxy resin, either.
This is possibly the smallest thing you can make that still has some use. And it is also one of the easiest things you can make – which makes it an even better option.
To make this possible, you just need to look for pick molds out there, prepare some resins using a wide array of colors, and then pour them on the molds. You can add custom lettering and/or designs to the picks while they dry using a toothpick or knife.
And if you want, you may even be able to paint over the epoxy resin and add an even more refreshing look to the picks.
If you want the picks to last a long time, we recommend adding a strengthener to the mix, such as glue or something similar. That will make the picks not only attractive but also long-lasting.
11. Epoxy Pressed Flower Chips
With the sole purpose of working as decorations for your house or as accessories for your clothing and purses – pressed-flower epoxy resin chips won't be a bad idea either.
You can make them for yourself or as gifts for friends or family. They will look amazing with colorful decorations as well as different types of garments.
The main advantage is that they're easy to make, and you can use real flowers without having to buy anything apart from the epoxy resin preparation.
Just look for a few lilacs, daisies, blossoms, and buttercups, or whatever you find around. Then press them by putting below an object like a heavy book or something. Make sure to place a napkin or protective layer not to smash the flower on the surface. Keep it pressed for at least 5 days like that.
Then, you will be able to create the epoxy resin chip by just placing the flowers on a mold, then pouring some epoxy solution over. Let it dry for a few hours, and you will get a fantastic decorative piece for clothes, home, or whatever.
12. Epoxy Art
Last but not least, you can create art with epoxy resin.
And when we say art, we mostly refer to portraits and wall decorations.
You just need a canvas like a flat piece of wood. We recommend light and easy to handle pieces of wood. Then you need a mold or something to put on the sides, so the epoxy doesn't smear around.
And finally, you need to prepare the resin with some colorants or dyes. Make several epoxies of different colors and then pour them according to what you want to make on the canvas.
You can do so over several days or months, applying different layers of resin depending on what you want to make.
Just remember to always heat-gun the epoxy resin layer after applying it. This will leave a smooth and bubble-free piece.
After all the work, you will be left with a beautiful or unique piece to enjoy. And the best of all – it was all made with your own hands.
Conclusion
So, what are you waiting for? Start using epoxy resin for the most unconventional yet beautiful results with these ideas. There's just so much to make that it would be a pity not to enjoy what it offers.
Start using our epoxy resin project ideas now to give your home a new look – you won't regret it.