If you buy something through a link in our posts, we may get a small share of the sale.
A small leak from under the bathroom or kitchen sink can lead to a major disaster.
Sometimes we can't even hear the water trickling and slowly taking the shape of a flood. It's usually at late hours that we discover these mishaps, much to our dismay.
Keeping control of the flow of water that courses through the intricate veins of the plumbing system is the first step to avoiding a flooded situation. An excellent plumbing system must be in place to control the water flow efficiently.
But there's also a host of shut off valves strewn throughout your home – along the plumbing system – to immediately stem the beginning of a potential emergency. It's important to know where to find these valves and how to turn them off.
The main water shut off valve is usually found near the water meter outside your home. You should also know its location and how to turn it off.
There are different types and different brands of water shut off valves available. But what would be the best water shut off valves for your home? To find out the answers, read this article that is based on research and consumer reviews.
In case you don't want to read the entire review, you can take a look at our top 3 picks for the best water shut off valves here:
Brand
Best Overall
KES Shower Head Shut-Off Valve
Best for the Money
Dramm 114960 036434 4 Brass Shut-Off Valve
Best Cheap Pick
PLG Solid Brass Water Hose Shut-Off Valve
Product
Item Dimensions
4.13 x 2.56 x 1.77 inches
Best Overall
Brand
KES Shower Head Shut-Off Valve
Product
Item Dimensions
4.13 x 2.56 x 1.77 inches
Best for the Money
Brand
Dramm 114960 036434 4 Brass Shut-Off Valve
Product
Best Cheap Pick
Brand
PLG Solid Brass Water Hose Shut-Off Valve
Product
Benefits of Water Shut off Valves
There must be at least three water stop valves inside your home. These have been installed for some key benefits. Read on to find out what these benefits are.
1. Immediate Water Supply Disconnection
The moment you see or hear the incessant fall of water in your kitchen or bathroom, you know that the only way to stop it instantly is by turning off the water shut off valve. Whether the valve is under the faucet or the kitchen sink, turning it off immediately stops the water flow.
2. Convenience
As the water shut off valves are connected to a particular appliance (dishwasher, washing machine) or a fixture (kitchen sink, toilet, bathroom sink, bathtub), it is convenient to cut off the water supply related to the particular fixture or appliance.
You don't need to scratch your head and try to figure out which water stop valve will be the right one to turn off. Since these are conveniently connected to the affected fixture or appliance, locating and disconnecting is easy.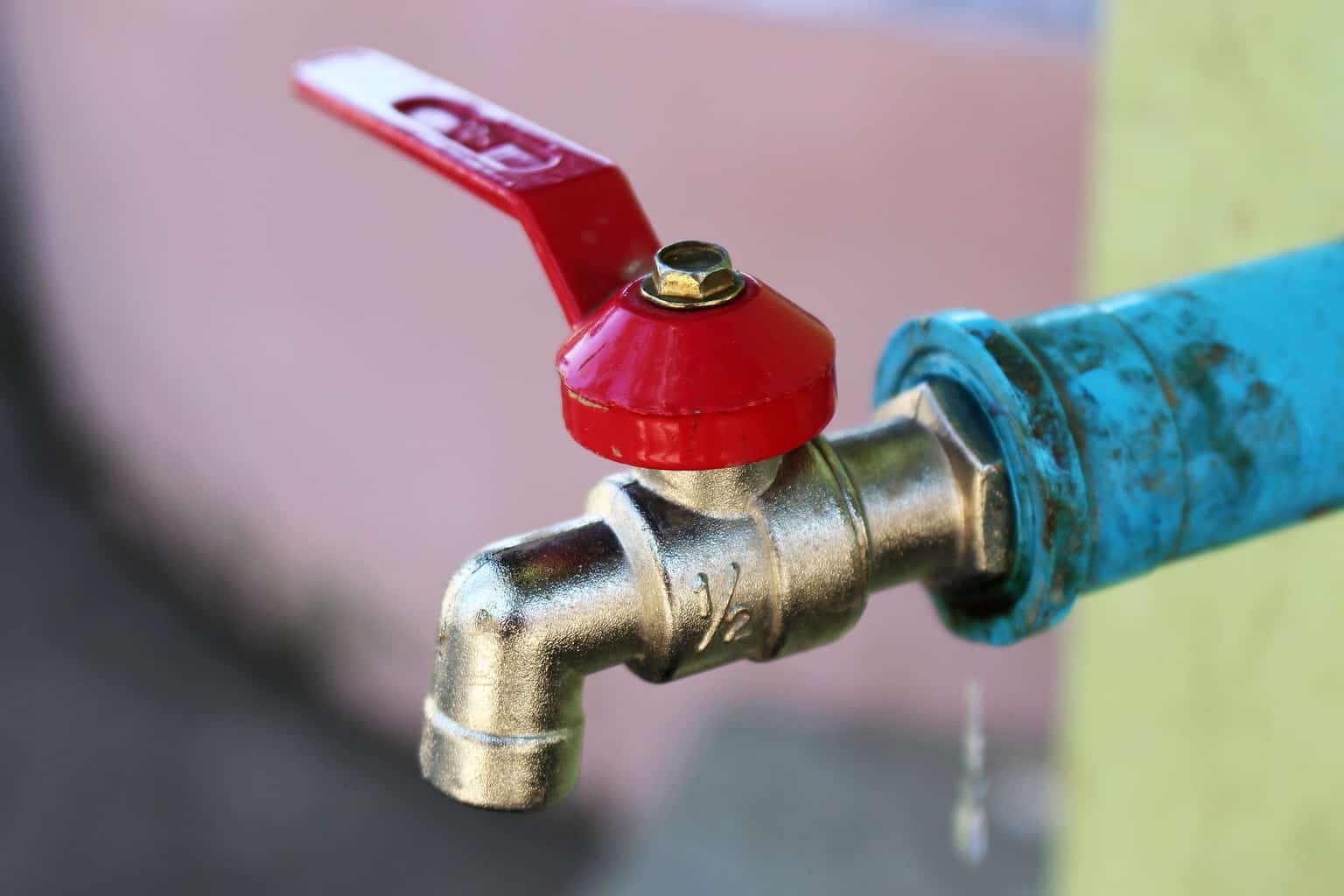 3. Saves Money
With water shutoff valves, you can save money by preventing a flooded situation in your home. Such disasters can damage the flooring, appliances, your furniture, and anything else the water comes in contact with for a prolonged period.
You will have to spend a fortune on repairing or replacing these. The water shut off valves protect you from the potential damage a flooded sink can cause, thus helping you to save money.
4. Saves Plumber's Fees
We tend to call the plumber at the drop of a hat, without thinking about the issue or how much fees we need to pay. Water shut off valves prevent you from paying unnecessary fees to the plumber.
These devices are enough to stop or control the flow of water during upgrading, maintenance, or when you notice a leak in your bathroom sink. Just by turning the handle or lever, you can control the water flow without calling in the plumber and paying an exorbitant fee.
Top 11 Best Water Shut off Valve Reviews
KES Shower Head Shut-Off Valve
Save water and reduce your water bill with the KES Shower Head Shut-Off Valve for your shower!
The brass body guarantees durability as it is better than a plastic body in terms of being resistant to heat and high pressure. Thus, you will get greater performance from this product and it promises to function without any leaks.
The ceramic disc valve is reliable and leakproof. It can withstand up to 200,000 times of switching cycles! All credit goes to the advanced technology of the ceramic cartridge.
With an efficient water controller, you can either use this as a shut off valve or you can control the flow of water through the showerhead. Thus, you save on the water you consume, which reduces your water bill. It's also beneficial to the environment as you are using less water.
With a polish chrome finish, this product looks good inside the bathroom too, adding style to the ambiance.
With a female inlet and a male outlet, it has standard measurements that are universally compatible. The thread connections are straight and the package includes a washer. You will also find a Teflon tape included for convenience in installation.
The easy to use lever allows comfortable turning on and off, even when your hands might be wet and slippery. Therefore, during any sudden emergencies, you won't need to waste any time in turning off the valve.
Highlighted Features
Easy to operate with a smooth lever.
Universally compatible with standard measurements.
Durable brass body that lasts longer.
Leakproof ceramic cartridge for efficient performance.
Polish chrome finish for cosmetic purposes.
KES Shower Shut Off Valve Brass with Handle Lever...
BRASS BODY: Brass body construction provides much higher performance (high heat-resistance and...
HIGHLY-RELIABLE CARTRIDGE: Advanced leakproof ceramic cartridge can be operated up to 200 000 times...
WATER FLOW CONTROLLER: Can be used as shut-off valve or water saver valve.
Dramm 114960 036434 4 Brass Shut-Off Valve
A perfect creation will only deliver perfect services!
That's the philosophy that the Dramm 114960 036434 4 Brass Shut-Off Valve epitomizes. With its brass body construction machine-made to perfection, it will last long even in the toughest conditions of water pressure.
At a water flow rate of 15 gallons per minute under a normal hose pressure, this valve has a large opening of half-inch. This allows the free flow of water without any hindrance of any kind. By the way, the pressure of water that flows through it is 60 pounds per square inch.
If you're thinking what makes this so heavy-duty, well, its internal components are all made from high-quality materials. The brass ball, as well as the seals, have been coated with chrome for durability.
The handle of the product is made from brass and has a forged design. This makes it stronger and lasts longer. Besides, the forged handle also creates fewer chances of breakage.
Moreover, the ergonomic design of the handle allows it to be operated easily, even when your hands are wet. Just give it a quarter of a turn and you will stop the water from flowing.
The overall design of the valve is based on easy accessibility so that you have the control of water flow literally at your fingertips. Hence, you can easily save water by preventing its overuse.
Highlighted Features
Heavy-duty brass body and high-quality internal parts for durability.
Ergonomically designed handle for ease of operation.
Half-inch large hole for a free flow of water.
Withstands high pressure of water.
Efficient design for ease of accessibility.
Sale
Dramm 114960 036434 4 Heavy-Duty Brass Shut-Off...
Dramm Heavy-Duty Brass Shut-Off designed to provide fingertip water control at the end of your water...
Ergonomic, large, quarter-turn handle controls water flow- even with wet or arthritic hands
Best Shut-Off available & Assembled in USA with American & foreign components
PLG Solid Brass Water Hose Shut-Off Valve
When you are looking for a shut off valve that can be used on other fixtures besides the kitchen or bathroom sink or toilet, then go for the PLG Solid Brass Water Hose Shut-Off Valve.
It can work on your garden hose and other watering equipment besides giving you a seamless connection to any standard spigot or faucet. This is a single connector for your garden hose. Its shut off valve comes with a 3/4th-inch male and 3/4th-inch female connectors.
Without going through the trouble of turning on and off the main faucet, you can operate this smart water shut off valve easily. This gives you full control over the water flow. Besides, changing water spraying devices is rendered easy with this stop valve.
Installation is easy as it connects without any issues to any standard hose or faucet. For your convenience, you will find a spare gasket and spigot adapters consisting of half-inch female and quarter-inch male adapters in the package.
To prevent any leaks, place the male connector first on the connection point. After that, put the washer into the neck of the female connector. Lastly, screw the female part into the connection point. The washer ridges should fit over the male neck that is jutting out. This will ensure proper washer placement.
This water shut off valve is easy to use and even with someone with arthritis, turning the valve on and off is a cakewalk.
Highlighted Features
Suitable for watering equipment besides faucets.
Single connector with male and female parts.
Easy installation with adapters, spare gasket, and spigot.
Easy to use even for arthritis patients.
Switching to multiple spraying devices is easy.
PLG Solid Brass Garden Hose Shut Off Valve Heavy...
Solid Brass,Adjustable flow control,Female connector rotatable,swivel connectors for accurate...
Full water flow design with 3/4"standard hose thread.
Leak-free ,Easy grip, easy to turn on and off, with extra gasket.
2wayz Garden Hose Water Shut Off Valve
Say goodbye to all those frustrating summer days when you keep going back and forth turning on and off the tap connected to the garden hose!
To your rescue comes, the 2wayz Garden Hose Water Shut Off Valve, which can be used for various purposes. You can stop leaks from your faucet with this valve. You can also remain dry while you're changing sprinklers or hose nozzles, thanks to this miracle product!
Besides, you can easily connect a pair of hose pipes without taking the trouble of shutting off the water supply from the spigot.
The design of this stop valve has been based on the leakproof concept. With its tight and concrete construction, there will be no leaks at all. A unique combination of zinc and hardened plastic render the product rust-free.
The installation of this device is a matter of minutes. Screw it on the spigot or water hose. As the straight angle valve has its body coated with rubber, you can have a firm grip, even with wet hands. For your convenience, it has 4-centimeter long knobs for ease of operation, especially for arthritic users.
The knob of the valve turns smoothly and the nozzles promise to remain supple even after many years of use. Owing to the long handles, you will not need a wrench to turn the shut off valve on or off.
The product has a standard 3/4th-inch inlet and outlet to fit most fixtures and appliances.
Highlighted Features
A standard 3/4th-inch inlet and outlet for compatibility.
4-centimeter long knob for easy shutting off or on.
A rubber body to enable a firm grip.
Combination of hardened plastic and zinc for a leakproof experience.
Multiple usage on the garden hose, spigot, faucet, etc.
2wayz Garden Hose Shut Off Valve. Stop Running...
RELAX, GET COMFORTABLE, STOP MAKING TRIPS BACK AND FORTH TO THE FAUCET! If you have no valve in your...
RUSTPROOF, NO LEAKS. The 2wayz straight shutoff valve was designed with the highest quality in mind....
1-2-3 INSTALL, OPTIMIZED FOR CONVENIENCE & USABILITY. Easily install the shut off valve by screwing...
DANCO Shower Volume Control Shut-Off Valve
Do you let the shower run while soaping up? Have you wondered if that extra water could be saved, how it would impact your water bills?
Well, now is the time to take control of the water flow from your showerhead and save water along with some money. The unique trickle feature of the DANCO Shower Volume Control Shut-Off Valve allows you to save money, water, and energy!
Its installation is easy as it requires you to just put this between the arm and the head of the shower. Operation is equally effortless as you need to turn the nozzle to control the water flow.
It's not only its function but also the cosmetic and structural aspects that make it the best water shut off valve. Made from a combination of plastic and brass, it speaks of durability and strength. The chrome finish lends it a polished and smooth look, adding style to your bathroom.
Even when you keep the flow at a dribble, you'll still find that the water is warm. This is a huge help for those who need to have the water on while soaping up or shampooing your hair.
After installation, make sure that the screw has been tightened enough. Otherwise, with high water pressure, it may come off. The package includes plumber's tape to make the installation more convenient for you.
Highlighted Features
Suitable for showerheads to control the water flow.
It saves water, energy, and reduces water bills.
Strong and durable with a combination of brass and plastic construction.
Easy installation between the arm and head of the shower.
Easy operation by turning the nozzle.
DANCO Shower Volume Control Shut-Off Valve,...
WATER-SAVING shut-off for showers while in use - trickle feature allows you to minimize water...
CHROME FINISH matches most existing features and constructed of DURABLE brass and plastic for...
EASY TO USE AND INSTALL - simply attach the valve between the shower arm and head. For use - simple...
SharkBite 22222-0000LFA 22222-0000LF Plumbing Fitting
Worried that your next plumbing project may literally slip out of your hands? If you have Sharkbite water shut valves to help you, your every plumbing assignment becomes easy and less time-consuming. The SharkBite 22222-0000LFA 22222-0000LF Plumbing Fitting doesn't need solder, glue, or any other special tool.
Its installation is like wearing a glove. Just cut the square into the pipe, insert the pipe into the valve, and you're done! This push-to-connect technology has redefined the way even laymen look at plumbing projects.
Making repairs or replacements couldn't be easier with this product. As it's compatible with most types of pipe materials including PEX and CPVC, you won't need to waste any time looking for the perfect stop valve.
The stainless steel teeth of the valve bite down on the pipe and the O-ring squeezes to make a watertight seal. Thus, it gives you a leak-free performance which will keep you free from plumbing plights.
With the ability to withstand 200 degrees Fahrenheit and 200 PSI, it can be re-used for up to 4 times. Therefore, you get more value for money. It's ideal for connections in both your home and office.
Its ease of operation is legendary. Just by turning the smooth lever, you can turn the water stop valve off or on. Its full port allows the free flow of water, giving you its full benefit.
With a disconnect tool, you can take the product off comfortably. As it's a lead-free product, it meets all the requirements no matter the type of water in your region.
Highlighted Features
Lead-free for compatibility in all types of water.
Push-to-connect technology for an easy and quick installation.
Suitable for all pipe materials including CPVC and PEX.
Installation doesn't require any special tool or glue.
More value for money as it is reusable for up to 4 times.
SharkBite 22222-0000LFA Ball Valve, Water Valve...
INSTALLS IN SECONDS: 1/2 Inch ball water valve requires no special tools, no soldering, no crimping...
VERSATILE: Shark Bite Ball Valve plumbing fittings fit Copper, PEX, CPVC, PE-RT, and HDPE Pipe and...
PERFORMANCE: SharkBite shutoff valves are are heavy duty and certified to sustain a pressure of 200...
Dome Home Automation Water Shut-Off Valve
In the age when all things are smart and can be remotely controlled, why not the water shut off valve in your home! When you go away on vacation, you don't have to worry about plumbing accidents at your home. The Dome Home Automation Water Shut-Off Valve takes away all your worries.
You can turn the valve on or off with the help of your home's smart mobile hubs like Wink, Z-Wave, Nexia, Smart Things, Home Seer, and others.
Even in your absence, take full control of any leaks or burst pipes at your home. When the smart hub at your home identifies any leaks, it will turn off the valve automatically. Thanks to the water alarm that notifies the stop valve.
Its installation is easy as you don't need a plumber. Just put it over the current valve and you're all set for a peaceful getaway. Just a screwdriver will take care of its installation.
Any appliance with a quarter-turn ball valve up between one and one-and-a-half-inch size is compatible with this smart water stop valve. Please note that this product is for indoor use only. It comes with an extra-long power cord for your convenience.
Moreover, its powerful motor can make your old water boiler or any other heating equipment become automated. You can also install such wireless water shut off valves in your vacation home so that it remains safe even when you're not visiting.
Highlighted Features
Smart water shut off valve that connects to your home's smart hub.
Automatically shuts off when detects any leak.
Compatible with water boiler and other equipment that use ball valves.
Its installation requires just one screwdriver.
Compatible with Home Seer, Smart Things, Nexia, and other apps.
Sale
Dome Home Automation Water Shut-Off Valve - for...
WORKS WITH SMART HOME DEVICES - On-demand control from anywhere using your smart home hub's mobile...
SHUTS DOWN WATER LEAKS AUTOMATICALLY - Valve controller shuts off water automatically when your...
SMART HOME AUTOMATION WATER ALARM - Receives notification when water leaks are detected and shuts...
SharkBite 23336-0000LF Shut Off Water Valve
Don't you wish you could just push a valve and it would connect to the water pipe with the least hassle? Well, your wish has come true with the SharkBite 23336-0000LF Shut Off Water Valve!
It's very easy to install as you just need to make a square cut in the pipe and just insert it inside the valve. It takes less than a minute or so to get it done! With its half-inch push-fit and quarter-inch threaded compression, you can get a watertight seal without using sealants, solder, or any other tool.
This product is great for copper, CPVC, PEX, and PE-RT pipes. Hence, you can use it anywhere with ease without digging about trying to find out what material the water pipe is made from.
When it comes to performance, it won't let you down as it can be used in heating systems also. It is perfect for temperatures of up to 200 degrees Fahrenheit and water pressure of up to 200 PSI.
If you want a connection between your water pipe and a shut off valve that's not messy and leaves no leaks, you have the right product right here. What's more, you can use this comfortably in both residential and commercial spaces as it meets the standard specs.
As the body of this device is plated with chrome, it looks good and won't stick out like a sore thumb in your bathroom or kitchen. You are assured of its durability as it's made from brass.
Highlighted Features
Brass body with chrome finish for good looks and durability.
Suitable for all types of water pipe materials.
Compatible with residential and commercial plumbing systems.
Excellent performance at 200 degrees Fahrenheit and 200 PSI.
Easy installation without any tool or glue.
SharkBite 23336-0000LF Shut Off Water Valve, 1/2"...
INSTALLS IN SECONDS: 1/2 inch push-fit x 1/4 inch threaded compression angle shut off valve requires...
PERFORMANCE: Rated to 200 PSI and 200 Degree F. Use in Potable water and Hydronic Heating...
VERSATILTY: SharkBite connects Copper, PEX, CPVC, and PE-RT Pipe in any combination
HQMPC Heavy Duty Brass Shut Off Valve
Save hundreds of dollars in plumbing fee with a strong brass water shut off valve like this!
A heavy-duty stop valve is all you need to shoo away all the leaking faucet and garden hose troubles. The brass body of HQMPC Heavy Duty Brass Shut Off Valve ensures durability. Its 3/4th-inch valve is a one-way device. There are 4 spare rubber gaskets included in the package in case you may want to replace them.
Also included in the package are two – not one – valves.
Attach this product to the end of your garden hose and easily switch the nozzle without having to turn off the tap. This will save you the trouble of going back and forth to your spigot.
With zero leaks guaranteed, you can stay dry even while you're changing the nozzles. No more playing dodge with the garden hose as you leave it on the flower bed.
The ease of operation is amazing. Just a simple and smooth turn will shut the valve on or off. Just a word of caution for the installation phase. Don't tighten the valve too much when you connect it to a faucet as it will leak. Use your hands only to tighten instead of a wrench.
This product has worked perfectly for users who have a 200-gallon fish tank that needs water to be added twice a week. The valve made the job easier.
Highlighted Features
Solid brass body for durability.
Perfect valve for the garden hose and switching nozzles.
Its leak-proof feature allows you to remain dry.
Needs tightening with hands only, no wrenches recommended.
Easy to install and operate.
HQMPC Heavy Duty Brass Shut Off Valve Garden Hose...
No pliers!! Hand tighten-then Heavy Duty Brass Shut Off valve,brass one way valve,Solid Brass...
The package include 2pcs brass garden hose shut off valve,4pcs pressure washers.
The garden hose connector size thread standards: 3/4" GHT thread easy to turn on and off
Camco Brass Connector Straight Stainless Steel Shutoff Valve
If you can get a strong grip on the water shut off valve, only then you can have full control over the flow of water.
The Camco Brass Connector Straight Stainless Steel Shutoff Valve features an easy-grip handle to give you the first step toward addressing a leaky garden hose. With a quarter-turn handle, you can comfortably turn the device on or off and prevent water from being wasted or from generating a high water bill.
The main body and housing is solid brass so that it lasts for a long time and give you peace of mind. Coupled with the stainless steel parts, this straight valve is resistant to corrosion.
It's also suitable for use when you go camping and park for a few days. This valve can connect to two hoses so that one is used for freshwater while the other is used to clean the tanks or wash the camper.
The handles of the valve have been termed as small by some users. However, they have added that after a few uses, the handles are easier to operate.
As this stop valve is compliant to lead laws, it's safe for drinking water and will not have lead seep into the garden water.
For prolonged periods, it can withstand water temperatures of at least 135 degrees Fahrenheit and water pressure of 90 PSI without any breakage or leaks.
Highlighted Features
It withstands 90 PSI water pressure and a temperature of 135 degrees.
Lead laws compliant so safe for drinking water.
Perfect for use on camping grounds with two hoses connected.
Solid brass body to last a long time.
An easy-grip handle to instantly control the flow of water.
Sale
YOO.MEE Shut-Off Brass Ball Valve
When you don't want the water flow to be reduced but also want to prevent water wastage, this is the right shut off valve for your needs.
The YOO.MEE Shut-Off Brass Ball Valve has a body made of copper and brass. Besides its use as a stop valve, you can also use its adjustable feature to save water.
As the surface of its body is covered in a solid grade chrome finish, it not only looks good but is also protected from the onslaught of corrosion or rust.
The quarter-turn valve is easy to turn on and off, credit goes to its smooth handle made from aluminum.
As the product has a half-inch connector, it is compatible with all standard fixtures and appliances.
The package includes one valve and one washer. If you attach the stop valve to your showerhead, you can still enjoy your time under the shower without reducing the water flow. The open design of the ball valve ensures the flow remains large.
However, if you do want to reduce the water flow, just a turn of the handle will do the trick. This is particularly helpful in saving water if you have a rain-style showerhead. This type of shower releases more than 1 gallon per minute and thereby leads to water wastage.
If you notice any leaks in the showerhead, simply fix it by using this shut off valve instead of disassembling the whole unit. It will save time, water, energy, and money.
Highlighted Features
It maintains a large flow of water without wastage.
An adjustable handle reduces water flow to the desired PSI.
It is compatible with all standard connectors.
A sturdy body made from copper brass with aluminum handle.
Chrome finish to resist corrosion and rust.
Things To Know Before Buying The Best Water Shut off Valve
Purpose
There are various types of water shut off valves used for different purposes. For example, a three-way type is used to either mix water flowing from two different lines or to separate water flowing from one line into two different lines.
The purpose of the shut off valve is determined by its location and vice versa. The three-way kind is also industrial water shut off valve as it can be used to control the flow of oil, steam, and other industrial fluids. It's commonly used in water chillers, fan coils and other appliances that need heating and cooling.
Water Line Construction
Depending on the material the water line is made from, you must choose the water stop valve. PEX water shut off valve is suitable for water lines that are made from either copper, PEX, or CPVC – the latter two being types of plastic.
For pipes that have clamps or crimp rings, you need PEX stop valves. When the pipelines are galvanized or are brass-threaded, an iron pipe shut off valve is more appropriate. For plastic pipes, CPVC shut off valves work well.

Location Of Water Line
Water lines that come out from the wall need a different type of shut off valve than those that come from under the floor. Because of the difference in the location and the subsequent angle, you have to choose an appropriate shut off valve for sink or other appliances.
An angle stop valve is ideal for water connections coming out from the wall. Whereas, a straight shut off valve is applicable in cases where the water line comes out from below the floor, for example in the kitchen or bathroom.
Ease Of Installation
All types of water stop valves are not equally easy or difficult to install. A more 'difficult to mount' type is the three-way shut off valve. It can come in a "Y" or "L" configuration and is used to mix water from two separate lines (hot and cold) or to separate water flowing from one line to two different lines.
Copper sweat (solder) stop valves are also harder to install. You need tools like emery cloth, solder, and propane torch for installation. Therefore, some expertise is required. Compression, PEX, iron pipe shut off valves are also difficult to mount.
Top-Rated Shut Off Valve Brands On The Market
If you are wondering about how to pick the best shut off valve, go through the following to know which are the top brands that offer this product.
KES
This company was founded in 1996 in China. They have the ISO9001 certification in recognition of the high quality of their products. With an excellent training and promotion system, the company attracts the finest resources to work for them.
With more than 200 retail stores in China, the company also has subsidiaries in the USA and Hong Kong.
Dramm
The Dramm Corporation was founded in the USA in 1978. It is one of the leading manufacturers and distributors of horticultural products, foggers, sprayers, and controllers. The company believes in quality over all other things.
They have been successfully innovating and adapting the latest technology to propel their firm forward.
2Wayz
This is an Isreali company specializing in items and equipment for watering and gardening. Since 2007, they have been strategically involved with the American and European markets to develop the segment.
The pillars of this organization rest on smart design development, excellent customer service, and great quality. With these in focus, they have met and exceeded customer expectations over the years.

Danco
Established in the early 1970s, Danco is one of the leading manufacturers of plumbing equipment in the USA. With its wide range of repair, replacement, and home improvement products, the company aims to encourage DIYers to address and solve their plumbing problems.
The organization prides itself on the excellent quality control, product innovation, and a well-knit supply chain system.
SharkBite
With an experience of more than twenty years, this company leads in innovating new plumbing equipment that serves both household and commercial purposes. Their solutions are easy to install as they don't require any solder or glue.
The organization focuses on continuous innovation, providing one-stop solutions, and having a tightly-knit end-to-end supply chain.
Frequently Asked Questions (FAQ)
1. Can There Be Multiple Uses of a Shut off Valve?
Answer: Yes, there are some shut off valves that are used outside the kitchen or the bathroom. For example, for the sprinkler system in your garden or even for the garden hose, you can use a shut off valve to control the water flow instead of going back and forth to the main spigot.
Also, a water stop valve will keep you dry when you change hose or sprinkler nozzles.
2. What Are the Benefits of Installing a Valve in the Showerhead?
Answer: Many of us keep the shower on while we are shampooing our hair or soaping up. That's because we need some water to re-wet the soap or clean our hands. However, leaving the shower on wastes a lot of water.
Having a shut off valve on your showerhead can drastically reduce water wastage. This will not only save water but also energy and the money you spend on paying your water bill.
Besides, there are some models that keep the water warm even at a dribble stage. Hence, you save water but also have access to warm water in the process.
3. Are Smart Water Shut Off Valves Effective?
Answer: Yes, there are good brands of smart water shut off valves that help you to control the flow of water from a remote place. They can even detect a leak and automatically turn off the valve. You can connect such smart automatic water shut off valves to the smart hub app you use at home.
These also come in great use when you are away on vacation. You will never find a flooded home once you get back.
4. Why Should I Know Where the Main Water Shut off Valve Is?
Answer: There are a few places to locate the main water shut off valve in or outside your home. These places include your basement, the periphery of the boundary wall, and near where the water meter is.
It's good to know the location of the main water valve so that you can turn it off and disconnect the water supply to your entire house in case of emergencies, upgrades, or repairs.
5. Is It Necessary For a Fridge to Have Water Connection?
Answer: No, it's not necessary for a fridge to have a water connection. It's required only when your fridge has a water dispenser or it makes ice. If you do not use these features, then your fridge can do without a water connection.
6. How Do I Fix a Leak in My Toilet Shut off Valve?
Answer: Use a wrench to give a quarter turn to the nut on the shut off valve. Be careful not to remove the valve as this could spell disaster. Instead, just tighten the nut so that the washer gets sufficiently squeezed to make a watertight seal.

Final Words
Water shut off valves are simple but very useful devices, especially in times of trouble or when you absolutely need to control the flow of water. They are found all around our home near appliances that use water to operate and near fixtures like the sink, toilets, bathtubs, etc.
Choosing one should be careful consideration as it requires knowing from beforehand the kind of material used and the construction of the plumbing system in your home. While some valves fit all types of water pipes, others are made exclusively for copper or other material types.
The structure of these valves also varies as per their function. Therefore, it's vital to know the nature, location, and function of the shut off valves in your home so that you can nip any leakage problem in the bud.
Hence, basic knowledge about the best water shut off valves is invaluable. And in this regard, hope this article will come to good use when you shop for one.