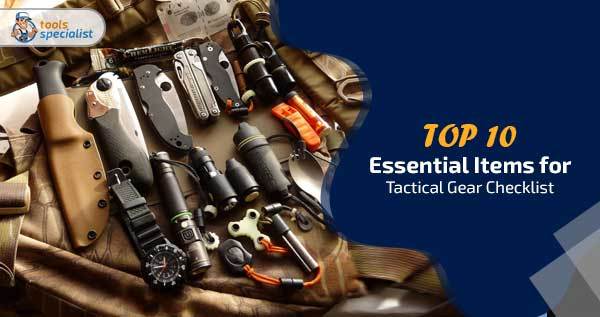 Top 10 Essential Items for Tactical Gear Checklist
Whether you're training to become a security professional or someone who just wants to test his/her aim at the shooting range – you'll need proper gear.
Staying safe in the wild, being prepared for unwanted situations, or simply when preparing for attacks from fellow humans or beasts – we're going to teach you how to gear up for all of them.
Want to know how you can do that like an expert? Then head on and learn about the 10 essential pieces of tactical gear you need!
Top 10 Tactical Gear Checklist
1. A Gun (with Ammunition)
First of all, you need a gun – or several ones. It all comes down to the safety that you get when carrying a gun around. Having a small pistol concealed and ready for any unwanted situation can be safety-inducing. And if you prefer rifles, then it wouldn't be a bad choice either.
This is more for self-defense than anything else. And it doesn't matter whether you're within a city in a shooting range, hunting in a nearby forest, or even on a hiking expedition deep in the mountains – whatever threat you may encounter can be seized with the right gun.
Relevant Article: 5 Things for Gun Safety in Your Home
2. Holsters
Carrying guns? Then make it even easier to do so with a holster. And if you have several firearms, even better – get a holster for each one.
Most holsters attach to your body and make it easy to not only keep them safe but also at close reach when needed.
There are several types, though. Some go inside the waistband of your pants, and others go outside. A few holsters stick to your pockets, while others go around your shoulder. And you may also find ankle holsters useful. There's a holster for every person.
Want to feel safe and still have fast access to your gun? Then get at least one holster.
3. Night Vision Scopes
If you're carrying a small gun around like a pistol or revolver, a night-vision scope is probably not the best thing to have. But if you're taking a rifle, especially if it is for hunting – then a night-vision scope will be super helpful.
There are several types of night-vision scopes to consider. The most common is the green night-vision scope, which captures even the slightest sign of light with its green filter. Then, you'll find thermal imaging, which lightens up objects according to their temperature.
Standard night vision is usually cheaper than thermal scopes. Yet, thermal scopes are way more useful as they work in cloudy nights and through the fog. You can choose whatever you prefer.
4. Range Bags
It doesn't matter what situation you're getting yourself into, you'll need something to carry most of the equipment and gear. Here's where a range bag enters into action.
Actually, it is the combination of a backpacking bag with a duffel bag. Yet, a range bag is usually designed to hold sturdy stuff like guns, ammunition, metal objects, and more. And they're also ultra-reliable, made with high-quality materials that withstand water, dust, dirt, and more.
That's why they're usually robust and capable of holding several items and still be comfy enough to bring around when needed. If you're traveling or doing some serious trekking around, a range bag will be a perfect piece of gear to have.
5. Vest / Jacket
Most people tend to see vests and jackets as unnecessary, but they're actually the opposite. Having one of these can be practical in many different ways – starting from the various pockets they have.
You can store all kinds of things in the right tactical jacket. Yet, it also works as a way to keep you protected from cold, dust, dirt, etc.
The truth is that vests and jackets come in a wide array of designs and with so many features that it will take an entire article to talk about them. And that's precisely why you can't miss one of these in tactical situations – they're simply too good to dismiss.
6. Cordage / Paracord
Many people call it cordage, others call it by its marketing name – paracord. And some may call it parachute cord. Whatever you call this piece of cord, it will make your tactical experience much better.
There are so many things you can do with paracord that it would be a huge pity not to have one when in the wild or in tricky situations. It can help you build shelters, attach things securely, climb trees or rocks, make fire, hunt animals, and much more.
With a 550 paracord, you can do all of that without having to make much of an effort. And you won't have to worry about it withstanding the use – it is super sturdy.
7. Maps and Navigation
Bringing maps around is always useful and a smart way to keep yourself on track. But maps aren't always reliable, or easy to follow. That's why you will also need a compass or a complete GPS system, if possible.
Smartwatches and hand-held GPS systems are the best help you can get for navigating in wild or remote areas. To avoid getting stranded or lost in a forest, nothing will help you more than the right set of navigation tools.
8. Light
Camping in a remote location? Then you need something to light your way around. Especially if the moon is at its worst and electricity is nowhere close to be found – you need something that gives eyes in the night.
Here's when an outdoor flashlight, a headlamp, or a simple lantern can help you out enormously.
These pieces of gear don't take much space in your backpack or range bag, yet they are extra helpful at night. You won't have to be scared of stepping on things you don't want, following the wrong path when lights are out, or eventually finding yourself lost even inside your tent. Light brings control.
9. A First-Aid / Trauma Kit
While you're bringing enough gear to prevent most accidents, it is always the right thing to bring a first-aid kit as well. And if you're feeling even more cautious, bring a trauma kit as well.
A well-equipped first-aid or trauma kit should come with bandages, pressure dressing, gauzes, isopropyl alcohol, hydrogen peroxide, surgical scissors, and sometimes even antibiotics with pain relievers.
The more complete the kit, the better. Some may even come with venom antidote. Those can be life-saving if you're going to a place with several venomous animals.
10. Knife
Last but not least – a knife.
How are you cutting the paracord if needed? What are you using to cut food? If you catch a fish – how are you going to gut it?
The answer to all these questions is a knife. A well-made tactical knife, made of stainless or carbon steel with a full-tang handle, and a fixed blade will be enough.
Look for something comfortable enough so you can bring it around with ease – maybe even put it in one of the holsters for quick access.
Some collapsible knives can also be a good idea. They're a lot safer and still super useful.
Whatever you pick, make sure it's something that can cut. That will be enough.
Related Article: How to Sharpen Knife With Stone?
Conclusion
So, do you want to tackle some tactical experiences with total confidence? Then don't waste more of your time and gear up with these essentials.
Each tool and/or piece of equipment in the list will be a must-have on every experience. And what's even better, you don't have to spend much on them.
However you proceed, bring them on at all times. That's what will tell you the difference between a safe experience, and a pretty inconvenient one. So gear up!
Thank's from toolsspecialist.com