As an Amazon Associate we earn from qualifying purchases.
Bathtubs consume ample space in your bathroom, and you need to look into maintaining their appeal over time. In case you have a porcelain bathtub that is quite old and deteriorating in its appeal, then you might be concerned about it. You may have questions in your mind about whether your porcelain bathtub can be resurfaced or not.
Not just you, but everyone who owns a porcelain bathtub is concerned about maintaining and refinishing it! 
Can A Porcelain Bathtub Be Resurfaced?
The answer to your question, can a porcelain bathtub be resurfaced, is, Yes. You can take a sigh of relief now, as you do not need to replace your old bathtub anymore. And you can save money too by just opting for the resurfacing procedure.
But you need to know the right approach for it. Refinishing or resurfacing porcelain bathtubs demands patience and effort. However, there are dedicated kits available for you to resurface your bathtub. For that, you can reach out to hardware or home improvement stores.
If not that, you can also put up some ingredients to make your own resurfacing agent. Follow this article till the end and get more information about can a porcelain bathtub be resurfaced. 
Cost Of Hiring Professionals For Porcelain Bathtub Resurfacing
If you intend to replace your bathtub, then you might have to bear a heavy expense for the same. For example, the average cost of a new porcelain bathtub is around $150, but the labor costs with additional charges will make it around $1500.
And that's certainly a significant amount. Therefore, people generally opt for refinishing to revive the lost shine of the porcelain bathtub. 
Hiring a professional for resurfacing your porcelain bathtub will demand you around $300 to $600. The price will fluctuate, depending upon the method or area of the bathtub. In case the bathtub is super stingy or is extremely stained, then the cost might go up.
And if you have rust problems over your bathtub, then the resurfacing process by professionals might cost you around $800. It is comparatively a cheaper option than replacing a porcelain bathtub, but it is still expensive. But you can go for an even cheaper method if you intend to do your resurfacing all by yourself.
And for that, you either need to use the kits or use selected essentials to execute it all by yourself. First, a trained professional will carry out the fixing job and then start with the re-coating aspects, known as the resurfacing approach, to give your bathtub a new look. 
DIY Process Of Porcelain Bathtub Resurfacing
 Here's what you need to do:
Put on your rubber gloves and clean the bathtub properly to remove all the soap scums. You can make use of any household cleaner for the process. Once you are over with the cleaning, you can commence with the rinsing process for the tub and allow it to dry completely. Use a towel for drying it further to remove all kinds of moisture content from the tub. 
Now, you must scrub out the surface of your porcelain bathtub using trisodium phosphate solution. If you don't have it, you can still make use of a phosphate-free substitute for the purpose. Find any hardware store nearby, and you will find such solutions over there. Now, you have to clean the bathtub again, rinse it, and let it dry! 
Get rid of faucet handles and take out the drain spout if you have any of such in your porcelain bathtub. In fact, you can make use of a screwdriver for removing the faucet handles. While removing the tub spout, you might just have to twist it to remove it in a clockwise direction. 
You will have to put painter's tape over the metal regions of the drain or other metal plumbing lines that you won't be able to remove from the tub. 
Now, carry out the sanding process for your porcelain bathtub. Use fine-grit sandpaper for the purpose and sand out the tub entirely without leaving the edges. Make use of a vacuum cleaner to clear out all the sanding dust. 
Now, cover all of the surrounding surfaces, around your porcelain bathtub, with plastic sheets. It is to ensure that the resurfacing agent doesn't impact other materials around the bathroom. Cover the edges of those plastic sheets with tape to avoid resurfacing paint to stick over the floors or wall.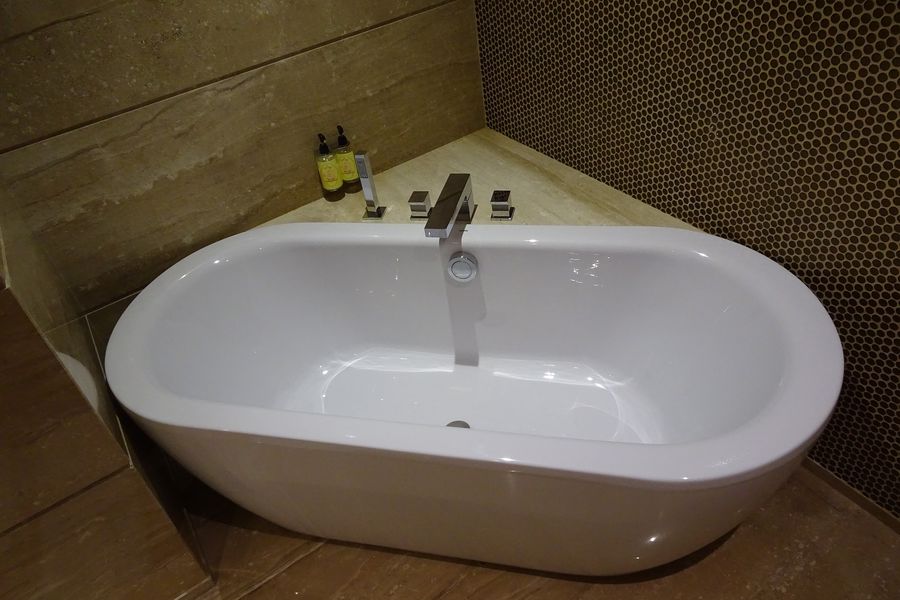 Now, you need to spray the primer solution. And let the primer dry for around 30 minutes before you can move onto the next step. Use a paint gun for the purpose and consider horizontal passes. You will need two coats of primer to process further!
Take epoxy acrylic enamel paint, and coat it over the bathtub. Let the first coat dry, and then apply the 2nd and 3rd coatings of the paint. Let the paint dry properly in between every coat to ensure its durability. 
Keep the paint to dry for around 48 hours, after which you can reinstall the plumbing fixtures!
Related Questions
How Long Will My Bathtub Last After Carrying Out The Resurfacing Implementation?
The resurfacing output will last for around 10 to 15 years. But it depends on certain factors that might positively or negatively affect the glaze of your porcelain bathtub. For example, the physical impacts and use of chemicals are the major factors. 
Is Refinishing Or Resurfacing Job A Bit Messy For Bathtubs?
Yes, it is the only adversity that you need to bear with! It is a noisy and messy job for you to execute. Therefore, you need to be prepared for the same. To know more about this only adverse reason, go through this article. 
Conclusion
Your answer is clearly stated now! It is like fixing a broken part of your porcelain toilet. You can go ahead and resurface a porcelain bathtub. You can either hire a professional or do it all by yourself, with the help of a kit, or by accumulating all the necessary items. The result will be a glossy bathtub.
It is advisable to go through this article once again when you commence with the task.