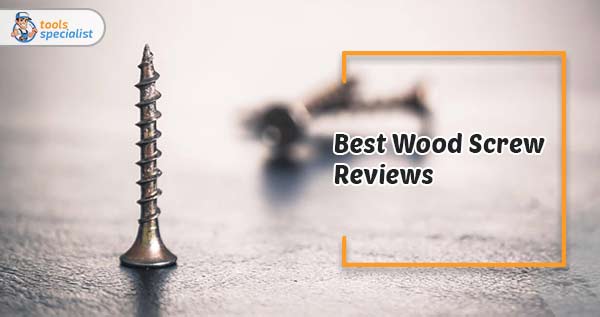 Top 10 Best Wood Screws in 2020: Reviews & Buying Guide
It is not possible for a single person to know everything about screws. Why? Because there are literally thousands of different types available. Don't believe me? Just go to any hardware store and look at their fastener section.
Now, since you are reading this, it means you want to know about wood screws. Well, lucky for you because for woodworking purpose, I can narrow down your search and help you find the best wood screws for your next DIY project.
Okay, so let's get straight to the point. This guide is just barely going to scratch the surface on all the different types of screws available out there.
But for woodworking, I've narrowed them down to just a few choices. And these are the most common types you will see all woodworkers use in their projects.
| | | | |
| --- | --- | --- | --- |
| | | | |
| | | | |
| | | | |
| | | | |
| | | | |
Our Top 10 Best Wood Screws Review for 2020
Here are some the best screws for wood to buy for your next woodworking project.
1. Kreg SML-C125-500 1-1/4-Inch #8 Coarse Pocket Hole Screws
This is the only screw set that you will need on your workshop if you are working with plywood or softwood. It's from Kreg, a famous hardware tools manufacturer that has been making high-quality products for a long time. This is a #8 pocket hole screw with coarse threads.
The threads start from the tip which eliminates the need for any pilot holes. These zinc screws are not completely corrosion-resistant but do a great job at providing rust protection. These are ideal for indoor projects. The self-tapping tip cuts wood fiber on the initial start and prevents wood splitting.
These screws go in quickly and easily thanks to coarse style threads thanks to sharp, pointy tip and the aggressive thread design. These will ensure a stable hold to your workpieces by firmly gripping into the solid fibers. And for that reason, Kreg Tool Company is famous for making the best plywood screws.
The Maxi-Loc head style has a flat bottom to ensure a flush fit with the wood piece. Since it doesn't have a conical shape, it can firmly hold pieces of wood without deforming the pocket. Thanks to the large head size, you will get a maximum bearing surface.
2. #8 x 1" Stainless Flat Head Phillips Wood Screw
These flathead Phillips screws from Bolt Dropper are ideal for salty marine environments. They are also great for working with hardwood workpiece. Thanks to their 304 stainless steel construction, they are sturdy and won't break easily. These wood screws have great corrosion resistance feature which makes them ideal for use on boats.
They will last longer than most Phillips head screws on the market. The threads start from the tip and cover the entire shank. The bugle shaped head allows the screws to flush in nicely along with the workpiece. These aren't self-drilling screws, which means pre-drilling is required.
Whenever you work with hardwood, it's a good practice to drill clearance holes. The coarse threads will firmly hold joint pieces together thanks to their full coarse thread design. For composite material, these screws should be the only set you will need.
Finally, let's talk about the Phillips head design. It has a deep cut, which eliminates the most common problem regarding screw heads. Yes, I'm talking about screw heads snapping off. With this deep cut design, this problem is a thing of the past.
3. Kreg SML-C250-250 2-1/2-Inch #8
If you are looking best screws for plywood, these are screws to get. These 2-1/2-inch screws have Maxi-Loc washer heads that can hold a lot of torque, and the large coarse threads will give you maximum holding power. The threads start from the tip, which is ideal for working with softwoods and plywoods.
Thanks to the washer heads, these screws will seat flush with the workpiece, and the threads will hold the joints firmly. It is ideal for indoor projects, and since Kreg manufactures these screws, they also have the self-drilling tips. Which means you won't have to drill any pilot holes.
The underside of this screw head is perfectly flat that seats perfectly with a flat bottom of a pocket hole. In order to provide a maximum bearing surface, the head size is enlarged, and the flat bottom leaves a smooth surface underneath the screw head.
Having more threads than required can actually push away the joining part. But this one eliminates that problem because the coarse thread ends halfway along the shank. These screws have a dry-lubricant coating to provide rust resistance. If you are looking for screws to work with softer materials, these are the perfect tools for the job.
4. Reliable Hardware Company RH-5112BO-A 1/2-Inch Wood Screw
If you are in the market for shorter screws, or if you are working on a project where the wood pieces aren't very thick, these are the right set of screws for you. These ½-inch wood screws are from Reliable Hardware Company, and just like their name, the hardware they make is also reliable.
The point is sharp, and the threads start from the tip and cover the whole shank. These screws have a black oxide and wax finish for rust and corrosion protection. These have deep and clean Phillips slots so that you can drive them using power tools without having to worry about snapping the heads.
Although they are coated, they are not entirely rustproof. If the project you are working on will encounter a lot of moisture, these screws might rust. For complete protection against corrosion, look for stainless steel screws. Because of their wax coating, they go in better.
The flat head flushes well with the workpiece and looks good after screwing them down. These sturdy screws can hole a decent amount of torque too. The ideal project for these screws would be for securing rack rails or a DIY speaker project. The heads have a consistent finish, free of burs and look smooth.
5. Rok Hardware #8 x 1/2" Standard Thread Truss Head Screws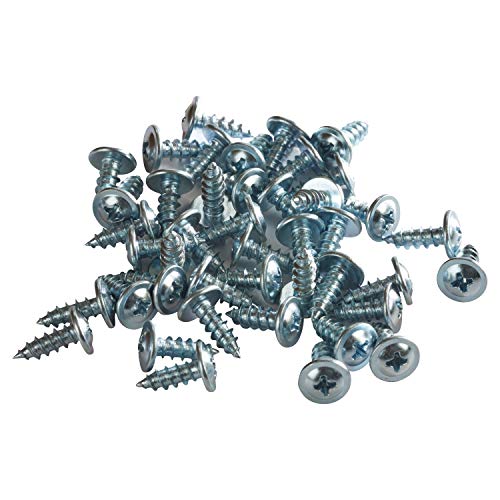 These wood screws from ROK are ideal for a lot of woodworking projects. Although the spec says these are ½-inch screws, these are actually 3/8-inch and not 12-inch. It is because the length of a screw is measured from the point to the bottom of the head. Just keep this in mind, and you won't have any problem with the sizing.
However, make sure to measure the size when you get them because some users have claimed that they are true to their size while others have some issue with the measurement. They have a truss head design and you can Phillips screwdriver on these. The diameter of the head is about 3/8-inch.
Since these are truss heads, the size of the head is wider compared to a simple pan head. You can use them for installing drawer glides. The threads go all the way along the shank and do a great job of holding plywood together. The washer heads flush in nicely along the surface.
They have a zinc finish which should provide adequate protection against rust. These low-profile wood screws seem solid, and the truss head gives you little room for movement in case you misplaced your hole. If you are working on a cabinet project and need to install drawer slides, these are the perfect screws for the job.
6. FastenMaster FMGD212-75 GuardDog Exterior Wood Screw
If you are in the market for wood to wood, highly durable fastener, this is one of the best wood screw in the market. FastenMaster's GuardDog screws have an awesome design and strong enough to hold up to the elements. They have a good grip and thicker than traditional drywall screws.
Which is a good thing because most people nowadays prefer thicker screws for woodworking projects. On top of that, you don't need to use any pilot holes. You can either use a square bit or a Phillips driver because the head features a unique PoziSquare design. You will also get a free PoziSquare drive with purchase.
In addition, these unique head design eliminates cam outs and features aggressive thread design for providing a solid grip. The thread starts from the tip and eliminates the need for pilot holes, saving you time and money. For a quick and comfortable drive, these screws have sharper piercing points.
Having a sharp tip like this will eliminate the need for drilling pilot holes. If you are working on a wood decking job and looking for something substantial to hold the joints together and not worry about rust or corrosion, these are the ideal screws for the job.
7. #8 x 1-1/2" Stainless Truss Head Phillips Wood Screw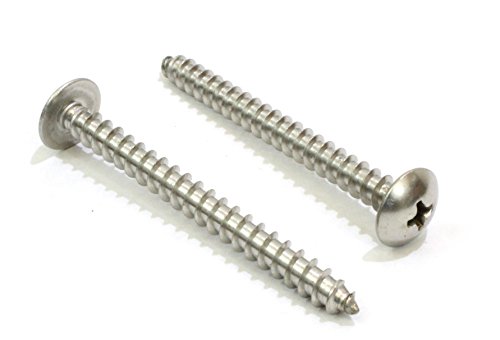 These solid stainless-steel screws from Bolt Dropper provides maximum corrosion resistance. So, if you want to build a boat, these are the perfect pack of screws for you. Since the metal is 304 SS, these screws are also very tough and will last longer than most fasteners on the market. These can come in contact with saltwater and won't have any issue with rust.
You can also use them for indoor projects. They have a full coarse thread design starting from the top to all the way to the head. However, these are not self-drilling screws so you would need to drill pilot holes. Drilling pilot holes are recommended for screws that don't have self-tapping tips.
These screws have more holding power because of their truss head design. And you also don't have to worry about overdriving the head with your power drive tool. You also don't have to worry about stripping the heads off. The design of these fasteners seems well finished and milled.
These are a great set of fasteners to keep around for outdoor and indoor projects. Because of their truss head design, the head diameter is wider than normal screws, which will give you more fastening power. Since Bolt Dropper manufactures them, you won't have to worry about any quality issue.
8. WoodPro Fasteners AP9X212-1 #9 by 2-1/2-inch All Purpose Wood Construction Screws
Since 1995, WoodPro has been selling quality fasteners all over the U.S. These screws are made to last, and just by looking at them, you will know how strong these are. These fasteners have a sharp point, and the aggressive thread design starts from the tip.
The self-drilling screws allow you to easily install them on hardwood without the need for any pre-drilling. You can start fast, save time, and work efficiently. They glide through wood easily thanks to their sharp point. The Torx compatible star drive head design allows you to fasten them using a power drive tool.
With purchase, you will get one T-25-star bit. Another advantage of a star drive head is that they won't slip when driven with a power tool. They have a 1,000-hour PPG E-coating that provides rust resistance and increases the durability. You can use these screws for a wide variety of exterior and interior applications.
The self-tapping bit allows for effortless drilling, and you can start quickly without spilling any wood. Under the head, there is a special nib that allows these screws to seat flush with the surface. If you are tired of slipping and snapping screws, give them a try, you will be surprised how strong they are.
9. #8 x 3/4" Xylan Coated Stainless Flat Head Phillips Wood Screw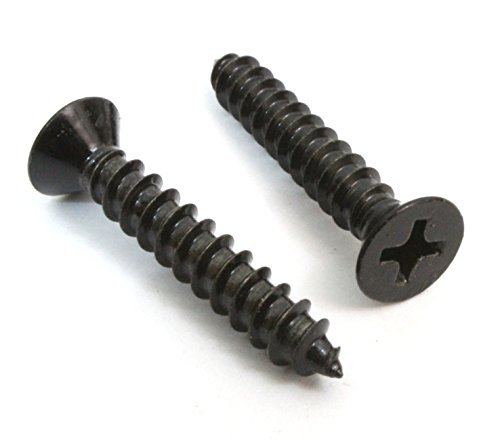 Dropping another product from Bolt Dropper and this time it's a Xylan coated Phillips head screw. They are made from high-quality stainless steel, and on top of that, they have a powerful black Xylan coating. This coating gives these screws maximum corrosion resistance. These are some strong screws.
The heads are flat with a Phillips drive design. They have nice and deep cuts to prevent slip outs. They will last long even in wet environments. These are a great set of fasteners to have around for all kinds of woodwork. The deep cut on the Phillips head virtually eliminates head stripping problems.
These screws have an aggressive full shank coarse thread design that can hold joint pieces firmly. These are not self-drilling screws, which means pre-drilling is required. For hardwood application, it is a good practice to drill clearance holes first before you drive any screws. That way, you won't have any wood splitting issue.
These 304 stainless-steel screws are better than regular steel screws, and the Xylan coating gives them maximum corrosion resistance. Because of that, you can use them for both outdoor and indoor projects. If you are building a new deck and want some screws that won't rust, these are the right fasteners for you.
10. #8 Deck Screws 18-8 Stainless Steel
As the name implies, these are deck screws. They have a strong stainless-steel construction with thread cutting tip. These fasteners are highly corrosion resistant and are designed for deck building projects. The bugle head design makes sure these will seat flush and also depress the wood surface.
They have a square-drive head, and the head diameter is 0.340-inch. Thanks to the thread cutting tip, they drive easily into hardwood boards. The head shape allows them to ley smoothly. In addition, these screws can hold a lot of torque because of their Robertson drive head design.
The square-shaped socket will make sure you don't occur any slippage. It's a self-drilling, self-countersinking screw made from a high corrosion-resistant material. This is what I call an ideal fastener for deck building. These screws have a coarse thread design and hold woods firmly.
The sharp and narrow point of these screws is useful when it comes to softwood projects. Most of the time, you won't even need to drill any pilot holes. Because of their unique shank design, they can propel themselves, and the threads make sure these fasteners stay in place.
Think's to Consider Before Buying Screws for Woodworking Projects
In the 21st century, almost nobody can hammer. Woodworkers are so into power tools these days that they actually don't need to use hammers anymore. Now, the problem with many screws is that not all of them are designed to be driven by power drivers.
Also, if you have ever been to your local hardware store to get some screws, you know how hard this experience can be. Because there are thousands of different kinds of screws and most of the time, you won't even know which one to pick.
And there is no way I will be able to cover them all, but what I can do is show you some of the most basic types you will need for your next woodworking project.
If you don't want to sit through this entire article, make sure to ask a fellow woodworker before buying a best wood screw.
On a side note, I really hope you read this entire guide because it is filled with lots of useful information which will help you decide which screws you will need for your project.
Why Use Screws Over Nails?
In construction, we all know that screws can never nails because they each have their pros and cons. A nail goes in instantly without much effort if you use a nail gun. In many ways, it is more efficient than a screw.
On the other hand, a screw has more structural strength. For example, a drywall screw will have carbon steel construction, which makes them tougher, and they have a high resistance to draw out.
Nowadays, screws are used widely over nails for jigs and shop projects. It saves time but leaves a visible appearance. They are also great at holding things together if you are worried about the expansion and shrinking of the wood.
For projects like cabinets and workbench, screws make it easier to assemble them. You can finish your projects easier and quicker.
Most of the time, nails are only used for decorative purposes. You will most probably only use brad nails to hold down pieces of wood while you are waiting for the glue to dry in between.
Anatomy of A Screw
The only thing in common between all the screws out there is their components.
Let's talk about each of these components.
The head is the most important part of a screw. You can also dig down more because a screw head has two different components.
1. Drive Type
2. Head Shape
Read on to know more about these because it will help you to easily differentiate between different types of screws available.
1. Drive Type
When considering the drive type, there are a lot of them and luckily you don't need to know about all them for woodworking projects. Here are some of the common types you need to know.
The most ancient type of screws on the market. There is a slot on the head to drive the screw using a flathead screwdriver. For this reason, it is also referred to as slotted screws. But hardly anyone calls it by this name.
The only problem with these types of screws is that they are hard to drive using an impact driver or a drill. You need a lot of patience to work with them because they are not meant to be driven with a power tool.
However, they are still very common in hardware stores, and you will always find them in stock. If you don't necessarily need to use them, my suggestion would be to avoid them altogether.
They have been around the market since 1930. They are better than slotted screws because you can easily drive them, and the head stays in place much better than a flathead screw.
However, the head isn't that strong, and they tend to ruin the driver when pushing them into the last bit of wood. They slip and sometimes cam-out. I guess the only improvement over slotted screw is their ability to stay in one place.
You need to make sure your driver matches and fits the Phillips screw head because they come in different sizes. They are also very common, and they are easily found in hardware store all over the U.S.
Square drives are also known as Robertson screws are a huge improvement over Phillips and Flatheads. You will have a tough time finding them in the U.S because they are mostly used in Canada.
They have a square shape top that works extremely well at eliminating cam-out and greatly reduces driver slipping. However, you can see similar characteristics in pocket screws.
Torx drives are also known as Star drives because of their star shape top. They are becoming very popular because they unique shape on top never slips out and literally eliminates cam-out.
They don't easily snap if you tighten them too much because they can hold a lot of torque. And for that reason, they are considered as premium quality screws and come with their driver tip.
2. Head Shape
There are different head shapes available, but only two of them are commonly used in woodworking.
So, this is where things can get a little bit confusing. As you can see, I've already talked about flathead screws in drive types because slotted screws are also called as flathead screws.
In general, a flathead screw has a top flat and can have any kind of drive with a beveled head. This helps the screw to seat neatly into the wood without any splitting issues.
They are easy to flush with the surface using a power tool. To achieve cleaner results, you can either cut the bevels using a countersink bit or drill a pilot hole.
Roundhead, also known as Panhead has deep or shallow domes. While they are not widely used for woodworking projects, you will still see them used on top of the wood to attach some other material.
Shank & Threads
After head comes the shank and threads. The thread is wrapped around the shank, and these are the parts of a screw that drive into the material. Some are fully threaded while others are partially threaded and stopes before the hard.
Even the threads and shanks have different sizes. The diameter or the thickness is marked by a number, and the larger the number is, the thicker the shank gets. Most common sizes are 6, 8, and 10.
You will also see some number like 24 or 32 TPI. This indicated thread per inch and mostly used in the U.S. Thread count is used in machine screws where you need to match the nut with the screw.
Even thread have different types like coarse threads and fine threads. A general rule of thumb is to use coarse thread for plywood and fine threads for hardwood.
Tip
The last component of a screw is the tip. For woodworking projects, most screws will have a pointed tip. This allows for precise drilling. Some screws have a splint point tip that helps to cut the wood like a drill bit.
They are called self-drilling screws and great for use with power tools. On the other hand, you won't see any pointy tip on machine screws.
And that concludes the anatomy of screws. Now, let's have a look at different types of screws.
Different Types of Woodworking Screws
In terms of usage, there are different types of screws available. Let's have a look at some of the common screw types used to join pieces of woods.
Wood Screws
These are standard wood screws that you can find on all hardware stores. These screws are designed to have a smooth shank top, and part of the shank is threaded. It helps to keep pieces of wood together and keep the screw in place.
These screws for wood projects are cheap and available in all kinds of head shapes and diameters.
Drywall Screws
They are cheaper than standard wood screws and mostly used for jigs and shop projects. Drywall screws and used by a lot of people in this woodworking trade and you can find them in just about any hardware store.
They have a bugle shaped head with a fully threaded shank. The shank is thinner, which also makes them very brittle. They also snap easily when used on hardwood and that's why you should avoid them.
And in the U.S, they are available in Phillips head which is very common nowadays. The bugle shaped head doesn't match the shape of a countersink but doesn't tear the paper on drywall.
Production Screws
Production screws are also known as multi-purpose screws and are some of the most expensive screws on the market. They are incredibly strong because of their hardened steel construction.
You also don't need to drill any pilot holes because they have self-drilling tips and the best part is, they come in square or star drive.
With the multi-purpose screws, you can easily prevent splitting, they won't slip out and stay in place, and they are also the strongest wood screws out there. Which also makes them the best wood screws for wood projects.
When you buy a full box, you will get a driver bit that fits the head of these screws. The only drawback of these types of screws is the price. As I've said before, they are pretty expensive.
However, compared to the frustration of snapping, splitting wood pieces and cam-outs, spending this extra money will surely pay off.
Deck Screws
Deck screws have a corrosion-resistant coating on top of their hardened steel construction which make these screws of wood decks ideal for outdoor projects.
Stainless Steel Screw
These stainless-steel wood screws provide even better corrosion resistance than deck screws.
You can use them in salty marine environments because they offer good weather protection. However, they are not as strong as deck screws and also very expensive.
Sheet Metal Screw
These are more similar to a wood screw, but they have a pan head. They also have a sharp piercing point and fully threaded shank. These are tiny screws intended for piercing sheet metal. You can also use them as a substitute for wood screws.
Machine Screw
While these screws aren't common in woodworking projects, they are often used to hold together a couple of boards that are already tapered.
They don't have any points, and these are the only screws that have a thread per inch marking. Make sure to buy nuts that match the threads.
Pocket Screw
These are those self-drilling screws that I've mentioned earlier. Kreg makes some of the best pocket screws out there. These screws have a wide head to grab the shoulder created by drilling pocket holes. They are really easy to seat because of their square drive head.
If you want to know more about wood screws , then watch this video below.
Materials & Coatings
Almost all of the screws will have some sort of coating to protect them from rust and corrosion. If you are working on an outdoor project, make sure to use stainless steel screws because they have the highest corrosion resistance.
On some screws you will notice zinc coating or Xylan coating, don't worry about the name because all of them are applied to give you rust protection. Especially for deck building, you want a screw that won't rust when it comes in contact with saltwater.
Also, for indoor projects, if a regular screw is exposed to moisture, it will rust. The most common coating for indoor screws is bright zinc. They won't be that strong but will give you adequate corrosion resistance.
Some screws have Black oxide to protect the wood from rust stains. But they don't offer good enough protection against corrosion. Other popular coating methods are Blue-Kote, NoCoRode PLUS, Epoxy Coat, Climatek, HCR and Weather Maxx.
Basic Tips for Driving Wood Screws
There are some common problems associated with driving screws. You may have experienced split wood parts, shaky parts, not bolted down or screw head-splitting out when used with a power driver.
You may have broken a screw completely. Let me show you some tips that will help you avoid these problems.
1. Create a path for the screw. Chances are you are just driving the screw into the bare pieces of woods which are causing the splitting issue, or the parts not joined together properly.
2. For softwoods, all you need to do is drill a pilot hole. Drilling a pilot hole will give you just enough clearance for the screw threads to get into the wood and attach the two parts together.
3. You should create a countersink of the screw head to stay flush with the surface or slightly below the workpiece.
4. For hardwoods, a simple pilot hole won't be enough. For this, you need a clearance hole. It will allow the screw to go all the way through the top workpiece and the threads will only bite the bottom piece which will allow the screw to pull the two wood pieces together.
5. Make sure to use a separate countersink bit for hardwood projects. If you make sure to follow these tips, you will no longer have any wood splitting issue. And it will also prevent stripping the head or breaking the screw.
Frequently Asked Questions (FAQs)
Q1. What is a pilot hole?
A pilot hole is a hole that is slightly smaller than the diameter of the threads. It is mostly applied for drilling into softwood.
Q2. What is a clearance hole?
A clearance hole is applied only on the top workpiece and not the bottom like a pilot hole. The clearance hole will have slight large diameter than the screw thread you will be drilling.
Q3. What screws to use on wood?
You can't just use any kind of screws for wood. There are specific types of wood screws that you should use. Make sure to read the label before buying.
Q4. What's the difference between wood screws and drywall screws?
Wood screws are similar to drywall screws but thicker, have softer metal and doesn't break easily. They have a unique thread design to strengthen a wood joint.
Final Thoughts
Among all the various types of screws, not all of them are ideal for woodworking projects. People who are in this trade will only use two or three different screws. Most of them will just use nails and wood glues. But that's a topic for another day.
Hopefully, this guide was able to narrow down your search for the best wood screws. I know there are a lot of different choices available, but for woodworkers, these are the only set of screws you will ever need.