Best Grille Guard for Deer in 2020: Reviews & Buying Guide
Installing a grille guard is one of the ways in which you can show yourself to be a tough driver on the streets. But that's not all that this piece of equipment is for.
With the best grille guard for deer, you get to protect your SUV or truck from damage in the event that hit another vehicle or an animal crossing the road.
If you love adventure, there are times you find yourself driving to the upcountry. Sometimes you're on roads cutting through the woods or mountainous regions. In such places, wildlife likes to cross the roads, often without looking right and left.
Sometimes, it can be unavoidable to hit these animals. When you do, there's a considerable risk of damaging your radiator, headlights, front bumper, and grille. That is what the grille guard offers protection from.
In this article, I will show you where to get the ideal grille guard for your vehicle.
Why You Should Use a Grille Guard for Deer?
A grille guard is known by a variety of other names, including push bar, bull bar, nudge bar, cattle pusher, and brush guard.
But what is a grille guard? It is simply a sturdy structure shaped like a cage that functions to cover and protect the front part of the truck/SUV.
Apart from adding aesthetic value, the structure works as an additional layer of protection in case the vehicle collides into an animal or another vehicle or anything else.
You can get the item for less than 200 dollars, but if you want a large unit that covers the whole front part, you might have to pay around 500 dollars or more.
So, is it a worthy investment? Yes!
Here are 4 reasons why a grille guard is a worthy investment:
You can add more lights to the vehicle
When driving in foggy conditions, or in the dead of the night on a new road, it can sure help a lot to have more lighting. A grille guard offers you a platform where you can install auxiliary lights.
They integrate well with vehicle accessories
Worried about your grille guard affecting your vehicle accessories such as the tow ball and the headlights? Don't be, as the installation will not affect them. In fact, the guard will protect these accessories.
Great shield in case of an accident
As much as hitting an animal is dreadful, it can be unavoidable. No matter how careful you are, a deer or another animal can appear from nowhere and decide to cross the road just in time for you to hit it. When a vehicle hits an animal, there can be significant damage to the front part.
A nudge bar protects the headlights, bumper, and other parts/accessories of the front of your vehicle. And not just from animal accidents but also from accidents with other vehicles as well.
A rugged look is something almost every SUV and truck owner wants. Want to give your vehicle a really tough look? A grille guard should do it.
| | | | |
| --- | --- | --- | --- |
| | | | |
| | | | |
| | | | |
| | | | |
| | | | |
Our Top 10 Best Grille Guard for Deer Reviews in 2020
1. TAC Bull Bar
Do you own a Ford pickup truck? If it is an F150 (2004 to 2020) or an Expedition SUV (2003 to 2017), then the TAC Bull Bar might just what you need.
This is a 3-foot front bumper grille guard made of stainless steel.
In summary, the unit is extremely sturdy, super easy to install, and very well made. You will like the stainless finish – looks really good on trucks and SUVs. The end cap welds are high quality and as the bar is heavy, that is a good sign in terms of quality.
There are plastic plugs on the end caps. These serve the crucial function of keeping the moisture out. That is one of the reasons why the unit doesn't rust on the inside.
The other major factor that keeps rust at bay is the quality of the material – stainless steel, which is effective at resisting rust.
Being able to mount lights is a factor many people consider important. The TAC Bull Bar has provision for that. You can mount up to about 4 lights on it.
There's just one disadvantage I found – there's no provision for attaching the license plate. That being said, you can drill pilot holes and use self-taping screws to mount your plate.
Though, I would highly advise against that as it can create an inlet for moisture and rust. Many people using this bar don't do it.
The installation of the bar itself is a piece of cake. It's a direct bolt-on, and there's no hassle as all the installation hardware are included. The package also comes with the mounting instructions.
When you purchase this one, you get a 3-years manufacturer's warranty.
For a tough appearance on your vehicle's front end, coupled with an extra layer of protection, get the TAC Bull Bar.
2. Westin 57-2505 HDX Black Grille Guard
If you want a larger unit that offers more protection, then you might want to get a unit that covers your vehicle's front fully. The Westin 57-2505 HDX is one such unit.
It gives your vehicle a full wrap around the headlights, going nicely from end to end.
This bull bar is designed for most Ford F150 trucks.
One reason why many people find this the to quality of grille guard for deer is the fact that it is well made. It is a heavy duty, solid construction.
The unit is a 2-inch tube with enough strength to prevent damage to the front in the event of impact.
The end caps feature heavy duty rubber pads that prevent the entry of moisture, thereby keeping rust at bay.
Ever seen (or even used) a grille guard that shook violently on a rough road? It wasn't a good experience, was it?
The Westin 57-2505 HDX Grille Guard is so well made that you never have to worry about such issues. Installed correctly, the bar holds on tightly and doesn't shake or vibrate when you drive.
Speaking of the installation, it is easier than most folks would imagine. It is something you can do alone if you have a hoist to suspend the 130-pound unit.
Expect to spend about 3 to 4 hours. But if you're not confident enough that your work will be excellent, have a professional do it for you.
One drawback is that if your truck is An F150 2011 to 2014 model, you'll have to trim a little around the tow hook openings before installing the guard.
But don't worry; it's only plastic that you will need to trim. You'll need a Dremel tool as well as a coping saw and tin snips for that.
The other drawback I found is that the provided instructions are not very clear/helpful. On the brighter side, there are lots of useful guides on YouTube.
The Westin 57-2505 HDX Black Grille Guard is not one of those bull bars that are just for the looks. It provides reliable protection in the event of a collision.
3. WARN 102350 Front Bumper Grille Guard
Is your vehicle a Jeep Wrangler JL or Jeep Gladiator? The WARN 102350 Front Bumper Grille Guard is here for you. It is a mid-height and best bull bar that offers extra protection to the front end of your jeep.
In terms of ease of installation, quality, and looks, this is a really good unit that y'all got to try out. The bar features a 2-inch tubular design to offer strength and reliable protection without being too heavy.
To many of us DIYers, ease of installation is a critical factor to look out for when purchasing stuff. Tell you what?
Unlike many other bull bars, the WARN Grille Guard doesn't give you a headache during installation. It is really easy to install. You needn't do any drilling, grinding, or cutting.
You just remove 6 bolts from your jeep's front and use the same bolts to mount the brush guard.
Many people find the bar to have a sexy look. For starters, it is a great design that integrates perfectly with the Jeep models it is compatible with. The black powder finish looks amazing.
You might have encountered nudge bars with finish that was peeling right off. Not a good sight, is it? The black powder finish on this one is very durable. It stays on for ages.
And apart from providing a great look, it protects the bar from corrosion.
Another feature that gives the unit a sexy look is the way it sticks outwards.
If you want yours to stick out a lot or just a little, the manufacturer has you covered. In that regard, there are various options – low height, mid height, and high.
4. AUTOSAVER88 Bull Bar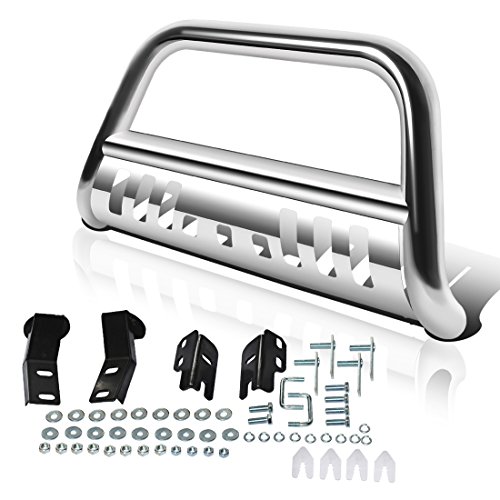 Here's yet another great option for those owning a Ford F150 2004 t 2020. The AUTOSAVER88 Bull Bar not only offers protection but also gives your old truck a fresh new look.
The unit is also compatible with the Lincoln MK-LT 2007 to 2017 and the Expedition truck 2003 to 2017.
Appearance is the main factor that attracts many truck owners to this one. It's a beautiful unit with a high gloss mirror stainless steel finish. It gives your ride a tough but elegant look.
The finish is not just for the looks. It is durable and very useful for preventing corrosion.
Strength is another aspect that makes this push guard really useful. It is a tubular structure made of stainless steel. It is really strong and can be relied on to avert the force in case of a collision accident.
Looking for a push guard that allows you to install auxiliary lights with ease. Then you will find the Autosaver Grille Guard quite fitting. The bar comes with pre-drilled holes, so that all you have to do is screw in the bolts to secure your lights.
Another important consideration we all like to make when buying items like these is the ease of installation. Now, guess what? The guard features a 100 percent bolt-on installation.
You don't need to drill, cut, or grind anything. You can do the installation alone at home, using common tools.
The mounting hardware are included, along with the instructions to follow to mount it properly. Unlike some other units I have encountered, the instructions that come with this one are clear and practical. Really easy to follow.
5. Go Rhino! 3160B Black Series
What if you could get a push guard that gives you better access to the engine bay? That's likely a burning question among some (if not most) of you.
Tell you what? The Go Rhino! 3160B Black Series comes with the necessary feature for that. Its built-in step on the bottom bar is the platform provided to give you easier access to the engine bay. It's a strong place with good traction that you can step on to work on the engine.
What many people like most about this unit is that it offers the benefits of a high-grade grille guard without blocking or affecting any of the vehicle's accessories.
The design is such that there are three horizontal bars, joined together by two vertical bars, one on each end.
There is plenty of space between the horizontal bars, which leaves enough room for the vehicle's accessories, including the sensors and the license plate.
One of the main factors why people install push guards is the protection in the event of an accident. This guard is built for that.
Looks are yet another factor why so many people prefer this unit. It features a black powder finish that looks amazing. The simplistic look of the guard is also something that many people like.
Aside from the aspect of looks, the black powder finish offers something else – protection against rust. That reduces the rate at which the metal deteriorates, thereby boosting the durability of your bull bar.
Want to be able to mount several accessories on your push bar? This unit is built for that. The middle cross-member offers a perfect flat platform on which you can install siren speakers, lights, and other accessories. so in one word this is the best grille guard for deer.
6. RAMPAGE PRODUCTS 7659 Black Euro
Got a Jeep Wrangler TJ or YJ 1987 to 2006? Want to give it a hot new look? You can do so with the RAMPAGE PRODUCTS 7659 Black Euro. This is an outstanding grille guard designed as a perfect fit for the aforementioned Jeep models.
The unit is a tubular Euro-style metal structure made such that it protects the front end of your Jeep reliably.
It offers protection for some of the most important front end parts including the headlights, fender, and grille. And not just in the case of a collision. The unit is a good guard against scratches and dents.
How is it able to do that? The structure is made from high-endurance steel. It is thick steel manufactured using machine-welding for a look that is not only clean but also durable.
When it comes to the appearance, there are various options for the finish.
Aside from the black powder coating, you can get the marine-grade stainless steel finish, which looks awesome.
I have come across many guards whose paint looked imperfect, with bleeding, rough areas, and other issues. But this grille is the opposite. Its paint is perfect. Very smooth and uniform.
As for the installation, there is nothing to worry about. The guard is designed for easy fitting on the bumper. It goes well with the OE bumpers as well as the tube bumper.
What makes the installation so convenient is that there is not drilling, cutting, or grinding to do.
7. Rough Country LED Bull Bar Push Bar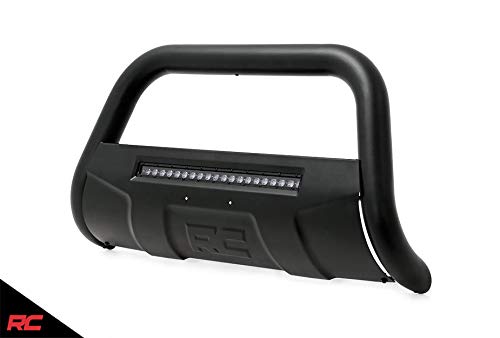 For something lightweight that you can install with relative ease and alone, you might want to consider the Rough Country LED Bull Bar Push Bar. Weighing in at just 57 pounds, it is something many people can install relatively easily at home.
Expect to take around two hours installing this one. The installation hardware and the instructions are provided, which adds to the ease of mounting.
As its name suggests, this push bar comes with a built-in LED panel. It's a 20-inch led light bar that works surprisingly well for its size. The light is very bright.
So, as you can see, you needn't buy auxiliary lights.
The only thing many people don't like about the built-in LED light is the switch. Don't get it wrong – the switch works. The problem is the adhesive backing.
Removing the plastic backing on the switch and trying to stick the switch on your dash, you might get frustrated as it keeps falling off.
But that's not a big deal because you can always improvise with glue.
Another issue is that the cables are left trailing, but these too, can be worked.
I like the appearance of this push bar. It's a simplistic unit that covers only the grille part and the area underneath. The paint is clean – no bleeding or other imperfections. They have applied a black powder coating finish on this one, and it looks so cool.
Though the bar is relatively lightweight, it is strong, offering protection for the grille in case of impact. The unit is also durable.
8. Ranch Hand Legend Grille Guard
Do you drive in areas with lots of deer and elk? Then you know how high the possibility of colliding with one of them is. In the event that it happens, you want the peace of mind of knowing that your vehicle's front part is safe, right?
If there's one grille guard for deer that you can rely on for that, it is the Ranch Hand Legend Grille Guard. This is a strong metal tubing guard that gives full coverage of the front area. It covers everything from the fender to the headlights and the grille.
The unit is made of steel, so you can imagine the amount of strength it packs. Your front end is absolutely safe; not even a scratch will develop if you hit a deer or elk, no matter how large.
As for the aesthetics, the unit looks great. Its welds are machine-made so there are not rough parts. The paintjob is also good quality.
I bet you will love the finish. It is a black powder finish that looks remarkably beautiful.
The high quality black powder coating isn't just for the aesthetics. It serves another important role – protecting the guard. It keeps the guard safe from elements, especially corrosion and rust.
Can I install the guard alone, you ask? Well, that's not very practical, as the structure weights over 150 pounds. I'd suggest you have at least two other sets of hands.
But with a cherry picker and plenty of calories, I believe it's possible to install this unit on your own. There's no drilling to do; just screwing in the bolts.
9. TAC Custom Fit 2015-2019
Do you own a Ford transit van 2015 to 2019? Want to add some front end protection to it? The TAC Custom Fit would be a perfect selection.
From its outstanding design to the strength and durability, the grille guard is totally worth it.
The TAC guard provides security you can rely on in that it covers the front end to its entirety. The grille, headlights, fender, and license plate are all protected with this unit.
But what I found most attractive about this guard was the ease of installation. The instructions provided are somewhat faulty, but YouTube has several reliable guides that you can use. Besides, the process of installing the unit is not at all difficult.
There's no drilling or cutting or grinding to do. You only use bolts to mount it.
The installation hardware are provided, which also adds to the convenience.
But what makes the process of installing the unit so convenient is the light weight. Weighing in at less than 50 pounds, the unit is easy to lift, which reduces the difficulty of the installation.
A custom fit is something that we all look for when shopping for a grille guard. If that is what you're looking for, then you're in luck. As long as your vehicle is the Ford Transit Van 2015-2019, the unit will fit perfectly.
It leaves plenty of space, such that it doesn't obstruct the license plate, radiator, and other parts of front end.
A good warranty provides peace of mind when purchasing products. When you get the TAC Custom Fit 2015-2019, you get a no-hassle 5-year warranty from the manufacturer.
10. Ranch Hand Legend Grille Guard
Last on this list is the Ranch Hand Legend Grille Guard. If you're looking for a hot grille guard for the Ford F-150 2009 to 2014, then this unit would be a fine pick.
It is a very well-made structure that is relatively easy to install, and that provides lots of safety in the event or a collision or when off-roading.
Many of the people looking for a grille guard don't just need protection. They want to enjoy a tough appearance that makes the other motorists respect their ride.
If you're looking for that, the Ranch Hand guard would be a great fit. Its design is such that it makes the vehicle wearing it get respected. It gives your vehicle that unique touch of majesty.
Are you a regular off-roader? Or do you travel a lot in areas that have plenty of deer and other game? If you accidentally hit one of them, there's a chance that you will have to replace your headlights, grille fender, or other parts on the front end. Such replacements are costly, right?
The Ranch Hand Legend Grille Guard is here to help you avoid such costs. It's a strong structure made of stainless steel. Not even a scratch will be made when you hit a deer.
Your headlights and other parts of the front end remain totally safe.
On the design, you will love the appearance of this unit. It features a black powder finish that goes well with most trucks, especially white ones.
The finish also serves well to protect the metal guard from corrosion, which is a boost to the durability.
What to Look for Before Buying a Grille Guard for Deer
To many people, appearances are the primary factor to consider when looking for the best grille guard for deer. But there are several criteria for finding it.
Here are the top considerations to make when shopping for a grille guard for deer.
Style
Bull bars come in a wide range of styles and shapes. For instance, some offer full coverage while others cover only the grille area.
One thing you have to know is that not all types can fit your ride. For example, a grille guard made for Jeep Wrangler will not be a good fit for pickup trucks or SUVs. You want to get something that suits not only your lifestyle but also your type of vehicle.
Be sure to check the recommended models and years before buying to make sure it's a fit for your vehicle.
Airflow
A grille guard might look awesome, but when it stops air from flowing into the radiator well, it is no good. The radiator is your engine's cooling system. For it to work properly, it needs an unrestricted access to air. Otherwise, you will have overheating issues.
You should install a bull bar that leaves sufficient space through which the air can get in.
Sturdiness
Apart from appearance, another critical factor to think about is the sturdiness. You want a strong guard that offers reliable protection, and one that lasts.
Get a push bar that can take the obstacles you might meet on the road. The material matters a lot. Something like stainless steel should suffice. Also, make sure the tubing's diameter is sufficient.
Finishing
The finishing of the bar affects not just the appearance but also the durability of the unit. Worthy finishing is that which is beautiful and resistant to corrosion.
There are various choices of finishing. You can get stainless steel, chrome, black powder, and more. Also, you can go for a finishing that is matte, glossy, et cetera.
Price
Grille guards are available in a broad range of prices. There are budget units going for less than 200 bucks and high-end options going for even over a thousand dollars.
When shopping for one, think about how much money you're willing to spend. Keep it in mind that the more expensive the unit, the more reliable it is in terms of protection and longevity. Then, go for bull bar you can get at that price level.
Compatibility
This is another crucial criterion to think about when looking for a push bar. If the unit does not fit, what's the point of getting it? It cannot be used.
When looking for a bull bar, ensure the unit is compatible with your vehicle.
Also, check whether the bar has a provision for the installation of auxiliary lights. Another provision to look out for is whether you can install a winch.
With regards to compatibility, make certain that the guard doesn't obstruct your headlights or airflow to the radiator. The parking sensors too shouldn't be blocked.
How to Take Care of Your Grille Guard
Grille guards are very useful. They protect the front end of your vehicle. In the event that you hit something, your headlights, grille, fender, and other parts at the front are safe.
But a good grille guard can go for over 500 bucks. That's quite an investment, isn't it? It's only fair that you protect it, correct?
With push guards, there are three major concerns:
Rust – which develops over time with the right conditions like moisture
Bending – which happens when you hit something hard
Scratches – the finish/paint can get damaged with impact
With time, the powder coat of your guard can get compromised. Rust and discoloration are some of the major concerns here.
The best solution in this case is refinishing. There's no need to replace the guard if the finish is the only issue.
You need three products for that:
Sandpaper
A good rust remover/converter
A quality enamel paint
Here's the refinishing process to follow:
Sand it down. Start with a low-grit sandpaper like a 60, before using a smoother sandpaper like a 320-grit.
Once the loose rust is gone, apply the rust converter solution. A paintable product would be the right choice.
Spray a high-performance enamel paint that is the color you want. Rustoleum is a desirable choice for the quality.
Wet-sand the enamel lightly in preparation for the clear coat application.
Spray the clear coat and wet-sand it with a 2000-grit sandpaper to avert the orange-peel effect.
Lastly, polish and wax.
The other issue is the bending that happens when there's sufficient impact. By installing auxiliary lights on your grille guard, you can increase the visibility and try to avoid hitting objects, and that way protect your guard from bending.
But the more reliable way is to purchase a high-quality guard in the first place, that can take the impact without bending.
There's not much you can do to fix a bent guard and make it look new again. The best way, perhaps, is to cut out the damaged part and weld in a new piece of metal in its place.
Frequently Asked Questions
1. Is it legal to install a grille guard?
The only place I know of where it's illegal to install a grille guard is India. In most other parts of the world, and especially in the US, it's legal to install a bull bar.
However, there are usually conditions, especially regarding the design. Be sure to read the conditions or ask an attorney or your insurance provider to walk you through the terms.
Before installing a grille guard, ensure you tell your vehicle's insurance provider about it.
2. Is it okay to install a full metal bull bar?
In some cases, it's not legal to install full metal grille guards. The reason being, a full metal bull bar doesn't crumple in the event of impact. Thus, if the impact involves a human or an animal, it can be certain death for them.
That is why it's advisable to go for metal tubings or fiber/plastic bull bars.
3. Can I install a bull bar on any vehicle?
Most bull bars are designed for certain vehicles, usually SUVs and trucks. If unsure as to whether the bull bar can fit your vehicle, consult with the manufacturer/seller before buying.
4. Is a grille guard heavy?
Some are but others are not. On average grille guards weigh in at 80 to slightly over 200 pounds. A bull bar will be heavy or lightweight depending on the material it is made from.
5. Are grille guards dangerous?
While some people think these items are dangerous, others see them as a necessary tool for protection of the vehicle and those in it.
But here's the drill. In the urban areas, a grille guard can be dangerous as it can easily damage other vehicles and hurt people. in case of a collision, no matter how little, there's considerable risk of damage/injury to the other vehicle or the pedestrian.
But upcountry, a properly-fitted bull bar provides the vehicle and its occupants lots of safety in case of impact.
6. Will the grille guard affect my vehicle's airbag?
Airbags function through sensors. Sensors placed at the front or back of the vehicle (or both the front and rear) determine when the sensor deploys, normally when there's sufficient collision.
A bull bar that is approved for you vehicle model will not affect the airbags in any way. But one that is not approved for your vehicle might affect them. The airbags might fail to deploy or the timing may be faulty.
To avoid these hazards, ensure the bull bar you're planning to install is approved for your vehicle model.
Final Word
That's it, folks. With the best grille guard for deer, you never again have to worry about traveling in an area that is packed with deer, elks, and other game.
The guard is there to keep your vehicle's front end protected from damage if you accidentally hit one of these animals.
I hope my review has been helpful. While getting the one you're interested in, make sure it's a fit for your vehicle.
The product's amazon page should tell you whether it is suitable for your vehicle model and year.