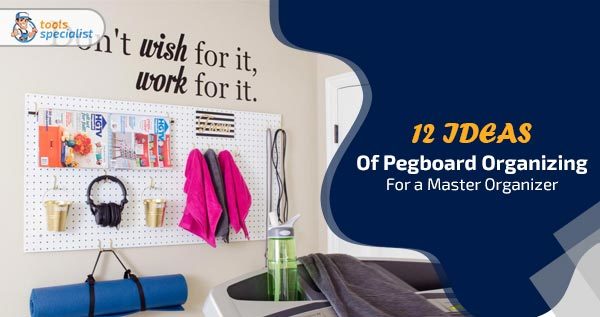 12 Pegboard Organizing Ideas for a Master Organizer
Do you cringe with your pegboard being all disorganized and all around the place? Well, we do too – and we hate it.
Luckily, we have 12 pegboard organizing ideas you can get the most from. If you're struggling with an organization at home – then these ideas will come like the perfect solution.
Want to know what ideas we're talking about? Then keep scrolling to find out!
12 Pegboard Organizing Ideas
There are thousands of things you can do to get the most out of a pegboard panel. But few of these solutions genuinely help.
That's where we enter into action. With the following ideas, you'll find creative solutions to your organizing problems.
Here are 12 of the best ideas for getting the most out of your pegboards:
1. Pegboard Box
Do you own several yarn rolls and don't know where to place them?
Want to store toilet paper conveniently?
Or, just want to save any type of rolled item with efficiency and maximum order?
For any of those questions, the answer is a pegboard box. A simple yet highly effective box can help you organize things with rolls in the easiest way you can think of.
To make this possible, you just need to install the pegboard on the bottom of a box, secure it with hooks or screws, and then install the sticks that will hold the yarn rolls (or whatever).
This will make it easy to store the objects safely, handily, and efficiently. You can then proceed to place the box on a strategic place, and that's it. Put the lid on and let it be.
2. Pegboard Shelves
Want to know what's better than a standard pegboard with regular hooks? A pegboard with shelves.
There's simply no match in convenience and overall storage capacity. You just need to drill holes on the wall behind the pegboard, install some L-hooks, and then hang your shelves.
We recommend plywood shelves over other materials for safety. Dense woods may eventually put too much pressure into the pegboard. And still, plywood tends to look better.
Yet, it is all your choice. Just try to install it in a way that fits sturdily on the pegboard. That will be enough to get your pegboard shelves going.
3. Bathroom Items
Struggling at organizing your bathroom items? Nothing will make it easier to keep them organized and at reach than a pegboard with metal grills.
Similarly to the shelves, you need to open holes back in the wall, so the pegboard stands securely. Then, you can open the holes for the grills.
This will let you place the soap, shampoo, toothbrush, toothpaste, cleaners, etc. And you'll have them at easy hand reach – which is fantastic.
To make a bathroom pegboard even better, you can always add extra hooks around to hang brushes, hair protectors, and a wide array of other items for hanging. A bathroom pegboard has almost no competitor in handiness.
4. Kitchen Sink Organization
A sink is usually a disorganized place. It doesn't matter the house – kitchen sinks are not easy to organize – especially when they're small sinks.
Luckily, most kitchen sinks are almost always in front of a wall – so you can easily hang a pegboard in front and enjoy maximum organization.
Just set the pegboard on the wall securely. Then, you can open holes following the guides and install hooks for grills and/or shelves.
This will offer the chance to place your dish soap, sponge, brushes, detergent, or just whatever you use in the kitchen. And you'll have them handily close and super organized. Add some hooks, and you may even hang some pans.
5. Kitchen Items by Use
Having your sink organized is something… But having all the rest of kitchen tools in one place at arm's reach? That's truly something to behold.
That is why having a pegboard in your kitchen to organize commonly-used items is an excellent idea.
To do this, you won't have to waste much time, effort, or money. Just install the pegboard on a kitchen wall with enough space – and then install some hooks. That will be enough.
We usually recommend placing the pegboard one or two feet over the countertop or whatever is below. That will let you install some hooks on the bottom part of the pegboard and hang pans and pots securely.
What about the upper part of the pegboard? It's perfect for spatulas, scissors, gauntlets, etc. But of course, it all comes down to your preferences – placing pans on top and small items below is also an excellent idea.
6. Accessories and Wearables
Why install shelves, set up a wooden wardrobe, or place a drawer in your bedroom when you can use a pegboard instead?
Especially when it comes to accessories and wearables that can be messy, a pegboard in your bedroom wall can be a perfect choice. No need to store items and look for them consistently – just place them on pegboard hooks, and that's it.
This will save you tons of time and effort. And it may even save tons of space in your bedroom getting rid of the unusable furniture.
So, why not install a pegboard now?
7. Artsy Pegboard
While it is not necessarily an organizing idea – it will still make your house somewhat more practical.
You just need to come up with an artistic sign to install in your pegboard, and it will look a lot like a portrait or decoration piece.
Yet, you will still be able to place things on it. Just make sure the art is on the bottom, so there's enough place on top to hang your tools, items, or whatever.
The advantage is that you can be as creative as you want – and create something out of your imagination with it. And sure enough, it is still a convenient way to enjoy everything a pegboard has to offer.
Install it in your bedroom with some lights, in your living room with a large sign with your family name, or in the kitchen with food shapes made in metal or wood. Whatever you want to do – this type of pegboard will let you do it. Do not overlook this idea.
8. Small Item Organizer
Need to store pencils, tiny cooking utensils, art supplies, or similarly small items? Then this idea may be excellent for you.
You just need to install as many hooks with a relatively small space between them, and that will be enough.
This type of organization will let you hang so many different items at the same time that you won't believe it.
Instead of having your art supplies all over the place or inside a box messily – why not put them all together in a pegboard? You could do the same with cooking utensils, spoons, screwdrivers, markers, and many other items.
The space and overall time you'll save is too much, so it would be a pity not to consider this idea for your organizing needs.
9. Wrench Organizer
Similarly to the "small item organizer," placing all your wrenches close to each other compactly can be a pretty efficient use of space.
This time, we recommend installing a few racks with hooks to hang the wrenches instead of the hooks alone. That will provide the extra strength necessary to keep the wrenches safe and stable on the pegboard.
But you don't have to stick with wrenches, though. Any other thin tool like a wrench that you can hang may also come like an excellent choice for this pegboard idea.
Once you make it happen, your garage or workshop will feel a lot more organized.
10. Electric Tool Organization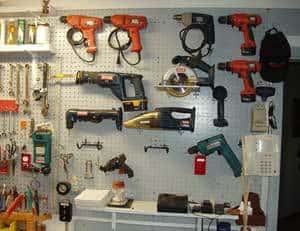 Tired of having tons of boxes for your electrical tools lying around? Then a pegboard may be your best bet to get rid of that.
By merely installing the pegboard securely to a wall and setting up a few hooks here and there – you'll have the chance to place your electric tools.
Make sure to install the hooks in the perfect position so you can place different tools like power drivers and power drills without problems. You may even hang tools like circular saws, vacuums, pruners, and even large tools like chainsaws, vacuum cleaners, and more.
Instead of having a box for each tool, you can hang them on the same pegboard panel and get rid of the clutter while placing them conveniently at easy reach.
11. Workshop Pegboard
Whether you have a workshop or not – the compact and do-it-all organization that this type of pegboard offers is unbeatable.
This is a perfect idea for those who have tons of different items and tools to store, and they don't want to spend money on drawers or boxes.
The problem is that workshop pegboards tend to be huge. So you'll need at least one or two walls of total space available to install one of these. The advantage, however, will be a ton of space to hang even your smallest or largest tool with no issue.
You can set up a few shelves for extra convenience. Or even install a dashboard or something similar with drawers for extra space. Whatever you feel like could add more convenience – that will make a workshop pegboard better.
12. Classic Pegboard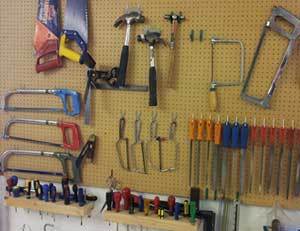 Sometimes, taking a creative path is not the best choice. Instead, you end up in the most conventional way – and everything goes smoothly.
Mount the pegboard in a garage wall, set a few hooks and/or clamps around, then place your tools, and that's it.
Consider hooks and space for hammers, saws, screwdrivers, and maybe even some shelves for your small hardware like screws and nails.
You do not need to go overboard with a super creative or large pegboard if not necessary. Just find a large-enough wall where you think all your items can fit, then mount the pegboard, and enjoy.
This will get most of your tools to be conveniently stored without having to use boxes, drawers, or annoying furniture. Just a pegboard – and you'll be pleased.
Conclusion
Setting up a pegboard without the best pegboard organization ideas can be a lot of trouble.
But there's no need to get in trouble anymore. Just follow some of our advice given in this article, and you'll get far enough to enjoy practical organizing ideas.
So, what are you waiting for? Start organizing your items and tools conveniently with these ideas – they will make your house much better!