If you buy something through a link in our posts, we may get a small share of the sale.
A common myth about All-Terrain Vehicle is that, it's a ride for summer. Most people think that, they can't use ATVs in winter season.
But, ATV is called All-Terrain Vehicle for a reason. You can ride it in all season, on all terrain.
Riding ATV in the snow is one of the most adventurous and thrilling activities to do. You would be able to discover natural beauties that you have never experienced before.
Trust me, the suspense and thrill of riding in congealed icy lacks or frozen water reservoir is striking. The beauty of riding in the woods covered with snow and beautiful mistletoes is just breathtaking. If you are not considering to bring your vehicles out in the cold, think again.
Do you know, why most people do not take their ATVs out in the winter? Well, because ATV riding in winter takes a lot of preparation. Most people don't know how to prepare their ATVs for winter.
Nonetheless, don't worry. In this article, we will present you with the coolest guideline to prepare for winter ATV riding in 5 easy steps.
ATV Winter Riding Preparation Guide for Beginners
Step 1: Prepare Your ATV for Snow
To survive in the icy cold temperature and snowy trails, you need to install the following necessary tools in your ATV: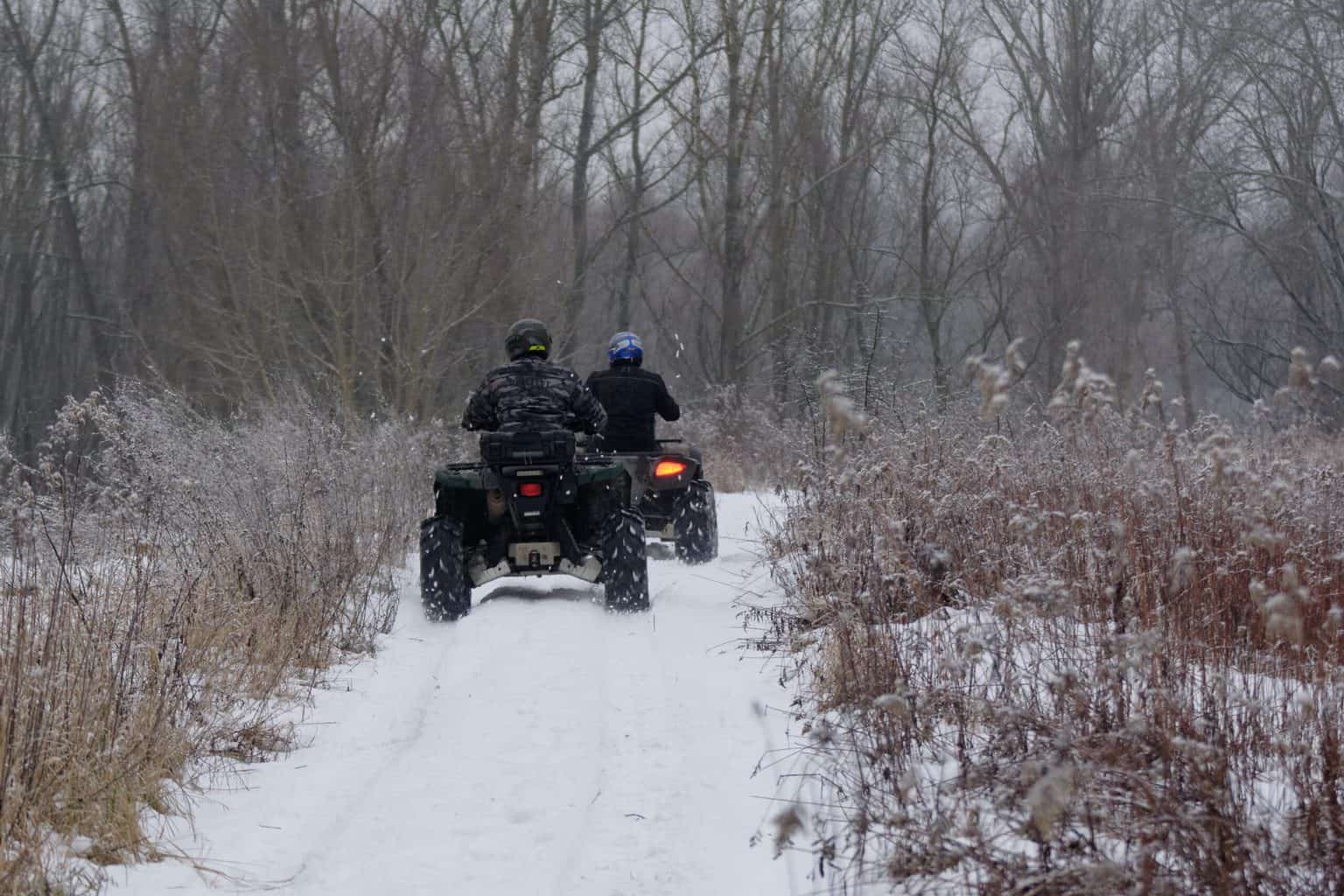 Snow Plow
Adding a snow plow will help you shovel the snow on the road. It will greatly increase the maneuverability of your ATV. You should look for a snow plow that is durable, user friendly, offers great ground clearance and is equipped with hydraulic pumping mechanism.
Winches
Another handy tool in the winter is to carry winches. You need winches to operate snow plow.
Besides, you can use winches to help out your buddy if he is stuck. If you are riding a powerful machine, you should look for heavyweight winches with wire rope. Otherwise, light winches with synthetic rope would work just fine for your machine.
Track Kits
Another important tool that will help you rover in the ice is track kits. Track kits will increase the grip of your ATV in the snow. Just remember to buy track kits that are durable, easy to install and not too costly.
Warmers
Remember, you are riding in a freezing temperature. So, you need to keep warmers with you. Make a list of warmers that you should carry during your ride. Here's a few suggestions.
Heated grips to keep your hands from freezing. It will also add to your comfort and give additional reliability in riding. Battery tender is another important tools to preserve your battery from the cold wind.
Fuel Stabilizer
Cold weather moisturizes your fuel. Fuel stabilizer is another tool that will be useful.
Shrinkage
During winter, tires tend to shrink. So, keep the air pressure in you tire a little lower than usual.
Step 2: Don't Forget Necessary Accessories
Equip yourself with the following necessary accessories for a perfect winter ride:
Tow Strap
Suppose, you are riding in the snow. All on a sudden, your engine stops working. In that situation, you'd feel pretty helpless in the cold.
But if your buddy comes up to help you out with a tow strap, you will be grateful. Won't you? Tow strap is thus another necessary tool.
You can use it to tow your friend's ride if he needs help. It can be also used to winch your buddy's ATV out from a bad position. We always recommend to carry tow straps to group riders.
Seat Warmer
A seat warmer is another lifesaver that will keep you warm and healthy in the cold weather.
First Aid Kit
ATV riding can lead to injuries. So, you should always keep first aid kit in times of emergency.
Flash Light- Days are short in winter. So when the sun goes down, a flash light will save you from troubles in the unknown road.
Miscellaneous- Do not hesitate to keep some dry foods and drinking water. Also keep some trash bags to store your wet clothes. You should also keep a blanket. You can carry all those things in your backpack.
Toolbox- We have already mentioned few necessary tools for winter ride. You will be needing a toolbox that will serve you if you run into trouble. Also, do not forget to put survival tools such as compass, whistle etc. in your toolbox.
Hard Case- A hard case to keep all your belongings is a must in the fizzy cold days.
Step 3: Wear Your Winter Armor
The last thing you want is to go out in the cold without proper clothing. We all would agree with this point that, there is no benefit in developing pneumonia.
So, how to wear for winter ride? The following list may be helpful:
Warm Cloth
You need to put on multiple layers of cloth. Your inner layer should be tight fit and breathable. It should be designed to keep you warm.
Polyester clothing is a good choice for base layer. However, the outer layer should be loose fit so that you can move freely. It should also be waterproof.
Winter Goggle
Your goggle should protect your eyes from fog and provide better protection from blizzard.
Winter Boots
To keep your feet warm and dry, always wear good quality water proof winter boots.
Facemasks or Balaclava
In windy air, you always need to protect your neck and face. Wear a balaclava or face mask or neck mask that easily fits inside your helmet.
Spare Clothes- Always carry some spare clothes because you never know when you may need these.
Gloves- Riding in the cold in bare hands may jam your fingers. You should wear warm gloves to keep your hands warmer. Your gloves should be waterproof, light and bruise proof.
Helmet- Last but not least, never consider going out in a ride without your helmet. Your helmet should be certified for winter riding. We recommend full faced helmet that are approved by DOT (Department of Transportation) or ANSI (American National Standards Institute).
Step 4: Prepare Before You Go
Before you go on a winter ride, make a plan. Never ride alone. Always ride in a group.
Establish some group norms for emergency situations. Group members should watch out for one another in the road.
Most importantly, know the roads in which you are going to be riding. Ask other riders about the road condition.

Step 5: Obey the Rules
You should strictly adhere to the following few rules:
Stay Calm and Careful. Look out for fallen trees or hidden pit. Stay away from private property and roads.
Stay alert. Try to avoid water crossing or frozen water reservoir. Often frozen water reservoirs might not be thick enough to carry your weight.
Do not attempt to ride on frozen lakes if the ice is not at least six inches deep.  Do not let the momentary excitement get the better out of you.
Follow the traffic rules. Do not trespass private property. If you are riding in a group, follow the group leader and stay connected.
It is better to take few breaks during long ride.
Do not carry a passenger along you.
Keep your wheels clean after every ride in the snow. Otherwise, snow will get thicker overnight and may damage your braking system.
While you keep your vehicles in garage, always cover it up with waterproof cover.
Conclusion
This is it. Just by following those simple steps, you can enjoy your winter vacation in ATVs.
Explore the sensational winter beauty on your ATV while remembering the safe tips for riding on it.
If you find this article helpful, do read our other articles. Don't forget to share. Remember, sharing is caring.