If you buy something through a link in our posts, we may get a small share of the sale.
Are your stairs looking a little dull? A good carpet is just what you need to give them a brand new, warmer look.
Instead of taking so much time and money to change the stairway material, try a stairway carpet. It will instantly transform your staircase into what you have in mind. There are many colors and patterns to choose from, and getting something suitable is not hard as long as you know where to look.
Aside from improving the look, stair carpets also have a multitude of other benefits, including boosting safety and reducing noise.
If you don't want to go through the trouble of finding the best carpet for stairs, our guide will be helpful. We'll tell you about the finest models and outline some budget-friendly models for those of you who look to save money.
Let's get started.
What Are the Benefits of Using Stairs Carpet?
Is the stairway(s) in your home made of hardwood, concrete, or another hard flooring material? Perhaps you, the other people in your home or the pets in there are having trouble moving up and down because the steps are slippery.
Maybe the steps make too much noise when people move up and down. Another challenge that you might be dealing with is discomfort and cold when you walk on the stairs barefooted.
These are the issues that a stair carpet helps you solve. So, the benefits of getting the best carpet for stairs are:
Comfort – whether it is the hardness of the steps or the cold that is making the steps uncomfortable, a stair carpet will help solve the issue. It acts as a cushion, enabling you comfortably walk even barefooted, and acts as an insulator, protecting your feet from the cold.
Protecting your staircase – if your staircase is made of some fine material, adding a stair carpet will help you protect it. The pets will move more comfortably without having to dig their paws in it as they'll skid no more. Spills will stain the carpet rather than the steps.
Adding style – if you're thinking of changing the décor of the stairway, replacing the material might be too costly and time-consuming. A faster way that is way cheaper is to add a stair carpet with the color and pattern you want.
Canceling out the noise – maybe it's not even once that you've been woken up by someone running up or down the stairs. Feels annoying, doesn't it? Well, if to deal with the problem, just install a stair carpet. It will cancel out the noise with its cushioning effect.
Creating a non-slip surface – slippery stairs are unsafe for people and pets alike. Many people (and pets) have suffered bad injuries falling on the stairway. Adding a stairway carpet reduces the slipperiness dramatically and makes staircases safer.
Without any further ado, let's now jump in and see what stair carpet suits you.
Brand
Best Overall
Ottomanson Softy Stair Tread
Best Non-slip
Carpet Stair Treads by Elogio
Product
Best Overall
Brand
Ottomanson Softy Stair Tread
Product
Best Non-slip
Brand
Carpet Stair Treads by Elogio
Product
Our Top 10 Best Stairs Carpet Reviews
Ottomanson Softy Stair Tread
The most important purposes of stair case carpets include protection of the finish, beauty enhancement, and reducing the slipperiness of the floor. With the Ottomanson Softy Stair Tread, you get to enjoy all these benefits.
This carpet comes in the form of 9 by 26-inch mats, which are to be laid on each stair. If you get it from amazon, you get the option of choosing between different colors like red, brown, beige, and gray.
With the color options, it's likely to get something that matches your stairs.
Additionally, you also get to select your ideal number of sections. The product is available in packs of different numbers, starting from five, to accommodate your needs.
The most important reason why we chose this carpet to be at the top of our list is that it has an exceptional design. On the upper side, the carpet is made of soft polypropylene material.
That not only makes it soft and comfortable but also reduces the noise tremendously when people or animals step on the stairs.
Do your staircases feel slippery? Maybe you and your kids or pets are having a hard time going up and down. Guess what? On the back/bottom side, the carpet has a non-slip rubber installed. This boosts the carpet's grip on the floor, making sure there's no-skid when the carpet is stepped on.
By installing these mats, you will never again have the trouble of sliding or falling on the staircase.
The Ottomanson Softy Stair Tread is nice, but not all that fancy. On the brighter side, they're cost-effective. Check them out.
Highlighted features
9 by 26-inch mats.
Different colors and styles.
Made of 100% polypropylene.
Rubber non-slip feature at the bottom.
Carpet Stair Treads by Elogio
Whether you're moving into a new house or your rented house needs renovation, the cost of maintaining staircases isn't cheap. Sometimes, rather than incurring the repairs expenses, it's better to just get a staircase carpet.
The Carpet Stair Treads by Elogio come in form of 13 pieces of mats measuring 30 by 8 inches.
Unlike cheap rubber mats, these are high-quality polypropylene fiber treads that offer you great comfort and safety without requiring you to break the bank. With them, you can promptly enhance the beauty of your staircase without having to incur huge expenses on repairs.
The upper side of the mats is quite soft and comfortable. Both humans and pets in your household will like them.
One of the aspects you should look at when getting a staircase carpet is safety. When it comes to that, the mats have you covered. On the lower side, non-slip features are incorporated to ensure that the mats don't slip.
Thus, whether your staircase is made of slippery hardwood or ceramics, you can rely on the carpet to offer your kids and pets the security and confidence they need when going up and down.
To take the non-slip feature a little farther than usual, this carpet comes with carpet tape. That way, the mats are so steadily held to the staircases that there's absolutely no risk of slipping.
What we loved about the tape is that it doesn't make the installation hard. And again, the tape is easy to remove and doesn't leave behind a residue upon removal.
There's only one issue. There aren't many color options. On the brighter side, the available gray shades match most decors especially those made of hardwood.
The cost is also very fair for the quality offered.
Highlighted features
Comes with adhesive tape.
Nice design that matches most decors.
Soft and comfortable to both people and pets.
Easy to install and remove.
Sale
Elogio Carpet Stair Treads Set of 13 Non Slip/Skid...
INCREDIBLY SAFE carpet stair treads non slip rug 13 pc set can transform any slippery staircase...
PET-FRIENDLY wood stair treads carpet design offers desirable traction, encourages dogs & cats to...
EASY TO USE as these stair mats allows for effortless DIY installation using INCLUDED CARPET TAPE,...
Stair Treads Collection by RugStylesOnline
No products found.
When buying treads for your staircases, you might want to know how easy they are to clean. Well, with regards to the ease of cleaning, the No products found. is the best stairs carpet you can get.
The piles are short and the mats are super easy to clean with a brush or a vacuum cleaner.
Slippery staircases present one great problem – making pets fall. If you have dogs or other pets, you might already know how problematic slippery stairs can be. Maybe you even have to carry your pets up and down the staircases.
If you're familiar with that problem, and you're tired of it, it's time to solve it once and for all. By installing these stair treads, you create a firm anti-skid surface on your stairs, giving your pets the confidence they need to move up and down freely.
That is made possible by the fact that the mats come with a rubber backing, providing a non-slip lower surface.
Aesthetic value and suitability are other important factors that people like to think about when buying stair treads.
Thankfully, these mats look just as they do in the pictures. The colors are as vibrant are they are on the images.
What's more, there's a range of color options, including dark grey, dark red, royal blue, beige, black, and more. With all these choices, getting something that goes with your décor or stair case colors is a piece of cake.
Apart from the color options, you get two size options – 7 by 24 inches and 8 by 30 inches. Moreover, you can get the number of mats that you need by choosing the appropriate pack.
Highlighted features
A wide range of color options.
Different size options.
The colors are vibrant.
Easy to clean.
Non-slip backing.
No products found.
EdenProducts Non Slip Carpet Stair Treads
There's one common complaint when it comes to stair treads – the trouble of having to realign the mats every day or every few days. Not always convenient, right?
If you're not okay with having to rearrange your stair treads frequently, then you'll have made a good decision by getting the EdenProducts Non Slip Carpet Stair Treads.
Because you see, even though the many of the top staircase carpets come with a non-slip backing, it doesn't cover the entire lower surface.
But on the EdenProducts treads, the non-slip backing covers the lower surface to its entirety. And because of that, the chances of slipping or falling out of alignment are pretty low. That is what keeps the treads in the position you placed them for longer, reducing the need for realignment.
Actually, it might be more than a week before you have to rearrange the treads.
You don't want stair mats that will wear quickly, do you? The good news is that these treads are pretty high-quality and hard-wearing. They're composed of finely woven fibers that stay together and prevent wearing efficiently.
Another thing you will love about the fibers is that they're not so easily stained and cleaning is quite easy. Whether it is food or drink spills or even pet hair, you don't have to worry about the dirt that comes into contact with these mats because removal is effortless with a vacuum cleaner.
Some folks don't like that the mats don't come with an adhesive. But, as mentioned earlier, the rubber backing doesn't pretty good.
Highlighted features
Effective non-slip bottom.
Resistant to stains.
Easy to clean.
Doesn't wear easily.
Sale
EdenProducts Non-Slip Carpet Stair Treads, 15...
ANTI MOVING SOLUTION – No more 'moving around' and 'needing to realign' your treads every 5...
PREMIUM QUALITY – Our stair tread mats are made out of soft, reliable and durable wool blends,...
PREVENTS SLIPPING - While offering the perfect carpet specification, materials, and quality for you...
Sweethome Stores Non-Slip Shag Carpet Stair Treads
Would you like to feel lusciously soft mats on your feet when climbing up and down your staircase? Then consider going for the Sweethome Stores Non-Slip Shag Carpet Stair Treads.
These high-pile stair treads with a polypropylene top are some of the softest in the market. And of course, that comes with the benefit of comfort.
And not just that. You see, the harder the surface, the more the noise. The vice-versa is true. So, now that these are very soft, the noise level is very low.
If you love the freedom of choosing between different colors, this stair carpet might work for you. At the moment, there are at least four color options – beige, red, brown, and grey. Not very many options but these colors go with almost all staircase decors.
Durability is yet another factor that drove us to include this carpet in our list. Do you know how resistant nylon is to staining? That's the stain resistance that these mats have.
On the edges, the fibers are closely and strongly woven together, creating a powerful bond and putting up a good fight against wear. You can rest assured that the mats will last years without seeing any fraying.
What about the protection against slipping and falling? You ask. You'll be glad to see that even without an adhesive holding them in place, the mats are able to stay in position without slipping. That's because they have a rubber backing to provide a good grip on the ground.
If you were looking for something fancy to add beauty and class, these are not for you. But if you need a cost-effective option to offer comfort and keep people and pets from sliding, then you'll find the Sweethome Stores Non-Slip Shag Carpet Stair Treads very useful.
Highlighted features
Super soft and comfortable with a high-pile top.
Non-skid rubber backing.
Four color options.
Cost-effective.
Sweethome Stores Non-Slip Shag Carpet Stair...
Size: (9"X26") Set of 14 | Color:Grey | Polypropylene - Olefin Pile / Slip Skid Resistant Rubber...
Indoor Use | Slip resistant backing works on most hardwood, marble stairs
Protect your stairs | Reduce noise and limit wear and tear on your hardwood, granite or ceramic...
Gloria Rug Stair Treads
If you're looking for the best carpet for stairs that will instantly boost the appearance of your staircase, then you want to check out the Gloria Rug Stair Treads. These are some of the most stylish stair carpets you can find.
When you get them from amazon, you have at least 30 colors to choose from. You get to select from some of the most common colors including red, blue, purple, gray, gold, and many more. With all these color choices, it is virtually impossible to find something that matches your preference or style.
Apart from the color options, there are also different style options. Whether you like the antique or modern style, there sure is something for you.
From floral patterns to checkered ones, the designs are numerous to match with different decors and preferences.
Something else about the designs is that they're quite eye-catching, so they'll definitely spice up the aesthetic value of your home.
The treads are sold in packs of seven, but of course, you can always order the number you want. Each mat measures 8.5 by 26 inches, and while you don't have the liberty of choosing your preferred size, the offered size is compatible with most stairs, both indoors and outdoors.
Aside from the beautiful looks, the carpets also have longevity to offer. Fraying and staining aren't problems you need to worry about, thanks to the high-quality fibers used to make the mats.
At the back, the carpets have a rubber backing. This provides some resistance against slipping, but it's not very effective. To get around the shortcoming, you have to apply tape or another adhesive that will secure the mats to the floor.
Highlighted features
High-quality material for longevity.
Numerous color choices.
Varying designs for both antique and modern styles.
Stain and fade resistance.
Gloria Rug Stair Treads Rubber Backing - Indoor...
Perfectly Sized Low-Profile Stair Carpets (Set of 7) - Dimensions 8.5" x 26" fits most indoor home...
Strong construction and soft backing while being gentle on your stair surface. It helps protect your...
Durable and long-lasting stain resistant, fade resistant and stress-free maintenance. Our stair mats...
Seloom Stair Treads
Why go through the trouble of buying a carpet tape while you could just get the good quality stairs carpet that don't require a tape to secure them?
The Seloom Stair Treads come with an adhesive rubber backing that keeps them firmly fixed to the staircases even without tape. And in fact, the safety they offer against skidding is one of the main reasons why so many people love them and use them.
If you hate glue marks on your floor (which some carpet tapes leave), you will find these mats suitable as they don't leave these marks.
Another awesome fact about this carpet is the versatility it offers. As you will see when you follow the link, there are three sizes to choose from. That way, you can get something that goes with your stairs.
Besides that, there are over five colors to choose from, including dark grey, black, and brown.
Do you love unique or exotic designs? You might be interested in some of the patterns being offered. You can get a leopard pattern, a solid color, or floral patterns.
Ever installed staircase carpets? Was it a hassle? Well, you'll be glad to find that installing the Seloom Stair Treads is a breeze.
All you got to do is lay them down and align them. The fact that they're not heavy reduces the effort needed.
One more thing you're going to love about these mats is that they're so uniform. Some brands ship you mis-sized mats with uneven edges, which is quite annoying. But with these mats, everything is so uniform.
The only issue you have to be aware of is that the colors offered (at the moment) are all dark. There's nothing light. We hope this changes in the future.
Highlighted features
Adhesive rubber backing – no need for tape.
Thick and high-quality pile.
Uniform size.
Seloom Non-Slip Stair Treads Carpet with Anti Skid...
Solid Staying Power: Firmly attached to the floor with adhesive rubber backing that can replace...
Durable Thick Material: High quality 0.3 inch thick material gives your family and pets a safer...
Convenient To Use: Adhesive back rubber pad can be used repeatedly without glue mark. No need for...
Marash Luxury Stair Carpet
Perhaps you're looking for one large carpet as opposed to many mats. If that is the case, the Marash Luxury Stair Carpet might interest you.
This is a long carpet with a length of 25 feet and a width of 26 inches. Those are excellent dimensions, as they go with most standard staircases.
When it comes to versatility, this is one of the best options. In that regard, you get to choose between some of the top décor colors, including red, navy, ivory, sage, and black.
There's a high chance that one of these colors will match your décor. Because you see, they're not just plain colored carpets, but rather nicely-designed carpets with floral patterns.
One thing you're going to like a lot about this carpet is the comfort it offers. When you step on it, you'll feel how soft and comfortable it feels. It offers good insulation against the cold staircases and provided a soft stepping surface.
The soft surface also cancels out the noise.
Durability is yet another feature that encouraged us to tell you about this carpet. As you'll see, it lasts years without any wear signs like frayed fibers. We found out that the carpet is crafted from 100% heat-set Olefin.
And it's not just abrasion that the carpet is resistant to. It's also resistant to mildew, stains, and even sunlight. So, you needn't worry about it becoming too dirty or even having to clean it too often.
Lastly, the carpet has some good traction, thanks to the non-slip backing. It's not always necessary to apply tape.
The only issue is that the size is fixed. Yes, it fits most standard stairs, but still, it's good to have options. Be sure to consider the size before getting it.
Highlighted features
25 feet by 26 inches.
Nice, cushioning feel.
Durable – 100% heat-set olefin.
Color options.
Non-Slip Carpet Indoor Set by Antdle
Do you have a hardwood floor? Do you like something that perfectly goes with that? You got to try the Non-Slip Carpet Indoor Set by Antdle.
It comes as a set of 13 mats with two color options – brown and dark red. These colors look truly amazing on hardwood floors.
If you're looking to install your stair carpet rather than having a professional do it for you, this is the carpet for you. That's because they are super easy to install. You just lay them on the staircases and align them a bit. No tapes needed.
The mats offer superior traction. Even without tapes, they're able to hold onto the ground and keep you and everyone else in your house from falling or skidding as they move.
In our research, we spoke to one guy who has a 110-pound German Shepherd. His dog had issues moving up and down the stairs as he'd slid and fall at times.
But once Sam installed these carpets, the dog was able to move up and down comfortably and confidently. No more falls, thanks to the anti-skid bottom surface.
If you love carpets that last, these are for you. They're made of propylene fibers, which are resistant to a whole lot of conditions, including staining, abrasion, and heat.
At the bottom side, the carpets are made of PVC fibers, which are skid-resistant. The double-strip bump design takes the slip resistance a step further. That is what gives the mats such good traction.
There are many options when it comes to washing the Non-Slip Carpet Indoor Set mats. You can either use a vacuum cleaner or you can wash them by hand or machine. As you'll find out, the mats straighten up well after washing.
Highlighted features:
Two-color options.
30 by 8 inches.
Anti-wear polypropylene fibers.
The bottom surface is highly-resistant to skid without tape.
Sale
Stair Treads Non-Slip Carpet Indoor Set of 14...
MATERIAL:Surface is environmental protection wear-resisting polypropylene fiber,Bottom is skid...
STAIR TREADS SIZE:30"x8"x0.3",Color :Brown ,Includes:Set of 14
SECURITY:Double stripe bump design of surface provide an anti-skid and safer surface ;PVC of bottom...
Sofia Rugs Shaggy Stair Treads
Here's another carpet that works great with hardwood floors. If you're looking for something classy and elegant, the Sofia Rugs Shaggy Stair Treads will be a great choice.
You will likely love the grey color with white mesh patterns, which look so good on the hardwood.
This carpet comes in the form of 13 pieces, each measuring 28 by 9 inches. Although there aren't other size options, 28 by 9 is a good size for most typical staircases.
Are you wondering about the quality and how fast the carpet is going to wear? You'll be happy to see that the carpet looks and feels really high-quality. As it is made of pure polypropylene, shedding isn't an issue you're going to have to deal with.
The fibers stay together for years, without any fraying or signs of aging.
Due to the design and the quality, staining and discoloration are also kept at bay. This aspect also adds to the durability of the carpet, enabling you to enjoy it in a good condition for a long time.
The design also eases the cleaning. You can quickly go over the rugs with a vacuum and get rid of any dirt on them.
Even with all these benefits, there are a few areas of concern. First, the rugs aren't 100% even. Secondly, the bottom isn't that skid-resistant. The rugs will definitely move unless you tape them down.
So why should you go for the carpet if it has all these issues? Because it is on the inexpensive side. If you're on a budget, consider getting it.
Highlighted features
28 by 9 inches.
100% polypropylene material – for longevity.
Elegant design.
Sofia Rugs Shaggy Stair Treads - Dark Diamond Aura...
✅ WORKS ON ANY STAIRWAY - Measuring 9x28 inches, our set of 13 shag stair treads transforms any...
✅ SOFT & THICK - Produced from rugs, our plush shag stair treads have a very soft surface that is...
✅ STRONG & DURABLE - Made of 100% deep pile polypropylene, these imported carpet stair treads add...
Ottomanson Carpet Set
Are you on a tight budget and you need a simple carpet that works? That would be the Ottomanson Carpet Set. This is a dark-beige carpet is offered in packs of a different number of rugs. Each rug measures 26.5 by 8.5 inches.
Before you make up your mind to get this carpet, you must realize that it is a low-quality option for those who are on a tight budget. Still, it has something to offer.
The carpet is made of pure nylon and perfectly woven for a nice and quality look and feel. It looks nice and clean with good edges.
We cannot really say that this carpet lasts, because it will need to be replaced in less than two years, but for something that costs that low, it might be worth getting.
Fading and staining are issues that affect carpets a lot. Luckily, thanks to the material and design of this carpet, these aren't problems you're going to have to deal with. The Ottomanson rugs resist water beautifully and also resist stains from food and dirt.
When it comes to cleaning, you will encounter both advantages and challenges. The main advantage is that the carpet is resistant to dirt, so cleaning isn't that hard. You can quickly do it with a vacuum.
The main drawback, on the other hand, is that the rugs aren't able to stay in place on their own. Unless you tape them down or nail them to the floor, you'll have a hard time cleaning them with a vacuum.
If you're planning to get these mats, be sure to get carpet tape as well to keep them in place. Or, nail them down. By doing that, you'll ensure the skid resistance offered.
Highlighted features
Made of pure nylon.
Machine-woven with nice and solid edges.
Stain and wear-resistant.
Inexpensive.
Ottomanson escalier stair tread, 7 Pack, Beige
Skid resistant & pet friendly: Designed with a rubber Back to provide a safer surface for you and...
Functional features: durable machine-made nylon pile that is stain and fade resistant.
Where to use: provides safe traction and stability on any floor Type including hardwood tile stone...
Sussexhome Stair Treads
If you love a good carpet with mesh patterns, you might be interested in the Sussexhome Stair Treads. This one comes in the form of rags that measure 28 by 9 inches.
There are several color options so you can get what goes with your décor. Some of the included colors are brown, red, navy, and red. There's also one option that comes as solid grey for those who don't like the mesh pattern.
Perhaps the most amazing thing about the mats is the level of comfort they offer. You get a fine underfoot feel stepping on the soft and plush material.
What about the durability? You ask. Well, you'll be glad to see that these ones last. The longevity is due to the fact that the material is high-quality polypropylene.
And not just that. The machine weaving is perfect and the edges are also well done, reducing the speed of abrasion or fraying.
If you don't like having to clean your carpets frequently, these will work well for you. The treads don't pick dust or stains easily.
Hence, unlike many other carpets, they don't get dirty quickly. It will take you only a few minutes to clean them with a vacuum.
The look, feel, and durability of the treads is perfect. But there's one problem – the rugs slide easily as their lower surface isn't designed for good traction.
Luckily, double-sided tapes are shipped with the carpets. The tapes work very well, keeping the rugs in place, and offering the needed non-slip benefit.
Highlighted features
Great feel.
Soft and plush surface.
Well-knit edges.
Durable.
Several color options.
Sale
SussexHome Stair Treads - 100% Polypropylene...
✅ REDUCE THE RISK OF ACCIDENTS - Prevent any untoward accident, such as slipping or tripping while...
✅ PROTECTS YOUR STAIRS - Being a high-traffic area, your stairs are subjected to gradual wear and...
✅ MUFFLES SOUNDS - Heavy feet combined with creaky stairs can be a source of irritation for those...
Indoor Stair Mats by Shape28
For those of you who are looking for excellent quality as opposed to affordability, the Indoor Stair Mats by Shape28 will be an ideal selection. Though these ones are on the expensive side, they offer the best combination of traction, ease of use, durability, and overall quality. You will love them.
You might already know that most stair carpets have to be secured to the floor with tape to stay in one place. This isn't very convenient as it takes extra installation and removal time. Moreover, tapes often leave a residue that might be hard to get off the floor.
If you're not prepared to waste time or deal with unwanted residues on your expensive staircase, then you might want to get the Indoor Stair Mats by Shape28. These are designed to have excellent traction, removing the need to tape or nail down.
You get to save time and avoid the residue.
The mats have the standard dimensions of 26 by 9 inches, which fits most standard stairs. When buying them, you enjoy the liberty of selecting between at least seven colors, including green, ocean blue, beige, and more.
All the mats and colors feature lovely floral designs that go well with different staircases including wood and concrete.
As you'll discover if you get these, their feel is totally amazing. Made of high-grade microfiber, they offer a fantastic cushioning feel that the people and pets in your house will love.
And as stated before, the traction is great. No more worries about sliding or falling.
Highlighted features
Soft with excellent cushioning.
Even sizes and edges.
High-quality and durable.
Dirt-resistant.
Non-slip Stair Treads by Whistler
For something high-quality that is not very expensive, you might want to consider the Non-slip Stair Treads by Whistler.
These are premium quality mats measuring 30 by 8 inches.
When we talk about being high-quality, the treads are made from 100% polyester. They're, thus, relatively soft to step on, giving you the underfoot comfort you need. The material is also able to cancel out the noise as people and pets move up and down the steps.
On the bottom side, these rugs have a latex/rubber backing installed. That's not an ordinary backing, and do you know why? It actually works.
Even though a double-sided tape is shipped with the mats, in most cases, you don't even need it. The mats are able to stay in place on their own.
That's good news if you don't like the extra work of installing tape or don't want to take the risk of having residue left on your steps. The tape is only for the most slippery stairs. It's good that the seller gives you the tape because you get to avoid the extra cost of getting it in case you need the tape.
If you're wondering about the durability of these carpets, you'll be glad to know that they last. The 100% polyester material is pretty tough, and with good weaving, the material is able to resist wear very well.
Additionally, the material resists staining and dirt, so cleaning is a piece of cake.
There's only one issue with the Non-slip Stair Treads by Whistler. There are not many color options; just two – brown and charcoal.
Highlighted features
30 by 8 inches mats.
Made of 100% polyester.
Resistant to mildew, stains, and fading.
Comes with double-sided tape.
Effective non-skid backing.
Stair Treads Carpet - 14 Non Slip Stair Runners...
Set of 14 Charcoal Stair Treads + Roll of double sided stair tread tape for extra security
Made from 100% Premium Polyester with a Ultra Non Skid Latex/Rubber backing
Protects your stairs from traction, wear and tear & Reduces risk of slipping on stairs - Great for...
Modern Design Carpet Treads by Home Way
Are you looking for something fancy with a modern design to go with your modern décor? Do you want to be able to select between a range of colors and styles? Check out the Modern Design Carpet Treads by Home Way.
These are 27 by 9-inch rugs that come in a selection of colors and designs. The color options range from blue and green to red and gray, with awesome designs and patterns to choose from. There are also a few options that are just plain colors with no patterns.
With the exception of the size, this is definitely one of the stair carpets that offer you lots of versatility. The rugs that are shipped look pretty much as you can see them in the pictures on amazon. The colors are very nice and the appearance is generally great.
The rugs are composed of a machine-made nylon material. On the back, they're coated with a rubber backing to prevent them from moving and sliding. Unfortunately, the backing isn't very effective, and the carpets do move.
We recommend you get double-sided tape to secure the rugs to the steps and prevent them from moving.
The manufacturer says that the rugs are durable but that's not accurate. After some weeks, many users have reported seeing fraying corners. We hope the manufacturer fixes this issue.
So why should you get the carpets with these issues? First, because they're inexpensive.
If you're on a budget, they might be a good choice. Secondly, because they have fancy colors. And thirdly, they're resistant to staining and fading. Cleaning is a cinch.
Highlighted features
27 by 9 inches.
A range of colors and designs to choose from.
Made of nylon.
Stain and fade resistance.
Easy to clean.
How to Choose the Right Carpet for Stairs? (Buyer's Guide)
Stairs are a high-traffic area. As such, adding a carpet to protect them from wear is often a good move. Additionally, stair carpets add beauty and create a non-skid surface for easy movement.
Below are a few keys that will help you choose the best carpet for stairs:

Durability
As mentioned, stairs are a high-traffic area. Thus, it's advisable to go for something that can take a punch and stay in a good condition.
In that regard, you need a carpet that is tough and durable; one that won't start fraying in a few days or weeks but rather stays intact for a long time.
Material
When looking for the best stairs carpet, it's crucial to look at the material. From wool and polyester to polypropylene and nylon, there's a range of options for you.
If you're looking for the highest level of luxury and comfort, wool is the perfect pick. But then, wool gets dirty quickly and it's not so easy to clean. You have to avoid spilling liquids on it to avoid staining because that will be hard to remove.
For a combination of ease of use, ease of cleaning, and comfort, we'd advise you to go for polypropylene or polyester. These materials may not be as comfortable as pure wool, but they work great and are not as easy to stain or hard to clean as pure wool.
Design
Stair carpets come in the form of either long, continuous pieces or rugs to be laid on the steps. The rugs are easier to lay and align, and of course, they're easier to clean with a machine. But, it's all a matter of preference. There are those homeowners who just love the long continuous pieces.
When it comes to design, you also want to think about the shape and size of the carpet. Look at the length and width and see if it goes with the size of your staircases.
Pattern and color
Carpets come in all sorts of colors and patterns. There are plain-colored models with no patterns, and there are models with different patterns, such as flowers and meshworks.
Here are the questions to ask. What are your stairs made of? Hardwood? Concrete? Another material perhaps?
It's important to consider your staircase and the color and general decor so that you can get a carpet that goes with that.
Thickness
Although this is not always the case, thicker carpets tend to last longer. Again, if the top is soft and the carpet is thick, that increases the comfort and reduces the noise better.
Different Types of Carpet for Stairs
Knowing the different types of stair carpets available will help you choose the carpet that suits you. Though the varieties are not written on stone, there are various ways of categorizing carpets:
By the color and pattern.
By the weight/thickness.
By the length/size.

By the color and pattern
Based on the color, there are varieties that are plain colored and there are others with multiple colors. The one you choose is all just a matter of taste and preference, though based on your décor, one might be more suitable than the other.
The carpets with multiple colors often have patterns. There are numerous different patterns from flowers to hearts and meshes.
Weight/thickness
You can get a carpet that is either thick/heavy or thin/light. Note that thicker/heavier varieties are often more durable and offer more insulation. On the contrary, they're harder to install and remove than the thinner/lighter varieties.
Length/size
Going by the length, there are short mat-size carpets and long models. The mats are laid on each step individually while the long carpets are single units meant to cover several or all the steps on the stairway.
The mats are easier to store and install, and most people find them more convenient as some of them can be cleaned in the washing machine.
How to Take Care of Your Stairs Carpet?
No matter how high-quality your stair carpet is, it will not last unless you take care of it. Below, we've shared several maintenance tips that will help you keep your stair carpet in its grace for a long time.
Clean and vacuum it regularly. Ensure you use a light vacuum setting to remove dirt and pet hairs from the carpet a few times per week.
Avoid spilling liquids. By all means, avoid spilling liquids on the carpet. In case there's a spill, place an absorbent material like a towel on the affected area and put pressure on it with something heavy. Wring out as much liquid as you can and leave another towel on pressure there to absorb more liquid slowly. Clean and vacuum the area after a few hours.
In case there are solid or food leaks on the carpet, use a blunt knife to get them off.
Avoid putting sharp things or furniture on it. You don't want it to get torn, do you?
When you wash the rugs/carpet, ensure you dry them on both sides. Water/moisture under the carpet only deteriorates the carpet.
Keeping the rug or carpet in the same position for months leads to uneven wear. To avoid that, be sure to rotate or reposition it every few months.
When you remove the carpet or rug with the intent of storing it and using it later, ensure you don't fold it. Folding will create crease lines and make it harder to keep the carpet straight. Try storing it flat and unfolded.
If your carpet is expensive and very durable, it's only wise to get an expert to clean it professionally once in a while, perhaps once per two years.

Common Questions That You Should Know Before Purchase
1. Does a Carpet on My Stairs Make Them Safer?
There are several benefits that you stand to gain by installing a carpet on your stairs. Most importantly, you'll make the stairway safer if the carpet is soft and non-skid. Non-skid carpets minimize falls and in case of a fall, the softness of the carpet reduces the severity of the injury.
2. Will a Stair Carpet Protect My Stairway?
If you have installed an expensive or elegant finish or material on your stairway, then it makes sense to look for ways on protecting it. One way would be to add a carpet.
The carpet will protect the stairway from direct contact with sharp objects like pet paws. It also safeguards them against staining.
3. Do Stair Carpets Result in More Falls?
Generally, stair carpets result in more falls. Ironically, they result in fewer and less severe injuries from falls. The insulating effect of the carpets reduces the impact.
4. How Do I Prevent My Stair Carpet From Causing Falls?
To prevent falls, get a carpet with a non-skid bottom and if possible, install tape to secure the carpet to the floor. That will prevent falls resulting from skidding.
5. How Long Should a Stairway Carpet Last?
The longevity of the mats on your stairway depends on their quality. High-quality mats last ten years or more, while cheap, low-quality models last only a few months or years. But remember, maintenance also determines longevity.
6. Are Stair Carpets Costly?
There is a whole range of stair carpets. Some go for less than 20 bucks per set, while others go for almost 100 bucks or even more for the same size.
The smaller the cost, the lower the quality.
7. What Color Should I Get to Show the Least Dirt?
One of the best ways of avoiding having to clean your stair carpet frequently is to get one with a darker color. Gray, black, and tan are great options.
8. How Do I Make My Stair Carpet Last?
If you want to make it last, ensure you avoid dirtying the carpet. Avoid spilling liquids or solids on it. And more importantly, clean it on a regular basis. Consider getting a few replacement carpets so you can remove and store your carpets from time to time to reduce the speed of wear.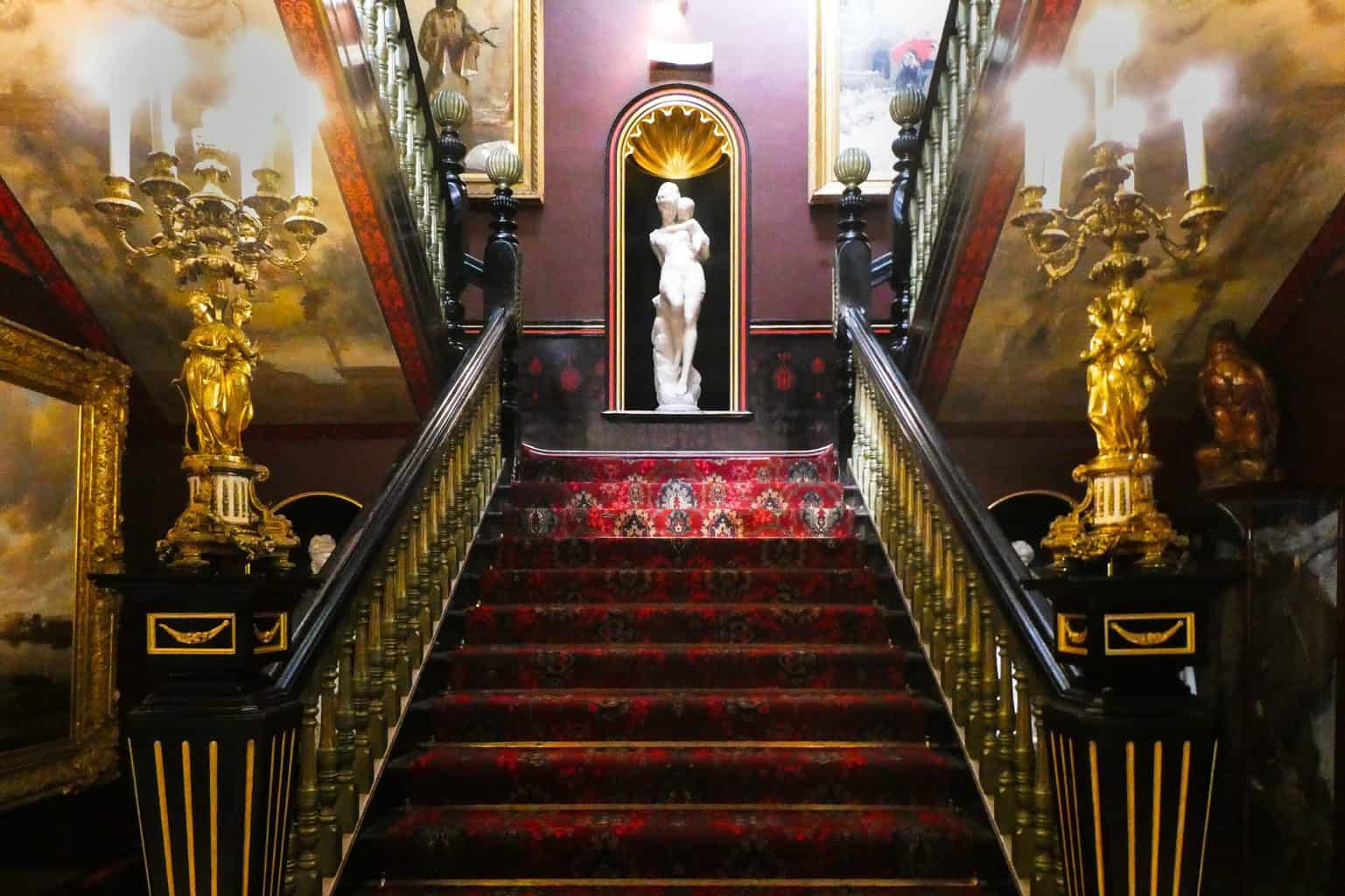 Final Word
The best carpet for stairs is the one that is made of high-quality material. It should be comfortable, offering good insulation against the noise and the cold, and it should be easy to clean. Another important feature to consider is the resistance to skid especially if you don't want to install carpet tape.
These are the same factors we considered when choosing the best stairs carpet, and we're sure one of the products will serve you well.
Look at the individual features and follow our buttons to see more features on amazon while viewing other users' thoughts as well as the current price.