As an Amazon Associate we earn from qualifying purchases.
If you are into art and craft, you might often want to decorate a variety of objects with paints and rhinestones to further beatify them. To attach rhinestones to something, whether it be on fabric or a solid object, you will need rhinestone glue.
The type and quality of the glue used might seem to be an insignificant matter, however, in reality it's total opposite. The quality of the glue determines how long it will last and the strength of the bonds it creates. Whereas the type of glue will determine the materials it sticks to.
The best rhinestone glue should be built in a way that satisfies both of these consequential factors. In this guide, we discuss the attributes of the finest adhesives followed by a list of what we think are great products out there in the market.
Benefits of Using Fabric Glue for Rhinestones Attachment
1. Most Suited Method
There are many ways to attach rhinestones to fabrics. Hot-fixing is a method of using an iron to attach pre-glued rhinestones to clothing. However, some clothing materials can't be exposed to heat and thus are unsuitable for this method.
Another way to attach rhinestones is by sewing. This process is labor-intensive and time-consuming. Furthermore, stitches are prone to tearing and rhinestones may fall off.
2. Time-Saving And Hassle-Free
The most suited option according to those experienced in the field is the use of adhesives. Gluing not only provides a long-lasting attachment but is also hassle-free and saves time. It is a simple, easy method that lets you make dresses look marvelous.
A word of warning, not all glue types are suitable for attachments. Some may be toxic, some adhesive bonds are broken easily while others dry too quickly. Our recommendation, therefore, is to use fabric glues. They are formulated to be used comfortably on a range of clothing.
3. Quick Bonding
Fabric glues form bonds reasonably quick and hence make attachments easier and quicker. Super glue bonds lack flexibility and may damage certain types of clothing materials. A low viscosity adhesive may spread to unwanted spots and cause a sticky, messy situation.
4. Cleaning Friendly
The bonds formed by Rhinestone glue are flexible and water-resistant. This is necessary, as the adhesives used on clothing shouldn't cause fold and need to be washing machine safe. Suited for dry-cleaning, fabric adhesives have far more advantages than any other type.
Brand
Beacon Gem-Tac Permanent Adhesive
E6000 231020 Adhesive with Precision Tips
E6000 230010 Craft Adhesive
Product
Compatible Material
Wood, Fiberglass, Brick, Ceramic, Rubber
Wood, Fiberglass, Glass, Ceramic, Leather, Concrete, Plastic, Metal, Rubber, Fabric
Brand
Beacon Gem-Tac Permanent Adhesive
Product
Brand
E6000 231020 Adhesive with Precision Tips
Product
Compatible Material
Wood, Fiberglass, Brick, Ceramic, Rubber
Brand
E6000 230010 Craft Adhesive
Product
Compatible Material
Wood, Fiberglass, Glass, Ceramic, Leather, Concrete, Plastic, Metal, Rubber, Fabric
Top 10 Best Rhinestone Glues Reviews
Beacon Gem-Tac Permanent Adhesive
Beacon Gem-Tac Permanent Adhesive  is well known for its versatility of use. It can be used for all kinds of attachments on a wide range of fabrics. It is not limited to just clothing materials.
The glue works fine even on denim and plastics. Glass, phone cases, shoes, and many other items can be fixed with GEM-TAC BEACON.
A significant advantage of the adhesive is that it is water-based and does not contain any toxic substances or flammable chemicals. In addition to that, the bonding substance is water-resistant and hence washer safe.
The glue dries clear so there is no need for you to worry about visible marks around rhinestones. Another advantage is that by using a hairdryer, you can make the bonds stronger.
Being a permanent adhesive that is suited for different kinds of clothing materials and other items, this product is truly a multi-purpose glue. If you no longer need to attach rhinestones, you can use it just like a normal glue.
It is produced with great care and can be used with gemstones, glitter and a variety of other attachments.
Highlighted Features
It is water-resistant so does not wash off easily.
It does not contain any harmful or flammable chemicals.
The glue does not leave a mark when dried on clothing.
Multi-purpose glue, can be used with a variety of attachments.
Beacon Adhesives Gem-Tac Premium Quality Adhesive...
Secure gems and rhinestones with Gem-Tac, a premium quality adhesive that won't warp or alter their...
Suitable for mirror-backed stones and dries clear, making it versatile and an excellent choice for...
Enjoy peace of mind with the Non-toxic and non-flammable adhesive that doesn't emit any unpleasant...
E6000 231020 Adhesive with Precision Tips
E6000 231020 Adhesive is preferred by experts as it can be used on different types of materials. This makes it suited for home and professional usage. It comes with 3 precision tips that allow you to control the flow for greater accuracy.
A special feature of the adhesive is that it is paintable. This means that once dried, you can apply coloring on the glue without affecting the bonds.
Furthermore, the substance is unaffected by washing or dry cleaning. It's a very efficient product, only a small quantity of adhesive needs to be applied to form a long-lasting bond.
An inconvenience is that the glue gives off an unpleasant smell. This shouldn't be worrying as the smell is harmless and goes away after the adhesive has dried.
Most adhesive products require that they are stored in a cool, dry place. As this is water-resistant and temperature tolerant, you won't have to worry about where you keep the glue when not in use.
The product is an industrial-grade adhesive that bonds stronger than superglue and is used for repairing a range of torn materials (except metals). This makes it not just the best fabric glue for rhinestones, but also a fine multipurpose adhesive suited for diverse users.
Highlighted Features
Water-resistant and temperature-tolerant.
Forms extremely strong bonds with torn materials.
Very efficient, works even when little amount is applied.
Paintable, colors can be painted over the adhesive without damaging it.
E6000 231020 Adhesive with Precision Tips, 1.0 fl...
Includes 3 precision tips plus a precision tip cap
Bonds to glass, wood, plastics, tin, metal, ceramic, cement, rubber, vinyl, leather, fabric and much...
Dries clear, paintable
E6000 230010 Craft Adhesive
A 3.7 Fl oz pack that is highly reliable and considered a great product for a variety of applications. E6000 230010 Craft Adhesive is a well-known utility among those who work with fabrics and clothing attachments. And yes, this is a photo-safe product!
By using this product, you can attach rhinestones to fabrics or use it to glue together pieces of clothes. The adhesive can also be used to bond a lot of materials. It works perfectly with materials such as plastics, metal, PVC, rubber, wood, etc.
Some of the significant qualities of the adhesive include temperature tolerance and water-resistance. Therefore, it isn't necessary to find a cool place to store the pack. You can wash or dry clean the dresses you used the glue on without any worries.
Once the glue has dried, you can paint over the affected area. Unlike other products in the market, the bonds are not weakened by chemicals paint. Furthermore, it does not contain any toxic, flammable or fume releasing substances.
It is an industrial-grade adhesive that can be used for making impressive stone covered dresses or fixing broken pieces of a glass item. The durability of bonding and safety of chemical composition makes it an all-round product.
Highlighted Features
An extremely versatile adhesive that works with a variety of materials.
It does not contain any harmful or flammable chemicals.
Paintable, colors can be painted over the adhesive without damaging it.
Water-resistant and temperature-tolerant.
E6000 230010 Craft Adhesive, 3.7 Fluid Ounces
Bonds to glass, wood, plastics, tin, metal, ceramic, cement, rubber, vinyl, leather, fabric and much...
Dries clear, paintable
Photo safe
Aleene's Jewel-It Embellishing Glue
Aleene's Jewel-It Embellishing Glue is specially formulated for attachments made of different kinds of materials. It can be used for creating magnificent clothing covered in a variety of rhinestones, gemstones, pearls, and beads made of plastics, metals or glass. Glitter and sequin can also be glued using the adhesive.
Although it is a quick-drying glue, the manufacturer recommends waiting 24 hours before putting on a worked dress. You also need to wait one week to 10 days before washing. We advise you to follow these instructions for the finest results.
A great advantage is the flexibility of the adhesive. It doesn't form a stiff region around the applied area. Furthermore, many costume designers say that they can effortlessly attach difficult-to-glue attachments with this product.
The adhesive is quite easy to use and the instructions on the container are clear and precise. Their official website has answers to a lot of frequently asked questions about their products.
Overall, this is a great item to help you create shiny and gorgeous rhinestone patterns on a dress. Its effectiveness in gluing fabric attachments is what makes this product the best rhinestone glue for fabric preferred by professional cosplayers and costume designers.
Highlighted Features
Specially crafted to work with fabrics and rhinestones of all kinds.
Very efficient and easy to use.
It does not contain harmful or flammable chemicals.
It does not leave a mark on the fabric when the adhesive dries out.
Creative Hobbies Glue Applicator Syringe for Flatback Rhinestones & Hobby Crafts
Imagine the flexibility and freedom that come with preciseness!
The finest glue products for flat-back rhinestones should come with nozzles to ensure accuracy when attaching these types of stones. Creative Hobbies Glue Applicator Syringe is something just like that.
The product bundle consists of 10 syringes and 15 precision tips. This would allow you to work with and a variety of fluids.
Flatback rhinestones require the precision application of adhesives to be properly placed. These syringes can be used to achieve just that.
In addition to gluing shiny gemstones and other attachments to fabrics, the syringes can also be used for a handful of purposes. For instance, you can use them with general-purpose liquid glue for making small wooden models.
The syringes can be reused. Once the excess adhesive has dried, you can just pull the solidified lump out of the syringe.
However, some substances render a syringe unusable. Therefore, we advise you not to fill a syringe with an adhesive that bonds strongly to plastics.
Whether you are a crafting hobbyist or costume designer, this is a great value pack. Suited for adhesives and other substances, the syringes give you enhanced accuracy, make you more creative and boosts productivity.
Highlighted Features
Consists of syringes and precision tips.
The tips and syringes can be re-used.
The product supports a variety of adhesive types.
It greatly enhances accuracy and efficiency when attaching stones.
Creative Hobbies® Glue Applicator Syringe for...
🎨 HIGH-VALUE PACK: Comes in a value pack of 10 precision applicators, offering both quality and...
💎 IDEAL FOR RHINESTONES: These applicators are perfect for flatback rhinestone applications,...
🛠️ MULTI-PURPOSE: Not just for adhesives, these syringes are great for applying inks,...
MOPRETTY Super Sticky Rhinestone Glue
MOPRETTY creates innovative products designed exclusively for women. These products focus on the beautification of nails using rhinestones.
MOPRETTY Super Sticky Rhinestone Glue is slightly different compared to others on the list. The MOPRETTY rhinestone glue is designed to be used as the adhesive when you want to decorate your nails with rhinestones.
It's a premium quality gel glue that will offer a long-lasting performance on your nail arts. The glue has to be dried out with UV lights to enhance its performance further.
MOPRETTY is considered as the best rhinestone glue for manicures by fashionistas due to its performance and quality. The manufacturers created this adhesive using raw resin materials to negate the inclusion of any dangerous substances.
Therefore, it does not contain any harmful chemicals that will damage the skin. The adhesive is odorless and transparent too. As a cherry on top, the bundle comes with a painting pen and a wooden stick to help use the gel.
Highlighted Features
Designed specifically for rhinestones used in nail arts and manicure.
It does not contain any harmful chemicals to damage the skin.
Made from raw resin materials – odorless and transparent.
It comes with a painting pen and a wooden stick.
MOPRETTY Super Sticky 8ml x 2 Rhinestone Glue...
STRONG & LONG LASTING PERFORMANCE-- The LED Glue Is Super Strong And Sticky, Which Ensure It Can...
3 PCS OF GEL TOOL INCLUDED-- 1pc Nail Pink Brush, 1pc nail wood stick& 1pc tweezer are a Must Have...
MULTI-FUNTION-- For artificial nails or natural nails? For Flatback or Non-flatback rhinestones? For...
MEILINDS Nail Art Glue For Acrylic Rhinestones
Another rhinestone adhesive for manicures, the MEILINDS Nail Art Glue is a fan favorite gel that is guaranteed to outperform your expectations.
This gel is carefully constructed to not contain any harmful chemicals to the skin. It does contain a vaguely pungent smell. However, that is very faint and does not smell bad and vanishes as soon as the gel dries out.
UV or LED lights are required to dry this gel out. It is easy to use and the instructions are clear, concise and easy to understand.  You can use a variety of rhinestones to decorate your nails using this gel as the adhesive is quite strong when dried.
You can even use this product to attach natural or false nails. Being non-toxic and acid-free, this one can be used for both household and professional purposes. The bottle is compact so you can carry it with you all the time.
It must be stored in a cool and dark place as exposure to sunlight or warmth will harden the gel and render it unusable. A painting pen is included in the packaging.
Highlighted Features
It does not contain any chemicals that can be harmful to the skin.
Forms strong bonds when dried using UV or LED lights.
Supports a variety of different rhinestones for nail arts and manicure.
It comes with a painting pen when you purchase the gel.
E6000 Jewelry and Bead Adhesive
E6000 is known to produce the finest adhesives in the market. This product is not any different.
The adhesive is versatile and works on surfaces like metals, leather, glass, ceramic, fiberglass, concrete and wood – a feature that other adhesives lack.
No products found. is built to create extremely strong bonds when dried. This is particularly helpful when working with materials such as metals. The strength of the glue makes it a perfect adhesive for jewelry.
The adhesive does not contain any harmful chemicals that can damage the skin or the materials it is applied to. It is completely odorless and transparent therefore it does not leave any trace once it dries out.
E6000 the best glue for foil back rhinestones and beads, especially when you intend to take your time. It doesn't dry out instantaneously, you have a minimum of 5-minute window before that.
So you have all the time in the world to place rhinestones using this adhesive. However, you'll have to allow 24-48 hours to completely cure the bond.
4 precision applicator tips are included in the package. These improve accuracy and allow you to fine-tune the areas where you want to attach rhinestones.
Even if you spill any excess glue accidentally, worry not! They can easily be wiped out from the surface.
Highlighted Features
Adhesive forms extremely strong bonds when dried.
It does not contain any harmful or flammable chemicals.
It is odorless and transparent – does not leave a mark or smell when dried.
It comes with precision tips that improve accuracy.
How To Choose Rhinestone Glue
Fabric Type
You should read carefully what kinds of materials the manufacturer has mentioned in the package as suitable. This step is vital as some fabrics can be damaged by chemicals in certain adhesives. For this reason, we don't recommend that you apply glue to fabrics that are not mentioned as suitable.
Drying Time And Longevity
If an adhesive takes too long to dry out, then it greatly reduces the efficiency and the rate of your workflow.
Some rhinestone adhesives take long period to set properly, over 24 hours. If you can't leave a piece of work untouched for that long, it's essential to use quick-drying products.
If you intend to adjust or reposition the attached rhinestones, then it's better to use a temporary one. Trying to remove a permanent adhesive is very difficult and the effort to do so can damage the dress.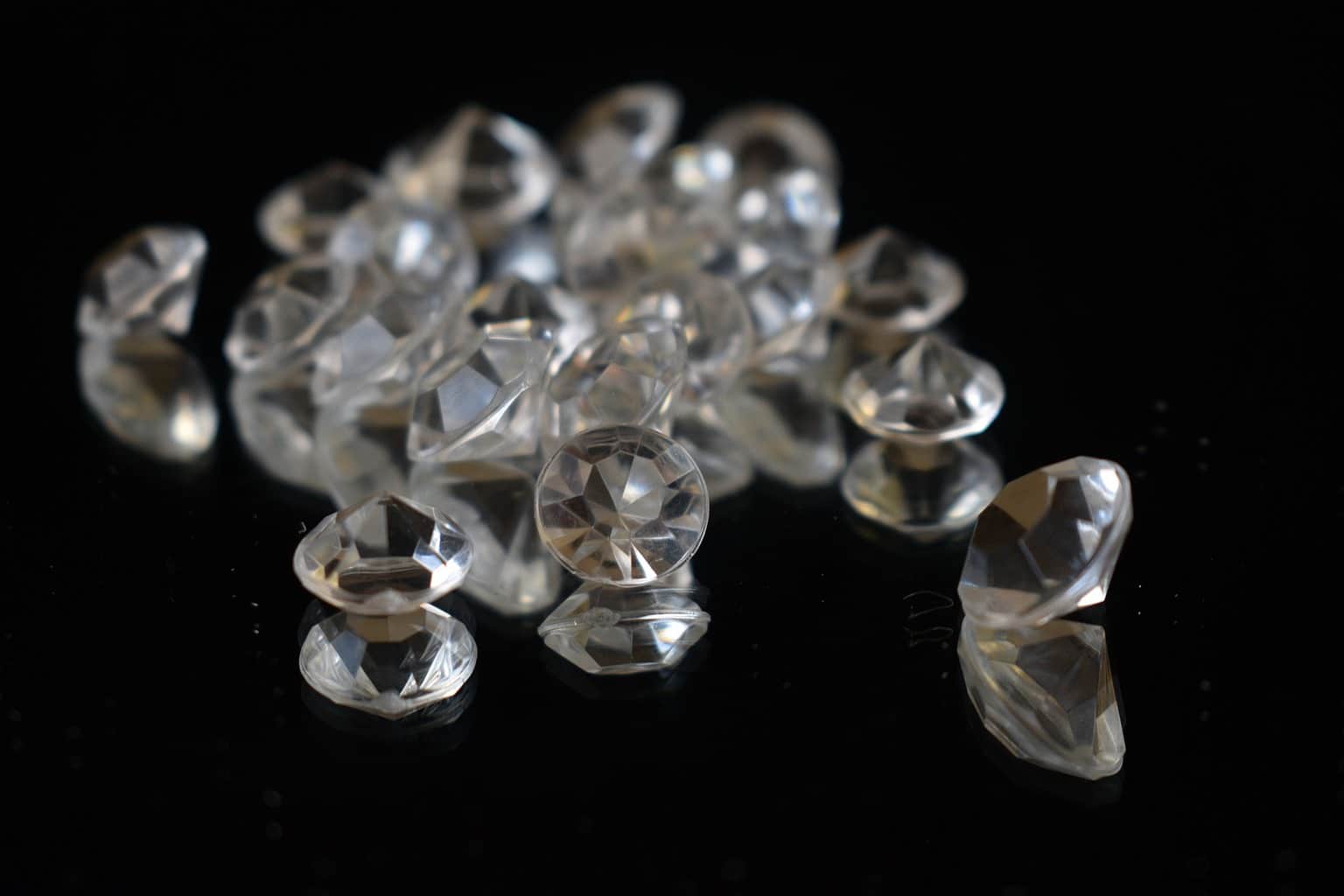 Substance Type
If you are considering an adhesive for foil back rhinestones, then superglue is not a good choice. This is because of an effect called clouding that results due to the interaction with super glue and the foil backing. Moreover, it is difficult to make slight adjustments right after attachment due to quick drying.
Some adhesives contain epoxy resin needs to be mixed with a hardener before application. The adhesive is runny and difficult to manage. And hence not recommended for use on stretchy fabrics.
A commonly preferred option is the glue gun. Using the hot air from a hairdryer, the glue can be melted in case adjustment is required.
In addition to that, the adhesive holds very strongly when it solidifies. A downside is that the method is only suitable for rhinestones larger than a specific size.
In conclusion, each type of glue has its pros and cons. Getting an optimum result depends on the fabric materials and rhinestone type you are dealing with. You need to choose an appropriate product based on what you will be working with.
Toxicity And Fumes
The best rhinestone glue products do not contain any toxic substances. Before you choose an adhesive, it is wise to do some research about the chemical contents.
Quality products don't give off any fumes. Fumes can be annoying and would require you to work in a very well-ventilated area. We suggest that you try to find out if the product you intend to use releases any irritating smell or contains harmful substances.
How to Attach Rhinestones on Fabric Using Glue
Our advice to beginners before getting started is to practice gluing on cardboard or clothes that you will throw away. We have listed below some tips that will ease the task of using fabric glue.
1. Control And Precision
Use special syringes called hobby syringes to have more control over the quantity of adhesive applied. This kind of tool makes it easier to work with rhinestones and speeds up the process.
2. Avoid Sudden Movements
Ensure that the cloth is flat and fixed when working. Sudden movements should be avoided especially when you are working with permanent adhesives.
You can place a cardboard or another flat material inside the dress. This also prevents the glue from reaching the other side of the cloth.
3. Application Sequence
It's better to first apply glue to the backing of the rhinestone and then use tweezers or forceps to place them. This would reduce the likelihood of the adhesive sticking to your hands when working.
4. Work On Flat Surface
Check that the fabric is clean before you start working. Folds make is difficult to place attachments accurately. Therefore, it's best if you iron the cloth beforehand.
5. Apply The Right Amount
Read the instructions of the manufacturer carefully before you use it. Be careful to add the right amount of adhesive. Excess can blur the stones and ruin the appearance of clothing. Too little glue will likely not hold the attachments for a long time.
Frequently Asked Questions
1. How to Use Fabric Glue?

Answer: We would advise you to read the instructions provided by the manufacturer. For the expected results it is advised to follow the instructions carefully. For some really useful tips, you can refer to our how to use section.
2. Do I Need to Take Any Safety Precautions?

Answer: It's better to use forceps or tweezers to attach rhinestones. There are other safety measures needed to be taken to avoid the hazards a product may expose you to.
For instance, some adhesives give off fumes and therefore you need to work in a well-ventilated area when using such a glue. You need to be extra careful when using super-glue as it can quickly bond very strongly to the skin.
3. Do I Need to Store an Opened Glue in a Refrigerator or Freezer?

Answer: If that is a necessity, then the packaging should have it mentioned. It's safe to keep cold all general-purpose glues. However, freezing may not be such a good idea. Our suggestion is to store the glue in a cool dry place unless otherwise stated by the manufacturer.
4. Are Fabric Glues Soluble In Water?

Answer: All products that are labeled as fabric glue are expected to be resistant to water. Soluble adhesives are practically useless to use in clothing as they would dissolve off when the fabric is washed.
5. How Long Should I Wait for the Glue to Dry?

Answer: The time taken to dry glue depends mainly on the chemical compositions and the viscosity. For instance, super glue dries very quickly. Lower viscosity adhesives tend to dry slower. A small tip, you can speed up the drying process by using a hairdryer.
6. How to Remove Excess Glue Around an Attached Rhinestone?

Answer: You can keep Q-tips or anything similar to quickly wipe off an excess amount. However, it's recommended to ensure that you use the right amount of glue.
7. Can I Use a Glue Gun for Rhinestones?

Answer: Glue guns are great for using with fabrics. Their main advantage is the ease of removal by melting with hot air. One thing to keep in mind is that it gets incredibly difficult to attach small rhinestones with a glue-gun.
8. Should I Use Permanent or Temporary Glue for Attachments to Clothing?

Answer: Temporary adhesives are beneficial when it comes to making adjustments. The problem with them is when washing the fabrics, attachments made with temporary glue are very likely to fall off in a wash cycle.
9. How Do I Know the Glue I Bought Will Dry Clear?

Answer: Drying clear is essential in fabric bonding as glue visibility ruins the appearance of a dress. You should test dry on a scrap cloth to observe the effects as a precaution regardless.
10. Can Fabric Glues Be Used as an Alternative to Stitching?

Answer: Yes, this is one of the greatest advantages of fabric adhesives. The process takes much less time than sewing.
Moreover, permanent adhesives last longer than stitches. However, you should be careful to not add an excessive amount of glue as this can affect the appearance of a fabric.
Final Words
It is not easy to downright point at a single product and name it as the best fabric glue for Rhinestones. The adhesives are different and many factors must be taken into account before purchasing one.
The appropriate glue is the one that gives a strong bond between the adhesive and the attachments while simultaneously keeping harmful effects at bay. The drying and time curing time should align with your requirements and comfort zone.
We have compiled a list of some products which provide the mentioned attributes for your convenience. The buying guide above should help you come to a definite conclusion with ease.
So, here it is! Come festival, dazzle everyone with the shine and gloss of perfectly placed rhinestone glues. Hopefully, this article will help you in the process.